2022 Six Nations Championship (February 5 – March 19) Betting Tips & Predictions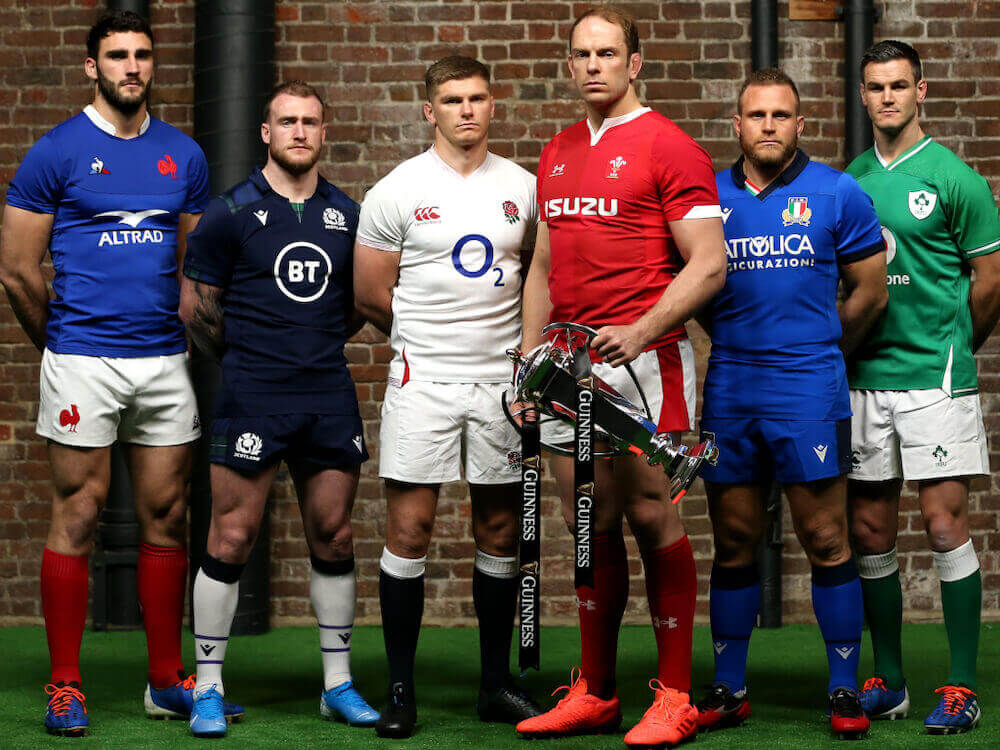 Look no further than this betting preview if you're looking for expert predictions for the 2022 Six Nations Championship. We take a closer look at the teams, the 2022 Six Nations Championship odds, and provide you with the best bets with odds courtesy of the top rugby union bookmakers.
It's that time of the year when the Six Nations Championship starts approaching, and suddenly everyone becomes a fan of rugby. Admittedly it's an exciting tournament with plenty of highlights, and it is in many ways a must-watch event for any fan of sports, but why only watch it if you can also wager on it?
In this betting preview, we will take a closer look at the players and the teams attending the 2022 Six Nations Championship and provide you with all the information you will need to pick the right country to hoist the prestigious trophy.
2022 Six Nations Championship History
The Six Nations Championship is an annual men's rugby union tournament featuring teams from 6 nations, including England, France, Ireland, Italy, Scotland, and Wales.
The rugby union competition was first introduced in 1883 as the Home Nations Championship, when it only featured England, Ireland, Scotland, and Wales. England was later excluded from attending the event in 1888-1889 due to the nation's refusal to join the International Rugby Football Board.
The competition became the Five Nations Championship in 1910, with the addition of France, and finally the Six Nations Championship in 2000, with the addition of Italy. Interestingly, since the addition of Italy, the nation never won the title but collected 16 wooden spoons, meaning that Italy has ended the competition last in all but 6 iterations since they first joined the tournament.
2022 Six Nations Championship Odds – Bookies' Favourites
The 2022 Rugby Six Nations betting odds show a clear gap between the top 3 teams and the rest. But even though there is a clear divide between the teams that can win and teams that likely won't, it's not easy to separate the favourites. At the end of the day, you're left picking between teams that are all capable of winning.
France (6/4)
France had an incredible turn of form over the last few seasons and rightly entered the 2022 Six Nations Championship as one of the main favourites to hoist the trophy. The Rugby Six Nations 2022 odds show France as 6/4 favourites, well above Ireland and England, which makes perfect sense, but you have to ask yourself whether they're worth a bet at the offered price.
Led by world player of the year, Antoine Dupont, France will seek their first Six Nations crown in over a decade, and while they seem like they're in a good spot to do it. Of 5 championship wins, 4 have come when playing 3 at home, and France is this year.
Les Bleus look unstoppable at home – they put 40 points past New Zealand during the summer and will be a force to be reckoned with on the French soil. But they are not nearly as effective on the road, which is a huge red flag that makes betting on them at 6/4 far less appealing.
Ireland (11/4)
Since adding coach Andy Farrell, Ireland has gone from strength to strength and is now ranked 4th in the world rankings. Even more impressive is their away record of 30 away tournament wins, which is more than any other side has managed.
Furthermore, Ireland breezed through the Autumn Internationals, taking very convincing wins against Argentina and All Blacks. So while Ireland isn't the best team in the world, they are very close to achieving that status, and with the improvement, the team has been showing off late, it's only a matter of time before they get there.
Admittedly, Ireland has a strict schedule ahead of them, playing away in England and France. But the shamrocks can feel confident in their ability to pick up a few big scalps, as long as Jonathan Sexton can find his form. And if he does, Ireland will be extremely tough to beat.
Rugby union bookmakers have Ireland priced at 11/4 to win the crown, which you can argue is a bit too high given the team's high ceiling. But more on that under our predictions and tips below.
England (3/1)
The betting odds for Rugby Six Nations 2022 show England as 3rd-favourites, at 3/1, which looks like a fair price. England will begin their quest to their 8th crown of the century in Scotland, which puts them in a tricky spot, knowing that England's performance in Scotland often proved crucial to their long-term fate.
For example, in 2018, England won their first 2 matches but then lost against Scotland and subsequently dropped the final 2 fixtures against Ireland and France, dropping to 5th place. In contrast, England lost their opening match in 2020 against France but picked up a win in the Murrayfield rain and went on to win their 29th championship.
What's more, England will play 3 away games this year. And they had claimed only one Grand Slam title when they had to do the same in the past.
Past Winners of the Competition (Last 5)
2021 – Wales
2020 – England
2019 – Wales
2018 – Ireland
2017 – England
Dates and Locations of the Tournament
The 2022 Six Nations Championship is scheduled for February 5 – March 19. The tournament will be played across England, France, Ireland, Italy, Scotland, and Wales, on 6 different venues, including:
Twickenham Stadium – London, England
Stade de France – Saint-Denis, France
Aviva Stadium – Dublin, Ireland
Stadio Olimpico – Rome, Italy
Murrayfield Stadium – Edinburgh, Scotland
Millennium Stadium – Cardiff, Wales
If you want to follow the games, the tournament will be available on all major sporting TV channels across the world and online live streaming platforms. Most notably, a live stream will be available on BBC iPlayer, ITC Hub, Peacock, and Keyo Sports, so you can be sure you won't have to miss the action.
2022 Six Nations Championship Predictions
We end our 2022 Six Nations Championship guide with our expert picks and predictions, where we pick our winner and add a couple more bets that might be worth a look. Here are our 2022 Six Nations Championship betting tips.
Ireland to win – 11/4
As noted above, the top-rated bookmakers have priced Ireland a bit too generously at 11/4. Even though they have a tough schedule ahead of them, there is a world where Ireland picks up wins against France and England, and it should be smooth sailing for them from there onwards.
A lot of it will come down to how Jonathan Sexton will perform on the field, but Ireland could easily go all the way if he can find his form. We're not trying to include any superstition in our picks, but there is one more thing that we should keep in mind.
Ireland tends to put their best international performances one year out from the World Cup, seeing how they won the Six Nations in 2014 and 2018. That might not mean much, but it's a nice bonus fact about a team we will be backing to win the 2022 Six Nations Championship.
Scotland Top 2 Finish – 5/1
It might be a bit of a longshot bet, but Scotland to finish top 2 is very hard to ignore. Admittedly, they look weaker than France and England on paper, but this team has tremendous depth.
That is especially evident if you compare Scotland's squad to England or France. The latter have teams made up of players who, for the most part, have less than 10 international games on their record. Meanwhile, Scotland is filled with veterans, and the experience could be the difference-maker.
We would still rank Stockland below Ireland, so we're not taking a shot on the outright market. But at 5/1 to finish the top 2, the Scots are worth a go.
Robert Baloucoune (Top Irish Tryscorer) – 15/2
Since Ireland has been using Keith Earls as a utility back replacement in their previous outings, there will be an opening on the right-wing for the youngster Robert Baloucoune to shine.
He has won his first cap in Autumn Internationals against Argentina, and while he didn't have the ball in his hands much, he looked exceptional when he did. This 24-year-old has huge potential, and 15/2 seems like a generous price on the Irish top try scorer market.
WHAT IS THE BEST RUGBY UNION BET FOR TODAY?
2022 Six Nations Championship – Bonus Prediction
We're adding a bonus prediction for the 2022 Six Nations Championship, which is essentially a combination of our previous picks. We're taking Ireland and Scotland as dual forecasts for our final choice on 22/1. Scotland has enough talent to impress, and with Ireland as our primary pick, it only makes sense to take advantage of the generous odds on this market.
Prediction: Ireland & Scotland (Dual Forecast) – 22/1
Our 2022 Six Nations Championship Betting Picks
Ireland to win – 11/4
Scotland top 2 – 5/1
Robert Baloucoune (Top Irish Tryscorer) – 15/2
Ireland & Scotland (Dual Forecast) – 22/1
That concludes our betting preview and Rugby Six Nations Predictions for 2022, providing you with 4 excellent picks. Now visit the best legal betting sites and place your wagers with the best rugby union bookmakers!