Winbet is a Bulgarian bookmaker that focuses on sports and live betting, casinos, and jackpots. It offers a myriad of tournaments and sports to choose from, with thousands of games and events – many of them have an in-play factor that makes the betting experience even more satisfying! Read our detailed Winbet review to find out more about this fantastic platform.
Winbet Website & How to Sign Up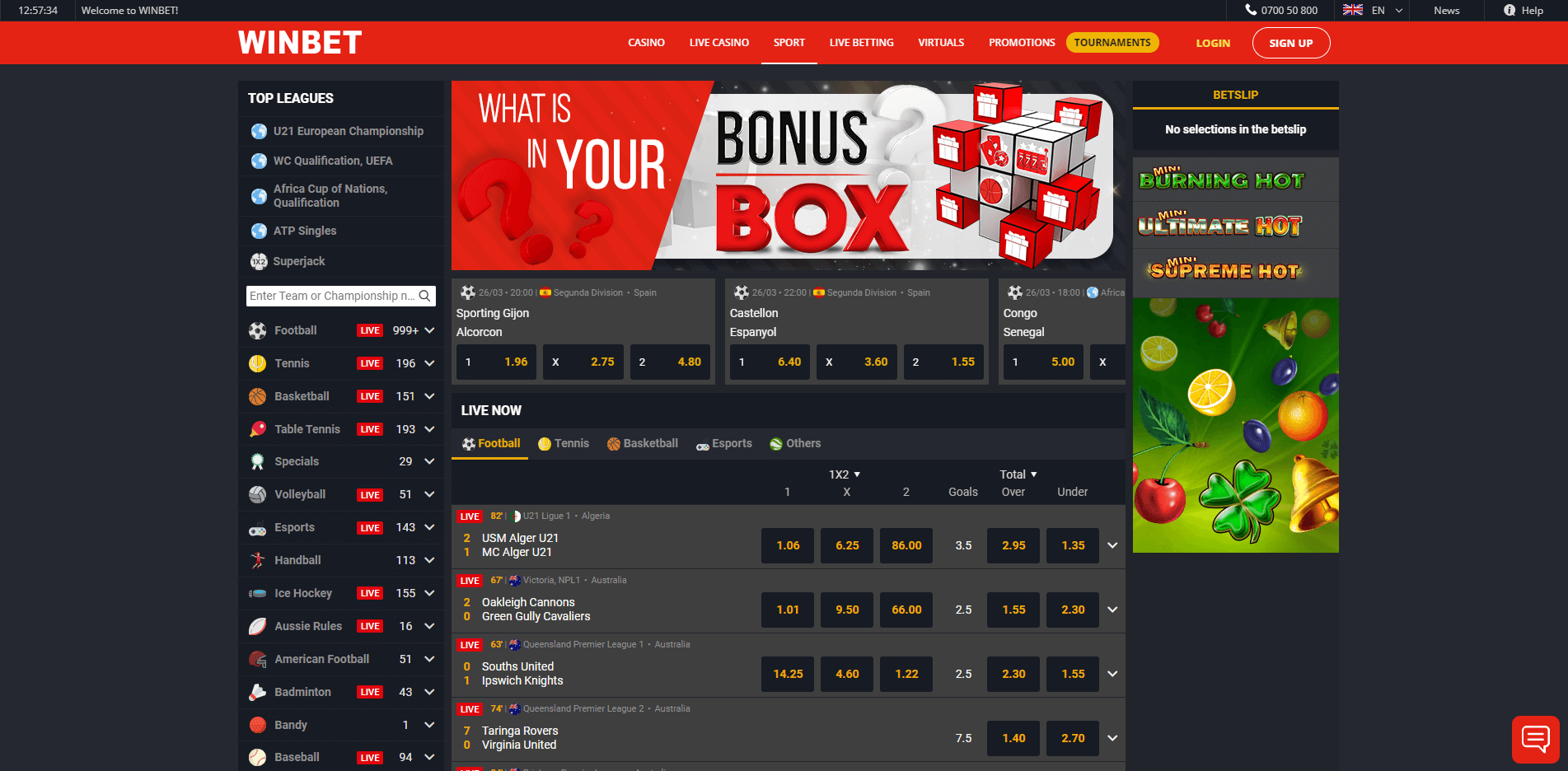 winbet.bg
Accessing the Platform
Make sure that you choose the correct domain name, as there are different websites for different countries. To access the bookmaker's sports betting page, click on the sports link on the navigation bar. This link will take you to the desired page.
For now, the Winbet sports betting website is only accessible to users in Bulgaria. If you are an international user or are using it elsewhere, you need to apply a Virtual Private Network (VPN) to access the website. Winbet also offers different platforms for other countries, including Romania, the USA, and the UK.
Languages Offered
The website natively provides two languages, Bulgarian and English. You can choose your desired language from the options menu present at the top of the webpage. The default language is Bulgarian.
Registering for an Account
Registering for an account is important as it allows access to all the services provided by the bookmaker.
To register, you need to fill out a form and provide the required details, including personal ID number, date of birth, and addresses. Registering will also unlock the Winbet free bet option.
Your account will be registered successfully only after all the required information is provided correctly. To register for an account, you need to have an age of 18 or above. In the end, you need to verify your email to complete the registration and access all the services.
Banking Options
| | |
| --- | --- |
| Min. deposit | €5 |
| Deposit Charge | Free of charge |
| Min. Withdrawal | €15 |
| Withdrawal time | Up to 10 working days |
| Payout | 95% |
Deposit Methods
Winbet has many deposit options, including EasyPay, ePay, wire transfer, and even debit and credit cards. Bank details of the company are provided in Winbet's FAQ section.
The minimum amount a user can deposit is either 10 BGN or €5.
Withdrawal Methods
To complete your first Winbet online betting withdrawal, you have to send a copy of your ID through email. Sometimes, additional documents will be required to complete the verification process. You will receive your withdrawal funds based on the payment type you have chosen.
The minimum amount a user can withdraw is either 30 BGN or €15.
You can also cancel or change withdrawal requests if it has not yet been approved or processed by Winbet. If you cancel the offer when it is pending, you will be able to transfer the funds back to your account.
Winbet Bonuses and Promotions
Winbet also provides a 200% Welcome Bonus Sports for new Winbet users. On your first deposit, you will be able to get a 200% bonus (up to 100 BGN). To use this promotion, you need to apply the bonus code WB2022 while making your first deposit. This promotion ends on 31st December 2022.
These are the terms and conditions:
The welcome bonus is only available for new Winbet users.
The promotion can only be availed once by each person and requires a deposit.
You need to apply the bonus code while making the deposit.
You need to fulfill the rollover requirements to make a withdrawal (applicable if you are placing bets in the sports section). The required rollover amount is six times the deposit and bonus amount. If you deposited 100 BGN, you would receive another 100 BGN as a bonus – so, the rollover amount becomes 1200 BGN.
You can find more information about this Winbet bonus in the promotions section of their website.
2.8
200% up to BGN200 in free bet
WELCOME BONUS Sport is offer to all newly registered players on winbet.bg who deposit to their gaming account for first time. To qualify for the offer - WELCOME BONUS Sport you must enter bonus code S2020 in the box provided for this, on your first deposit. You will receive 200% of your first deposit as free bet, as the maximum value of free bet is BGN 200.
Sports Jackpot
Called the Superjack, this sports jackpot is available for new and existing users with real money on Winbet. With a prize pool of 50,000 BGN, the prize is distributed amongst all players that guess the correct outcome of all the required games from both Super and Mini Jack. For more information, check out the promotions page of Winbet's website.
Betting Options
Sports betting is one of the most popular gambling methods, with a myriad of betting options to choose from.
| | |
| --- | --- |
| Number of Sport Games | 31 |
| Number of Sport Events | 243 |
| Live Events Daily | 312 |
| Live Events Monthly | 9360 |
| Pre-match Events per Month | 8480 |
These include Esports, tournaments, leagues, and even mainstream sports.
Sports Betting
Lots of people have fun while betting on matches and tournaments, irrespective of whether the bets are in their favour or not. Many people who bet on sports are die-hard fans of these games – and placing bets can make their matches even more exciting.
Available Sports
Winbet offers bets and wagers on many games so that everyone can have fun and make while using their platform. These include the most prominent ones, like football, basketball, baseball, golf, and MMA's. Winbet line betting also occurs in some instances.
Sports Competitions, Leagues, and Events
Winbet even offers bets and wagers on different sports competitions and leagues, including NBA, NFL, and the Champions League. Fans of all shapes and sizes can come here and have fun, as Winbet has an extensive collection to place bets on.
Special Events
Winbet currently does not offer wagers on special events like presidential elections and Oscars.
Esports Betting
Winbet also offers another form of sports betting: Esports betting. It allows you to place bets on tournaments and popular games like Counter-Strike, DOTA, and Overwatch. Esports betting is popular among gamers and fans who are into gaming.
Winbet Live Betting
Another popular form of sports betting is in-play betting, or live betting. It takes place after an event has begun. For example, you place bets on a football match while it is going on, or while a cricket match is being played.
winbet.bg
It is highly advantageous, as you can place bets after analysing the game and back odds that are profitable for you. Many sports enthusiasts find live betting extremely exciting as you can change the wagers as the event unfolds.
Winbet offers live betting on various sports and games, including football, basketball, and Esports.
Live Streaming
Winbet offers live streaming for games, sports matches, and tournaments for registered users. It provides you with a better betting experience, as you can use the live stream to analyse your bets and wagers, especially during in-play bets.
Winbet Mobile Betting & App
With mobile usage skyrocketing around the globe, mobile applications have become the new normal. It is also true in the betting world. Many bookmakers have dedicated mobile applications to provide their users with a better user experience.
Unfortunately, Winbet currently does not have a dedicated mobile application for Android and iOS.
The Pros and Cons of Winbet Sportsbook
Winbet has its benefits and disadvantages. Here, we list the most essential pros and cons of their website.
PROS
CONS

Winbet is a licensed platform with a massive catalogue of games and options, including sports betting, casino, and jackpots.
This bookmaker offers the choice to play with both real money and virtual currency called diamonds.
Winbet is more focused on sports betting, so this is a plus for users looking for a reputable platform for sports and live betting. The platform has thousands of sports events to choose from, and Winbet reviews from users are amazing.
Winbet provides offers and promotions for both new and existing users.

The bookmaker currently does not offer a dedicated Winbet app for either Android or iOS users.
Winbet does not provide betting on special events like presidential elections and Oscars at the moment.
The website can only be accessed from Bulgaria. To access outside Bulgaria, you need to use a Virtual Private Network (VPN), which may be illegal in certain cases.
Winbet does not accept Paypal – a notably popular platform – as a payment method.
Cash Out
Usually offered for in-play betting, cash-out allows you as a bettor to receive payment before the event is complete. The availability and rules may vary depending on the bookmaker.
Winbet allows you to cash out your wager before a market or event is completed. Cash-out will be settled only if it is successful – you need to cash out before the bet is determined.
Winbet Odds
Winbet constantly offers attractive odds – with the company becoming one of the most popular betting platforms over the past two years. Many experts believe that the bookie produces high and profitable odds, a testament to how good Winbet odds are.
Other Products
Winbet provides a myriad of other products and services, including casinos, jackpots, and virtuals.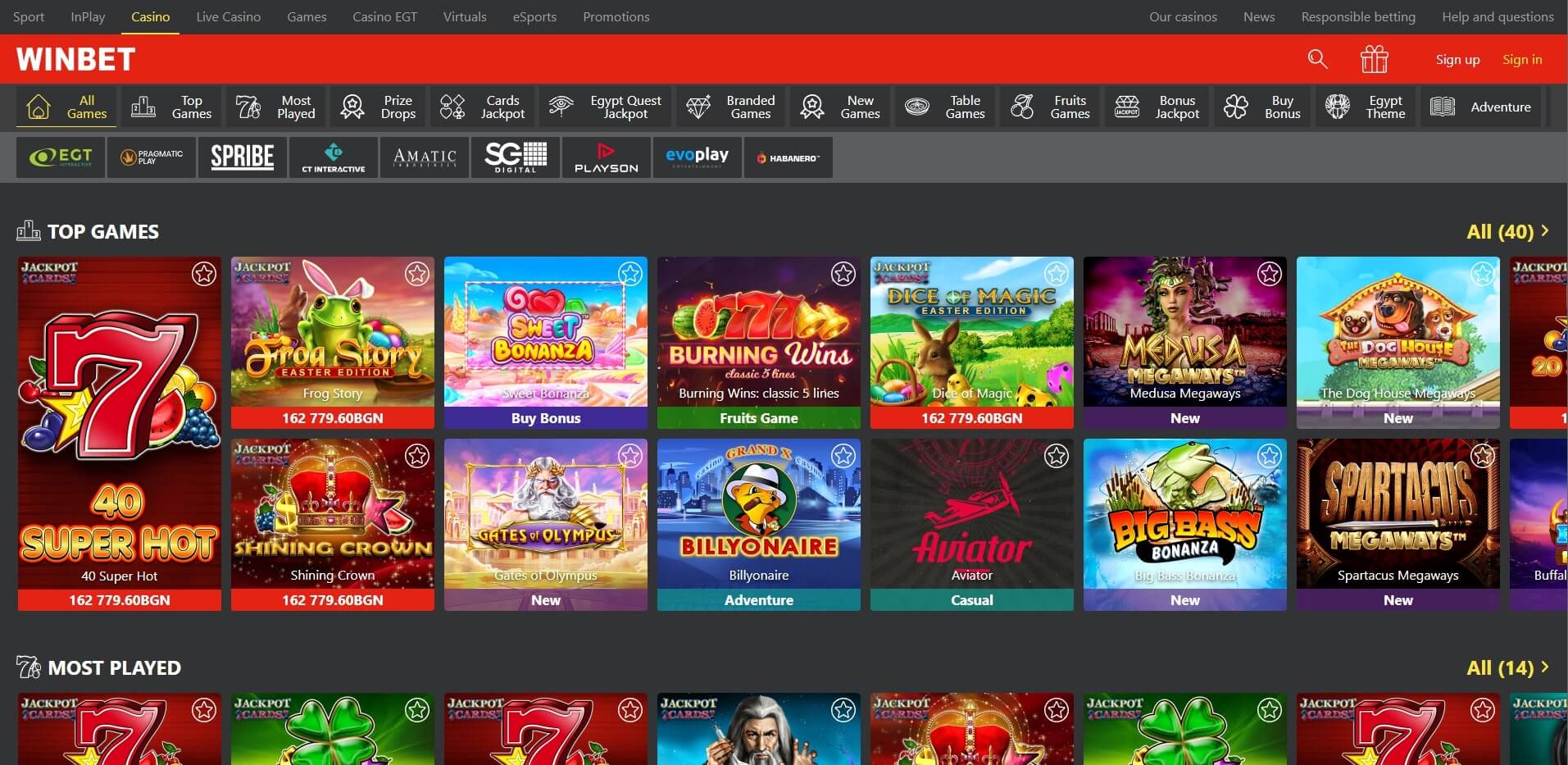 winbet.bg
Winbet is also regarded as one of the best online casinos – with live casinos, events, and promotions.
Contacts & Customer Support
The Winbet website contains a dedicated contacts page where you can find contact information. They offer 24 hours customer support with multiple options, including email and phone.
You can even post queries and complaints on the form provided on their Contact Us page. For general questions, you can read their FAQ section.
Winbet Verdict
We hope you enjoyed our extensive Winbet bookmaker review. Overall, Winbet is a reliable and exciting way to bet online. With multiple payment methods, easy withdrawals and deposits, and many games and sports to choose from, Winbet doesn't disappoint anyone. Check out their platform by clicking on the button below!
Open Betting Acc at Winbet
Frequently Asked Questions
Is Winbet legit?

Winbet is one of the fastest-growing licensed sports betting and gambling bookmakers in the last few years. With an extensive collection of games, events, and promotions as well as reliable and easy payment methods, Winbet is a safe and attractive platform for betting and gambling. Winbet is licensed by the State Commission on Gambling of the State of Bulgaria and holds several certificates.

How can I use the Winbet welcome bonus?

The Welcome bonus is available only for new users. You can make use of this bonus by applying the bonus code WB2022 while making your first deposit. To withdraw the amount, you need to fulfill the rollover requirements successfully. For this, you need to achieve at least six times the deposit and bonus amount.

How do I win on Winbet?

As with any betting and gambling platform, playing on Winbet comes with certain risks. Knowing how to read bets and lines, responsible betting, and due diligence and research all play a crucial role in helping you win on Winbet.
Similar bookmakers you might also like:
4.9
Bet £10 get £30 in free bets
4.4