Established in 2019 with Portugal as its primary target, Bet7 is a fairly-new sportsbook co-owned by SolidMinds NV and Solid Minds LP. It operates under the license and regulations of the Government of Curacao with License No.151424. Bet7 allows punters to wager on a vast range of leagues, tournaments, and events on over 35 sports, plus some Esports games.
Whether you are a newbie or an experienced punter, our Bet7 betting review covers everything you need to know about this sportsbook, including its license and security, payment methods, betting options and markets, bonuses and promotions, live betting and streaming services, etc.
Bet7 Website and How to Sign Up
To begin our review, we will describe the official site of Bet7 and show a detailed step-by-step on how to sign up on the bookmaker.
Website Design, Structure, and User Experience
The official website of Bet7 features a simplistic design that displays everything the sportsbook offers at a glance. It features an attractive blend of lemon green, dark blue, and gray. On the website's homepage, you'll find different tabs on the top of your screen for Sports, Live Bet, Casino, Live Casino, and Promotions. You'll also find the option to switch between Portuguese, English, German, and Brazilian Portuguese languages on the top right side of the page.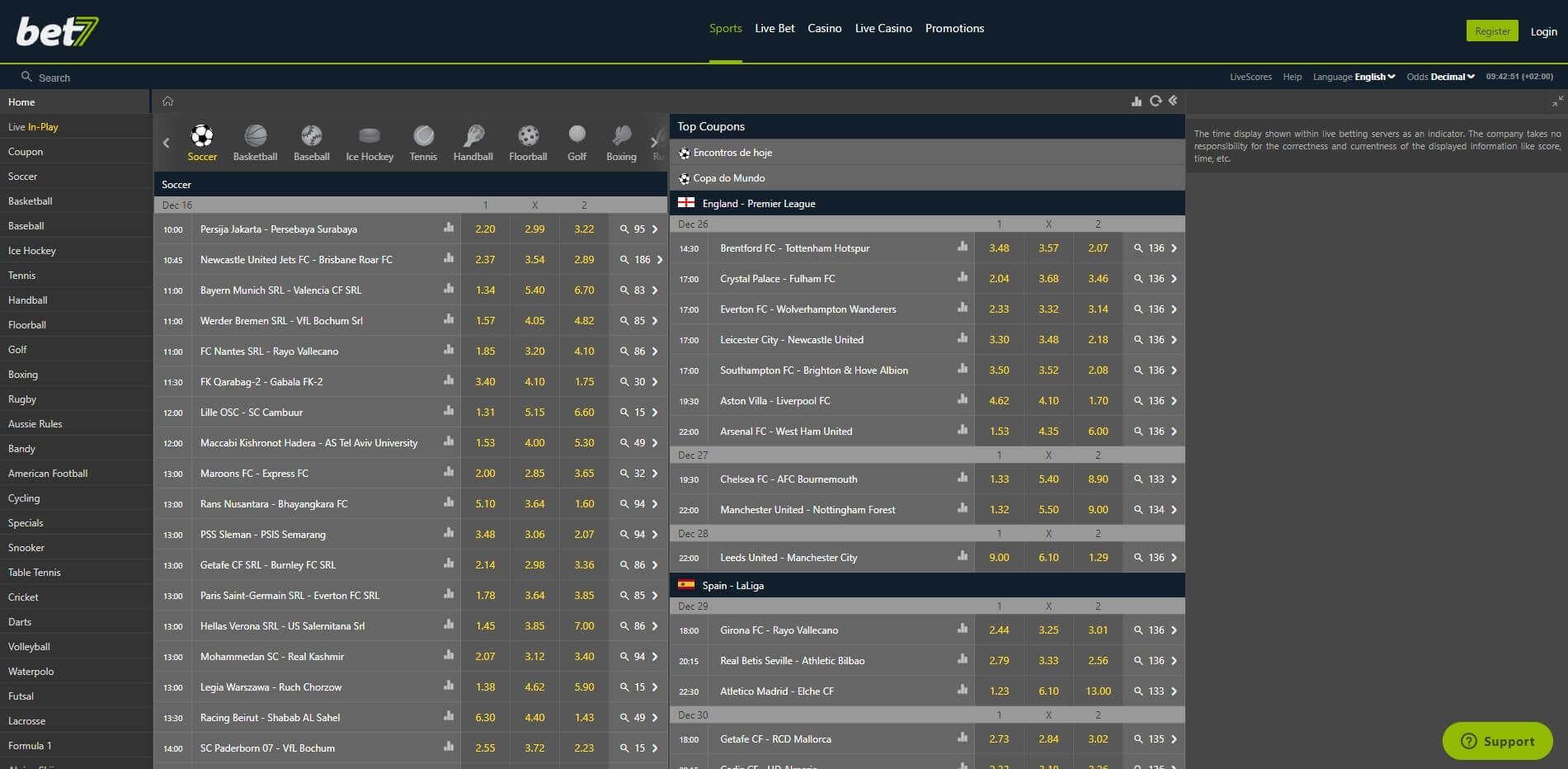 betseven.com
Scrolling to the bottom of the page, you'll find other vital details such as Terms and Conditions, Betting Rules, and Policies. You can also see the payment methods accepted by the sportsbook and additional information regarding ownership, responsible gambling, etc.
Overall, the website has an easy-to-navigate and intuitive layout that makes all the components of the sportsbook easily accessible, promising an excellent user experience.
Registration and Authorization
Signing up at the Bet7 betting site involves a transparent process, but it may take some time due to the detail required to fill out the registration form. Regardless, the whole process should take less than 5 minutes. Below is a step-by-step process on how to sign up at the sportsbook :
Visit the official Bet7 website
Click on the green "Register" button at the top right corner of the screen
Enter your personal information, including first name, last name, birth date, and national ID number.
Enter your contact information, including your email and mobile phone number
Enter your address, address number, town, and postcode.
Go to the "Create Login" section and create your username and password
Tick the agreement box after reading the terms and conditions and click "Register."
After registration, you will receive a confirmation link to your registered email to confirm your registration. Following the successful registration of your account, Bet7 requires you to verify your account according to Know Your Customer (KYC) and Anti Money Laundering regulations. This step adds security and reliability to your betting account while protecting the community from fraud.
To verify your account, you must go to "Account Details" under "My Account" and upload a valid ID card or passport and a valid proof of address ( a recent utility bill or monthly bank statement).
It is also noteworthy that Bet7 online betting is restricted from operating in certain countries and regions. Therefore, before signing up, you must confirm if the sportsbook is operational in your area.
Security and Licensing
As mentioned above, SolidMinds NV, which owns Bet7, is registered in Curacao. It means the sportsbook has a Curacao license and operates legally under the purview of Curacao laws to provide excellent, safe, and fair services to punters.
Also, the sportsbook has an SSL certificate, the most reliable security service for any online website. This technology encrypts all the information transmitted between the website and the user, keeping it safe from hackers. Hence, you can rest assured that your sensitive data, including personal info, card details, etc., are secure when betting on Bet7.
Payment Methods
Since monetary transactions are the basis of online betting, the available payment methods are essential factors a punter must consider before signing up at a sportsbook. While there is room for improvement, the Bet7 bookie features a range of popular payment methods available on the market.
| | |
| --- | --- |
| Min. deposit | €10 |
| Deposit Charge | Free of charge |
| Min. Withdrawal | €5 |
| Withdrawal time | Up to 3 working days |
| Payout | 95% |
Solid Minds LP, a company located and registered in London with Registration Nr, is also worth mentioning. LP020200 processes all this bookmaker's payments. Also, the sportsbook accepts payment only in Euros, a letdown. If you deposit with any other currency, the bookie will convert it into Euros while you bear any conversion fees.
Deposit Methods
Bet7 features a range of popular deposit methods, including bank transfer, bank cards (Visa and MasterCard), Neteller, Skrill, etc. Bet7 is also a BTC sportsbook, accepting Bitcoin deposits. The sportsbook has a €10 minimum deposit, except for Bitcoin deposits at a minimum of €30. Depending on the payment method, the maximum deposit limit ranges mostly between €1000 and €2000. Only Multibanco has a maximum deposit of €4500.
While Bet7 doesn't charge transaction fees, you must note that deposits can sometimes incur charges depending on the payment option you select. Also, deposits with virtually every payment method on Bet7 are processed instantly.
Withdrawal Methods
Popular withdrawal methods on Bet7 include Neteller, Bitcoin, and Bank Transfer. The sportsbook is also among the best online betting sites that accept Skrill for withdrawals. Bet7 has a minimum withdrawal amount of €20, except for Bitcoin at €30 minimum. The maximum withdrawal limit is €5000 per withdrawal and the monthly withdrawal limit at this sportsbook is €10000 per month per customer.
To withdraw funds from Bet7, complete your KYC account verification by submitting the required documents. Afterward, you must go to "Withdrawals" under "My Account" and select your preferred withdrawal method.
Withdrawal speed on Bet7 varies depending on your payment method. For instance, the sportsbook process E-wallet withdrawals almost immediately, while bank withdrawals may take 3-7 days.
Bet7 Bonuses and Promo Offers
Bet7 has a dedicated page explaining the offers available in detail.
Bet7 Welcome Bonus
After successfully signing up at Bet7, the sportsbook offers you a 100% welcome bonus on your first deposit, from €10 up to €250 to bet on sports events. You can access this offer by clicking "Deposit" in the top right corner of your account page.
4.2
New customers only! Get 100% bonus up to €250 on your First Deposit! Full T&Cs apply
You must roll this Bet7 bonus over ten times over events of at least 1.7 odds before 30 days, after which it expires. While this requirement is not the most stringent, there are many other better offers on the market. Several other sportsbooks allow way lesser rollover times over more reasonable odds.
Bet7 Reload Bonus
Apart from its welcome bonus offer, Bet7 also offers a reload bonus of 50% on up to $500. To qualify for this bonus Bet7, you must deposit at least €50 on a Friday using Skrill and Neteller. Bet7 reload bonus comes with a 20X rollover requirement over events of at least 1.7 odds and a validity period of 3 days. Again, we find the rollover requirement of this offer to be quite stringent compared to several other sportsbooks on the market.
Bet7 Free Bets
Unfortunately, we couldn't find any free bets offered after combing through the Bet7 sportsbook website. It might change soon.
What to Bet On
Bet7 earns some points from us due to its vast range of options to wager on, especially in sports events. This section of our Bet7 reviews will discuss all the betting options in the sportsbook.
| | |
| --- | --- |
| Number of Sport Games | 29 |
| Number of Sport Events | 395 |
| Live Events Daily | 296 |
| Live Events Monthly | 8880 |
| Pre-match Events per Month | 14640 |
The sportsbook also has some titles in its Esports section.
Sports Betting
Sports is the most popular betting option at Bet7. The bookmaker offers pre-match and in-play betting on over 35 sports, including mainstream and not-so-popular ones.
Available Sports
Bet7 Sports betting options range from mainstream ones like soccer (football), ice hockey, baseball, basketball, handball, golf, betting, cycling, and Formula 1 to more specialized ones like snooker, darts, biathlon, Gaelic football, etc.
Sports Competitions, Leagues, and Events
Besides covering many sports betting options, Bet7 bet covers many events and competitions. From local tournaments and leagues to globally-recognized ones like the English Premier League, UEFA Champions League, ATP Tennis, Big Bash League, NBA, and several others, the range of events you can bet on at this sportsbook is a plus compared to others.
Additionally, sporting Bet7 covers many betting markets for most sports wagering options and events. From popular bet types such as 1X2, correct score, and totals to unconventional ones like a first-half corner, away no bet, 1st-half booking, the first player to score, etc., there are almost unending options of betting markets available in Bet7.
Special Events
Apart from Bet7 sport, the sportsbook earns a golden badge from us due to its vast special events betting options, including the Oscars, Eurovision Song Contest, Golden Globe Awards, and UK politics. In addition, the sportsbook also offers a wide range of markets on each of these options. Popular markets you can bet on under special events include:
Esports Games
Due to its rising demand, every sportsbook that prides itself as one of the best has an Esports section filled with impressive titles. Although Bet7 complies in this regard, its library of Esports titles could be more remarkable.
The sportsbook covers three player-favorite Esports games: DOTA 2, League of Legends, and Counter-Strike. Bet7 doesn't have a dedicated Esports section; all 3 games it covers are in the sports betting tab.
Bet7 CS: GO
Bet7 offers Counter-Strike: Global Offensive in its Esports betting market, allowing punters to bet on all its significant tournaments at competitive odds.
Bet7 Dota 2
You can find a wide range of betting markets on major Dota 2 tournaments, including ESB, PGL Dota 2, Perfect World Dota 2, Moon Studio Dota 2, etc., on Bet7.
Bet7 League of Legends
Bet7 covers major LoL events in its Esports betting market at reasonable odds.
Live Betting With Bet7
One of the plus points of Bet7 is that it features the live betting option on a wide range of sports. In addition, the sportsbook has a dedicated "live bet" tab that displays every ongoing sports event you can bet on, including Esports.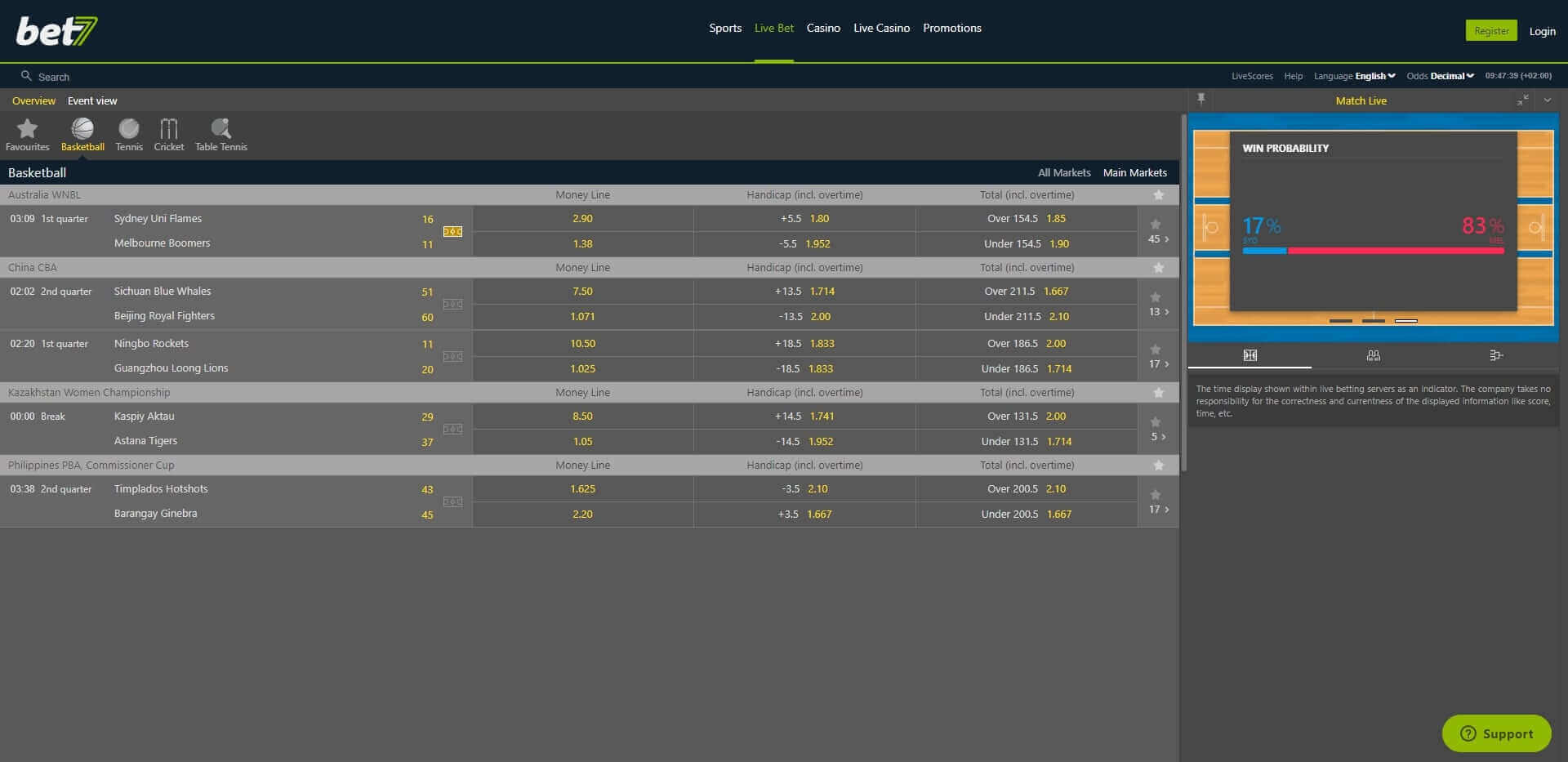 betseven.com
The live betting or in-play betting option allows bettors to wager on sports events after they are underway. This option helps increase your chances of winning as you can make more informed decisions using real-time action data. Note that the odds offered on live bets are updated continually based on the tempo of the ongoing game.
Live Streaming
Unfortunately, sport Bet7 doesn't have a live streaming service with its live betting option. To make up for this, the sportsbook has a virtual broadcast that shows match proceedings alongside formation, line-up, head-to-head stats, standings, match timeline, etc.
Bet7 Mobile Betting
Due to the convenience of gambling on the go, mobile betting has become a must-have for any top sportsbook. This sportsbook understands this; hence, it has a mobile-optimized website compatible with all mobile devices. Bet7 mobile betting website works seamlessly with Android and iOS devices, with a creative and graphically-appealing layout.
Bet7 Betting App
Bet7 doesn't have a dedicated mobile betting app when writing this review. However, the sportsbook makes up for this with its mobile-optimized website, which functions seamlessly with all smartphones and tablets. The platform's official website gives you complete access to everything the sportsbook has to offer
iOS App
Bet7 doesn't currently doesn't have an iOS betting app. However, the platform's website functions excellently on iOS devices.
Android App
There is no Bet7 app for Android, but the sportsbook's website is mobile-optimized to function seamlessly on Android devices.
Bet7 Pros & Cons
Here we'll outline the significant advantages and disadvantages of betting on Bet7.
Pros
Cons

Wide variety of sports betting options and markets
Live betting option on multiple markets
Creative website layout
Multiple payment options
Massive football betting markets and events
Multiple security measures

Only accepts one currency
Lack of a mobile app
Cash Out
Bet7 bookmaker offers full and partial cash-out features, allowing bettors to lock in part of their profit or take everything and forfeit the wager even when the event is still underway. The cash-out feature allows bettors to manage risks by settling their bets before the game they wagered on is over. Note that sportsbooks calculate cash-out payouts based on the progression of the event.
Bet7 Odds
Comparing Bet7 with other sportsbooks, we discover that the sportsbook offers above-average odds to bettors. While we have seen better overall odds in some other top sportsbooks, the ones at Bet7 are undoubtedly competitive.
The odds for major sports competitions, leagues, and tournaments, such as EPL, ATP, IPL, NBA, NHL, MLB, UCL, etc., on Bet7, are generally favorable across all available markets, including live betting.
Other Products
Besides being a sportsbook, Bet7 is also an online casino with a vast library of casino games from top providers in the market. Bet7 casino allows players to be on dozens of slot machines, table games, Poker, Baccarat, Roulette, Blackjack, etc.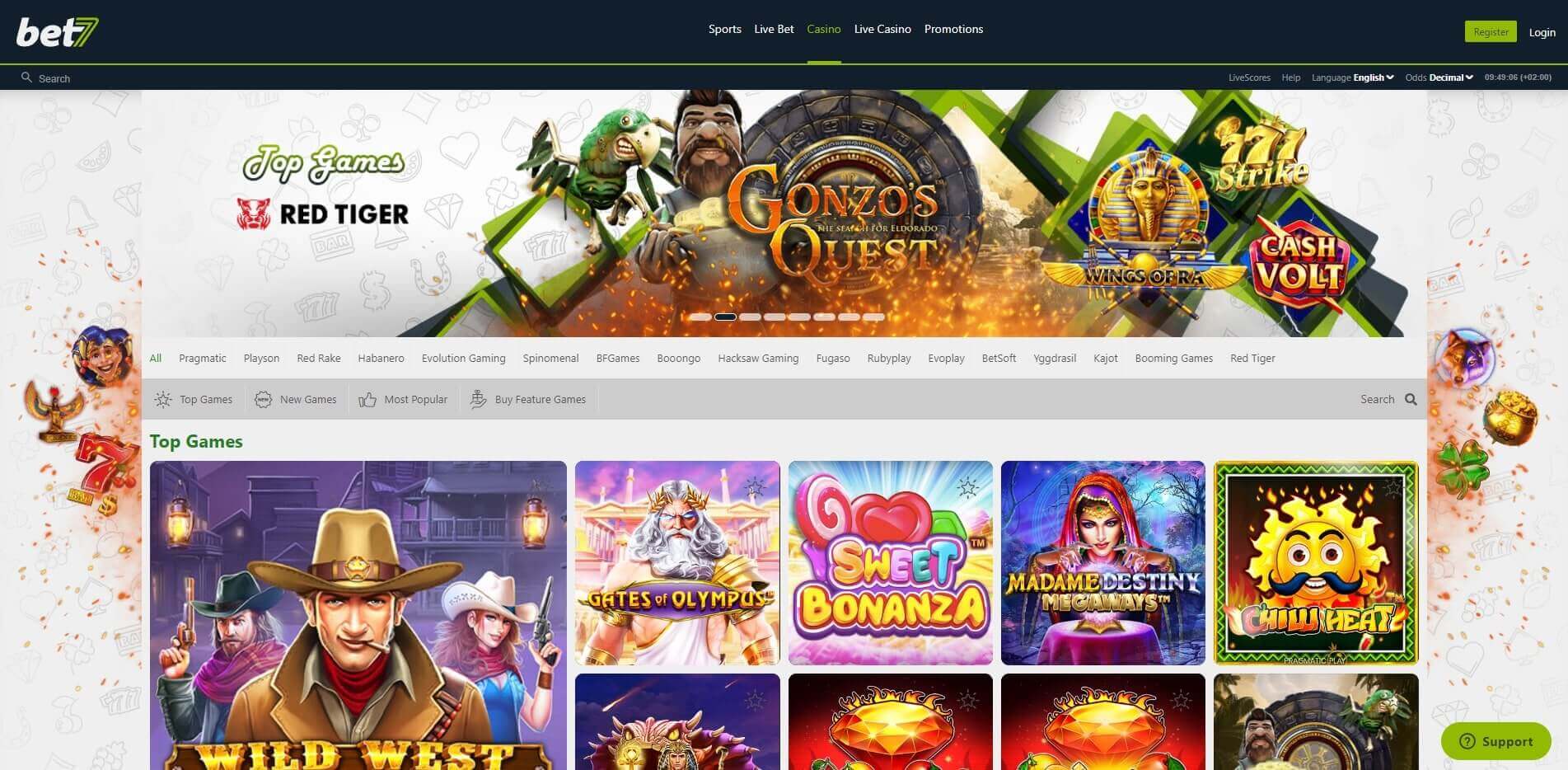 betseven.com
The platform also has a "Live Casino" tab, where players can get a real-life casino experience playing with other people online.
Contacts & Customer Support
Email and the live chat feature are the customer support channels on the Bet7 website. The sportsbook's live chat support responds instantly to queries 24/7. You can access it by clicking on the "Live Chat" button on the lower right part of the website.
The only letdown we find here is the absence of a phone number.
Bet7 Verdict
Due to its vast range of betting options and markets, license and security, competitive odds, and excellent Website UI, we find Bet7 a recommendable sportsbook. However, the sportsbook is not up there with the best on our list due to certain shortcomings in our Bet7 review, like insufficient bonuses & promotions and Esports betting markets. Experienced bettors may not find it worth ditching others for, but the sportsbook looks ideal for any beginner.
Frequently Asked Questions
Similar bookmakers you might also like:
4.6
4.9
4.2