Jan Blachowicz vs Glover Teixeira Betting Preview & Odds (UFC 267, October 30)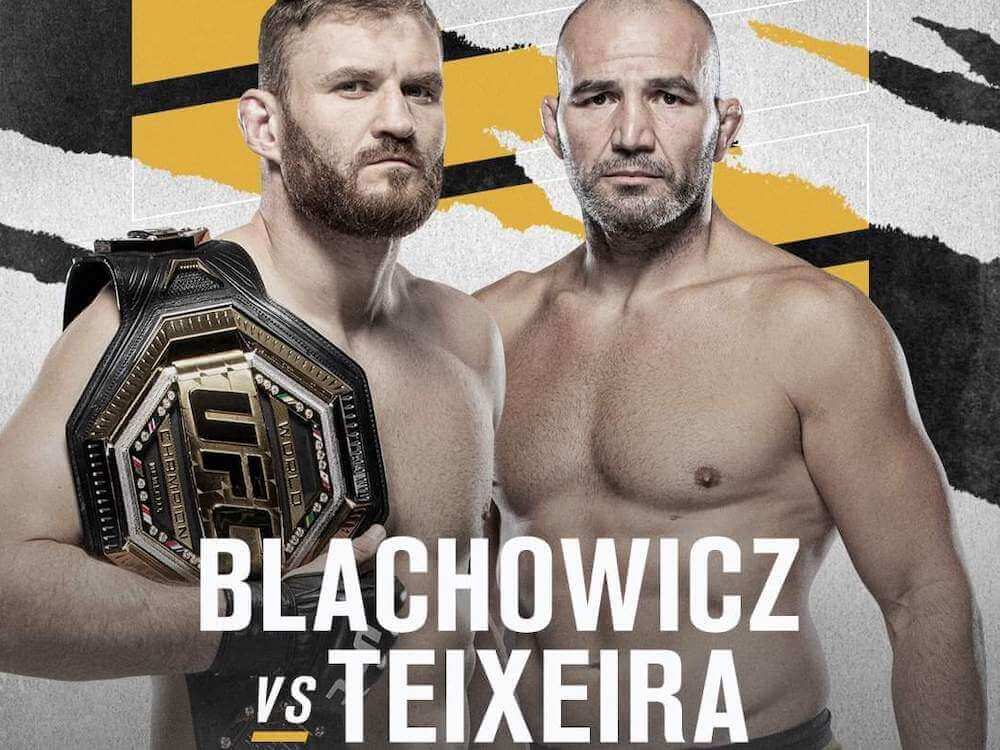 The most anticipated event in the Ultimate Fighting Championship's 267th edition, Polish mixed martial artist Jan Blachowicz takes on Glover Lucas Teixeira from Brazil.
The event will occur at the Etihad Arena in Abu Dhabi, the United Arab Emirates, on the 30th of October, 2021. It is the first non-pay-per-view Ultimate Fighting Championship event in the United States of America since UFC 138 in 2011. Those residing in the United Kingdom can head to BT Sports for the live stream.
UFC sportsbooks have revealed the Blachowicz Teixeira odds now. With online MMA betting gaining traction in recent months, people are looking for the best place to bet on UFC. As far as the events are concerned, UFC 267 featuring Jan Blachowicz and Glover Teixeira is as good as it gets for outright and in-play betting. Let's find out what the markets have to say about the match-up.
Teixeira vs. Blachowicz Betting Odds – Bookmakers' Favorite
MMA bookmakers are favouring the title defender, Jan Blachowicz, to succeed in his defense of the UFC Light Heavyweight title. Veteran challenger Glover Teixeira, despite his good form, will enter the arena as the underdog. Here are the odds according to the bookmakers:
Jan Blachowicz to win – (-275)
Glover Teixeira to win – (+200)
Jan Blachowicz vs. Glover Teixeira –  Head to Head
Title holder Jan Blachowicz has had his fair share of bouts with Brazilian martial artists but is yet to square off against Glover Teixeira. It will be the pair's first meeting.
Jan Blachowicz
38-year-old Polish MMA fighter Jan Maciej Blachowicz is the Ultimate Fighting Championship's Light Heavyweight title holder. The fighter from Warsaw made the most of former UFC Light Heavyweight Champion Jon Jones vacating his title to compete in the Heavyweight category. On the 27th of September, 2020, UFC 253 saw Blachowicz fight and win against Dominick Reyes of the United States of America to claim the vacant title. In what was adjudged the night's performance, Blachowicz ousted Reyes in the second round via TKO. He then defended his title in a great fashion against Israel Adesanya, handing the Kiwi his first MMA defeat in the process.
6'2″ in height and 93 kilograms in weight, Jan Blachowicz has a 78′ reach and uses the Brazilian jiu-jitsu fighting style. His quick lateral movement and the ability to land a killer blow have led to his nickname of 'Polish Power.' Blachowicz has a career win-loss record of 28-8. He has been in solid form of late, winning 5 fights in a row.
Jan Blachowicz's last 5 fights:
On the 6th of March, 2021 – defeated Israel Adesanya via UD
On the 27th of September, 2020 – defeated Dominick Reyes via TKO in 2 rounds
On the 15th of February, 2020 – defeated Corey Anderson via KO in 1 round
On the 16th of November, 2019 – defeated Ronald Souza via SD
On the 6th of July, 2019 – defeated Luke Rockhold via KO in 2 rounds
Glover Teixeira
41-year-old Brazilian American MMA fighter Glover Teixeira is one of the icons of the UFC Light Heavyweight division. He holds the record for most submissions and finishes in the division. Teixeira made his UFC debut nearly a decade back, in 2012. Since then, he has made his name as one of the mainstays in the Light Heavyweight division. He has also represented the Brazilian national team in Men's Submission Wrestling. Having attained American citizenship in 2020, Teixeira is now eligible to represent either country.
Glover Teixeira is eerily similar to Jan Blachowicz when it comes to physical stats. He has nearly the same height and weight as the Polish fighter, although the Brazilian's reach is shorter. Teixeira has knocked out his opponent in over half the fights he has won. His win-loss record stands at 32-7. Like Blachowicz again, Teixeira won his last 5 contests and is going through a purple patch.
Glover Teixeira's last 5 fights:
On the 7th of November, 2020 – defeated Thiago Santos via submission in 3 rounds
On the 13th of May, 2020 – defeated Anthony Smith via TKO in 5 rounds
On the 14th of September, 2019 – defeated Nikita Krylov via SD in 3 rounds
On the 27th of April, 2019 – defeated Ion Cutelaba via submission in 2 rounds
On the 19th of January, 2019 – defeated Carl Roberson via submission in 1 round
Blachowicz vs. Teixeira Betting Tips & Prediction
Both fighters are extremely similar in physique, and there are many similarities in their fighting styles too. Expect Teixeira to come out with all guns blazing because he will be well aware that Blachowicz's superior endurance given the Brazilian's age will only work against Teixeira as the fight grows older. However, the Polish Power knows exactly when to push and when to take things easy. As the battle progresses, Blachowicz will surely seize the key moments, win the fight, and successfully defend his throne at UFC 267.
Use our tips to bet on UFC and knock your competition out!