Stake.com is one of the leading crypto casinos globally and has since expanded into sports betting. With Stake, wagers get access to many famous and less-known sports alongside a remarkable set of Esports games. The sportsbook launched in 2017 and has since expanded globally. It is licensed by the Curacao Gambking Authority and has established its head offices.
The parent company is Medium Rare Limited, registered in both Curacao and Cyprus. In promoting its offerings, the sportsbook has partnered with top brands and personalities like Everton FC, Drake, Israel Adesanya, and the Brazil Rugby League.
Our total Stake reviews reveal everything you need to know about this bookie.
Stake Website & Account Info
Stake.com is a fully online sportsbook and casino service, so all its services are only available over the Internet. Its website is the primary channel for using any Stake product. This website is available for any transactions relating to your Stake.com account. For instance, you can register a new account, log in to an existing one, make deposits, place bets, and withdraw your winnings.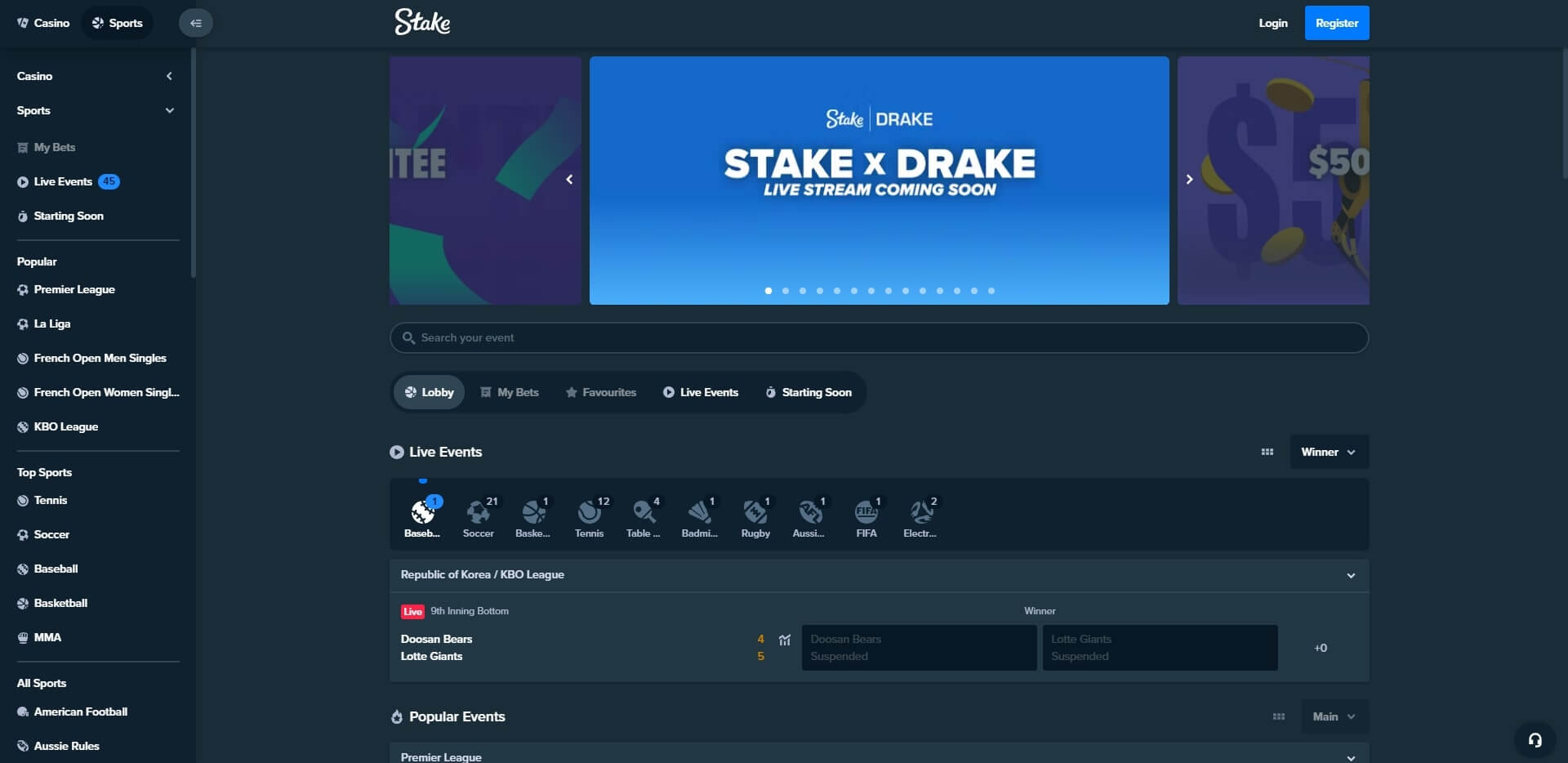 stake.com
There is a blog section that provides comprehensive and easy-to-understand information on everything about running a Stake account. Since the company enables crypto payments, a significant blog section is dedicated to important crypto information.
You can access other things on the website, including contacting customer service using the live chat option and information on the latest promotional offers.
Note that you can always change your preferred language at the bottom left-hand corner of the page. Click on the current default flag (often the British flag, which signifies English), then scroll down the available options to find a preferred one. Available ones include German, Portuguese, Turkish, French, Spanish, etc.
Stake Account Opening Guide
Opening a Stake account is not complicated. You should find a blue "Register" button on the website's homepage at the top right-hand corner and insert all information like your email, unique username, password and date of birth. Unlike other bookies, you don't need to complete verification of KYC to use Stake bookmaker services.
Stake Account Closing Guide
If you wish to close your account for whatever reason, Stake has made that process seamless. You need to go to the website, access "Live Support, " and open a ticket. In your message, state that you want to get your account closed and provide personally-identifying information. You should get a response on the next steps within a few hours.
Banking Options
Our review of Stake shows that the bookmaker has provided bettors with a decent range of payment options to process their deposits and withdrawals, but there are only cryptocurrencies. If you are looking for a bookmaker to work with regular plastic cards, check out our list of betting sites that accept Mastercard.
| | |
| --- | --- |
| Min. deposit | ₿0.0001 |
| Deposit Charge | Free of charge |
| Min. Withdrawal | ₿0.0005 |
| Withdrawal time | Up to 24 hours |
| Payout | 94% |
Deposit Methods
One word that describes the bookmaker's banking options is "convenience".
Nonetheless, note the following essential information about Stake deposits.
Crypto is the principal method for depositing into your Stake sportsbook account. It reveals how different it is from other sportsbooks. It supports over 100 cryptocurrencies, including the most popular ones like Bitcoin, Ethereum, Ripple, Doge, and Litecoin.
However, the sportsbook recognizes the fact that not everyone would have access to crypto or prefers using them as a payment option. Thus, it has made available other options, including credit/debit cards, Google Pay, Apple Pay, and Samsung Pay.
Stake Minimum and Maximum Deposit
Stake requires users to have at least $5 before making deposits to place bets. This Stake Minimum deposit applies to all payment methods, including crypto and digital wallets.
Similarly, the lowest amount you can stake per bet is $0.001 (in fiat).
On the other hand, no maximum deposit limit applies to your Stake betting account, which means you can commit as many funds as you want.
Does Stake Charge Deposit Fees
No. Stake doesn't levy fees when you make deposits into your betting account. However, the payment channel you selected (for instance, Apple Pay or your crypto wallet) may take some cut from your deposit amount.
How Long do Stake Deposits Take
Stake.com has minimal control over how long it takes to get your deposits to reflect in your sportsbook account. Nonetheless, the deposit methods provided are generally fast. For instance, most crypto deposits should reflect instantly.
Withdrawal Methods
As with withdrawals, the deposit options are seamless, but you must note some important details. Going back to the fact that this bookmaker only works with crypto. Explore our list of classic bookmakers working with plastic, which we prepared here: credit card bookmakers.
The methods to get funds out of your account are also the same for deposit processing. So, they include Cryptos and digital wallets such as Google Pay and Apple Pay.
Stake Minimum and Maximum Withdrawal
There are minimum withdrawal limits, but they vary for each cryptocurrency used for withdrawal. For instance, the minimum for Bitcoin (BTC) is 0.0005 BTC and 0.01 ETH for Ethereum.
However, there is no maximum withdrawal rule, so you can take as many funds out of the account as you wish.
Does Stake Charge Withdrawal Fees
Yes. However, the fees differ across Crypto coins or payment methods. For instance, Bitcoin withdrawals can charge as much as 0.00007 BTC.
How Long do Stake Withdrawals Take
Again, the sportsbook doesn't control how long it will take for your withdrawals to reflect in your Stake sports betting account. Nonetheless, Cryptos are generally super-fast payment methods, so you won't wait long before seeing withdrawals in your wallet.
Stake Bonuses
Stake issues bonuses and promotional offers to attract new players and reward existing ones. Please read below to learn more about them.
Stake Welcome Bonus
Bookies offer welcome bonuses to new punters to boost their wagering abilities and enable them to perform well on their initial bets.
4.3
Unfortunately, Stake doesn't provide any welcome bonus yet. As such, no Stake promo code will apply. There is also no Stake deposit bonus where players get a percentage of whatever they deposit.
Nonetheless, Stake bonuses exist in the form of promotions that more than make up for the lack of Stake welcome offers.
These proposals are divided across Casino and Sports betting. However, they constantly change and are often anchored on a particular event. For instance, bettors have promotions to predict the outcome of the 2022 World Cup.
Thus, you must regularly visit the website's promotions section to know which offers are currently available.
Yet, 2 consistent promos include the Stake's Daily Races, where wagers compete to earn a share of $100,000 daily. There is also the Stake's Weekly Giveaway, where bettors get one ticket to participate in competing for $50,000.
Everyone can participate, and you don't need a Stake bonus code.
Finally, there is the Stake monthly bonus, where the bookie sends money to all eligible players per month. All players are eligible so far. They don't breach the bookie's terms of service and have verified their emails. Also, you must not have unsubscribed from the bookmaker's emails. If you meet these primary conditions, you should get an email monthly with the bonus offering and the link to claim it. It can be in the form of a Reload or Coupon.
There are several other promotional offers, meaning wagers don't need a Stake sign-up bonus.
What to Bet on
If you are a passionate sports supporter and want to wager on the outcomes of the sporting events you love, Stake.com is the bookie for you.
| | |
| --- | --- |
| Number of Sport Games | 32 |
| Number of Sport Events | 316 |
| Live Events Daily | 181 |
| Live Events Monthly | 5430 |
| Pre-match Events per Month | 11360 |
Sports Betting
First, you have all the traditional popular sports like football, soccer, tennis, basketball, etc. A key feature of this sportsbook is the depth of offerings that punters can access.
Available Sports
However, the sportsbook recognizes that there are bettors fans of less known sporting types, giving them access to more than enough of such sports. Sports you can wager on include Alpine skiing, beach volley, biathlon, cross-country, cycling, darts, futsal, Gaelic football, etc.
Sports Competitions, Leagues, and Events
Stake offers bettors an impressive set of tournaments, championships and individual sporting events.
Special Events
It doesn't stop there. Stake bookie knows that bettors want to wager on events and tournaments outside football, such as politics and entertainment. It then goes on to fulfil this demand. For instance, Stake sportsbook players can make bets on the outcomes of the 2022 Brazilian Presidential Elections.
Esports Betting
With Stake's eSports offer, wagers can gamble on the outcomes of famous video game tournaments. After providing fantastic sports and political betting offerings, Stake bet goes on to add Esports betting. Games covered include Arena of Valor, Call of Duty, CS: GO, Dota 2, King of Glory, League of Legends, etc.
You can't run out of games to stake on.
Stake Live Betting
Today, punters want more services to be available to them when they need them. So, they want time limits to apply to the games they play. At the same time, they want to be able to watch events as they happen to live. These concerns gave birth to live betting and live streaming.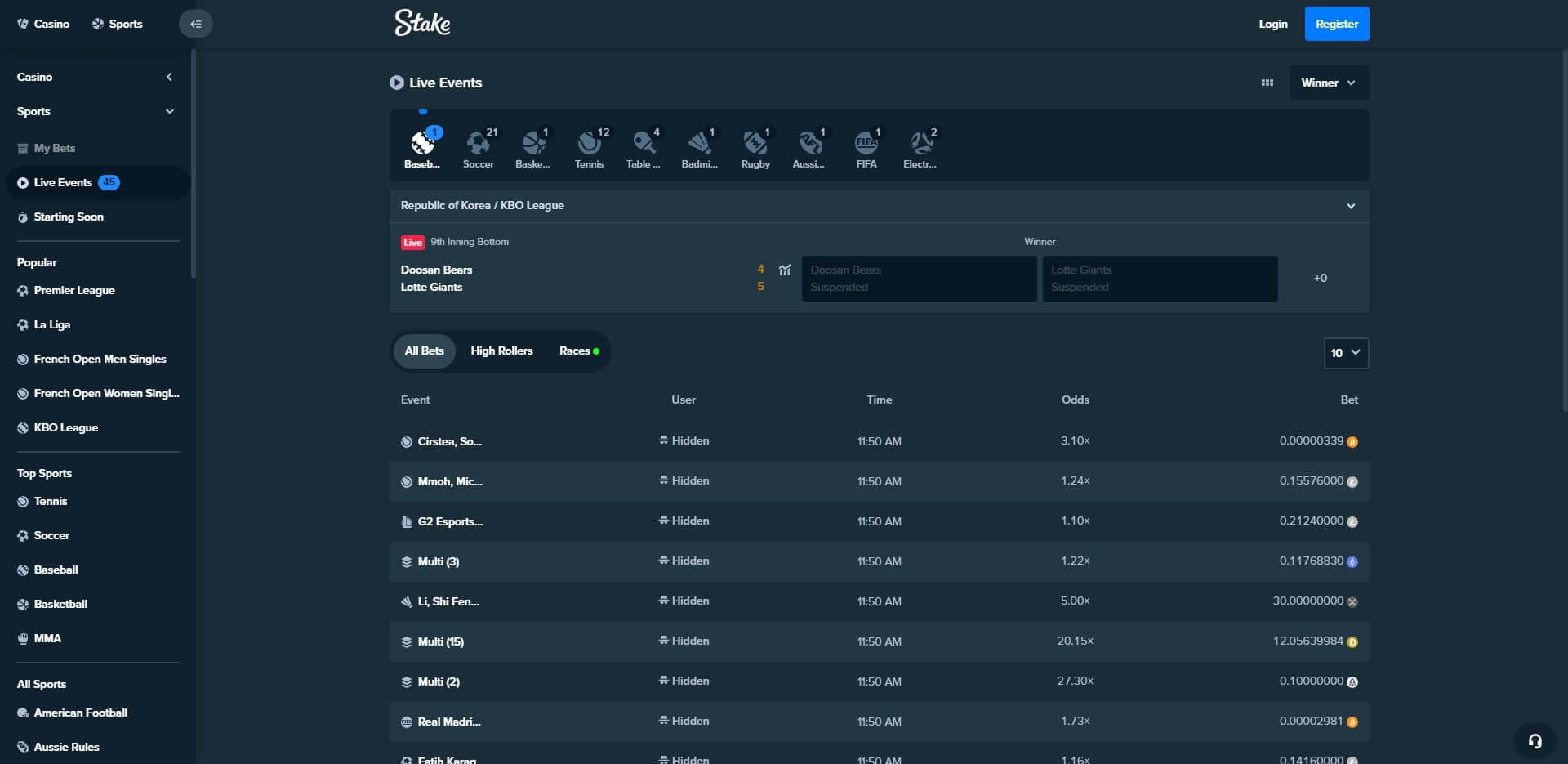 stake.com
Stake does its best to ensure it meets bettors' desires.
Stake live betting feature allows punters to place bets even when events have started. The traditional restriction where they have to enter their wagers before games commence no longer applies.
The live betting service is available in almost all sports and tournaments, with over 1,000 live betting opportunities daily.
The Stake live betting offer is even more attractive than you will get elsewhere. The odds are desirable and can reach as high as 94% for a football match.
Then, the cash-out offer is also available, meaning wagers can place bets after a match has started and closed that bet before the game ends. Moreover, the cash-out feature is open till the final seconds of any game.
All you need to do to access this are:
You will find the "Sports" section at the top left-hand corner of the website, besides the "Casino button." It should take you to the list of available sports.
Click on the sports of your choice to see the events' lineup.
The current ongoing ones will have a red "Live" button, next to which you will find a timer, signifying the current minute of the game.
Click on your preferred ongoing game, and follow the prompts. You can go for multiple endless games at once. At the bottom, you will find a blue button reading, "Place Single Bet." Click on it.
The odds for ongoing games are constantly changing almost every minute. Thus, Stake.com may require you to review new odds severally before you get a stable one.
Live Streaming
With Stake.com live streaming, players enjoy a unique betting experience where they can place wagers on one side and still enjoy their games as they live. The stake has entered into partnerships with different parties to ensure that punters can experience how their bets play out in real time.
Note that this feature is not available for all sports and events.
Mobile Betting
Due to the popularity of mobile devices, betting companies have had to optimize their online experience for mobile users. Stake.com has also followed in that direction by making its services available on mobile.
The website is mobile-friendly, with easy navigation and an attractive user interface.
Stake App
Unfortunately, Stake doesn't offer a mobile app at the moment. Instead of the Stake betting app, the website is good enough for everything you want to get done.
Stake Pros and Cons
With so many remarkable offerings, no one would disagree that Stake has many benefits. Nonetheless, there is still so much that needs fixing.
PROS
CONS

Crypto Payments. Sportsbooks that allow wagers to transact in crypto are rare, but Stake has built its entire deposits and withdrawals around crypto coins. The other payment methods were added as extras for people who don't have access to digital currencies. Crypto payments are fast, cheap and available to everyone everywhere. There are usually location-based restrictions with other payment channels, but crypto makes payments borderless.
Top-notch Partnerships. There is no debate about Stake.com being credible because it has proven to be just that. It has gone into affiliations with trusted brands across the sports and entertainment industries. These include leading Premier League sides Everton FC and Watford FC, the Ultimate Fighting Championship (UFC), top football star Sergio Aguero, and veteran pop musician Drake.
In-depth Bet Offerings. One thing that becomes very obvious when you sign up with Stake.com is how the sportsbook gives access to many offers and options. If you're for traditional popular sports, you have more than enough to deal with. The same goes for less played sports. The bookie also outdid the competition in its Esports feature, offering enough video gaming options outside the most played ones.
Politics and Entertainment Betting. Many people have longed for political events betting for a long time, and Stake.com is only one of the very few sportsbooks that are meeting their demand. Betting on elections, referendums, and related events allows people to engage their democracy and participate in its decision-making.
Remarkable Promotional Offers. Our Stake reviews revealed how much this sportsbook is committed to satisfying wagers' needs through attractive promos. The various Stake promotional offers include free-to-play contests, monthly assured bonuses, VIP perks and more.

Poor Regulation. While Stake.com has proven to be trusted, it is weak in licensing and regulation. The sportsbook is only registered and approved by authorities in Curacao, with minimal licensing elsewhere. While this is great, people in the industry don't regard Curacao regulation as one of the best you can get.
No Mobile App. Mobile betting is here to stay, and it is only natural for a sportsbook to provide a dedicated mobile app that houses all its services. Unfortunately, Stake.com only limits wagers to using its website.
Poor Banking Options. Enabling wagers to transact using crypto is remarkable, but it would become even more impressive if the bookie allowed bets to use conventional banking channels. It is not good enough that players can't deposit via credit/debit cards and popular E-wallets like Skrill and Neteller.
No Betting Limits. Gambling is addictive, and to help punters control their betting habits, sportsbooks impose gambling limits and make it difficult for bettors to change those limits. Unfortunately, Stake.com is different as they live punters to set those limits themselves. It has been proven many times to be unhelpful.
Withdrawal Charges. It is almost an unspoken rule in the betting world that sportsbooks don't charge fees when you make deposits and withdrawals. They already take a cut from your bets. But Stake.com is unfortunately different, as they levy charges when you withdraw funds from your account.
Stake Odds
The stake's performance in terms of odds offering is mixed. In sports betting, you have beautiful odds of rivalling the best in the industry. The odds are even more impressive for unique betting options like live betting, as you can get as high as 95% on football live bets.
However, the casino odds are not encouraging, and you can improve elsewhere.
Other Products
The sportsbook was once a casino-only betting company before branching into sports and Esports. Apart from sports betting, Stake.com is an excellent casino betting service where wagers can gamble on top casino games. Top available games include roulette, blackjack, Baccarat, and table games.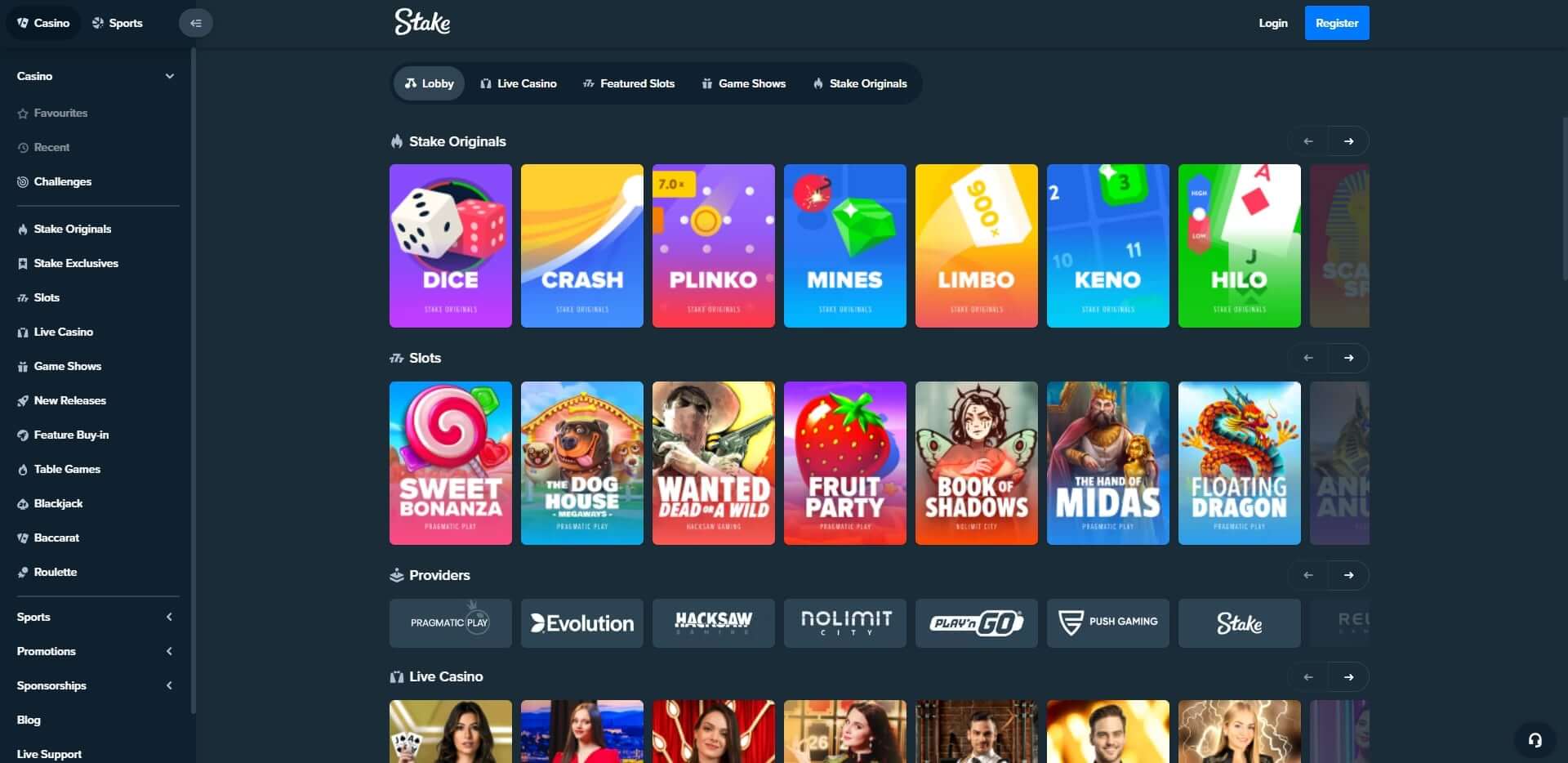 stake.com
Across these games, you can either play pre-game or live casino.
Contact and Support
Customer support is available 24/7 across 2 main channels, including:
The default language for communication is English. We should note that customer service is surprisingly fast, and sometimes, you can get your complaints sorted in minutes.
The only downside is the lack of telephone access.
Stake Verdict
A key takeaway from this Stake review is that it "covers the field" correctly as it provides access to all forms of services available in gambling. Its sports offerings are unique; the Esports services and events/political betting are superb. You have a lot to gain if you go with this sportsbook.
Frequently Asked Questions
Similar bookmakers you might also like:
4.6
4.9
4.2