Sports Betting Explained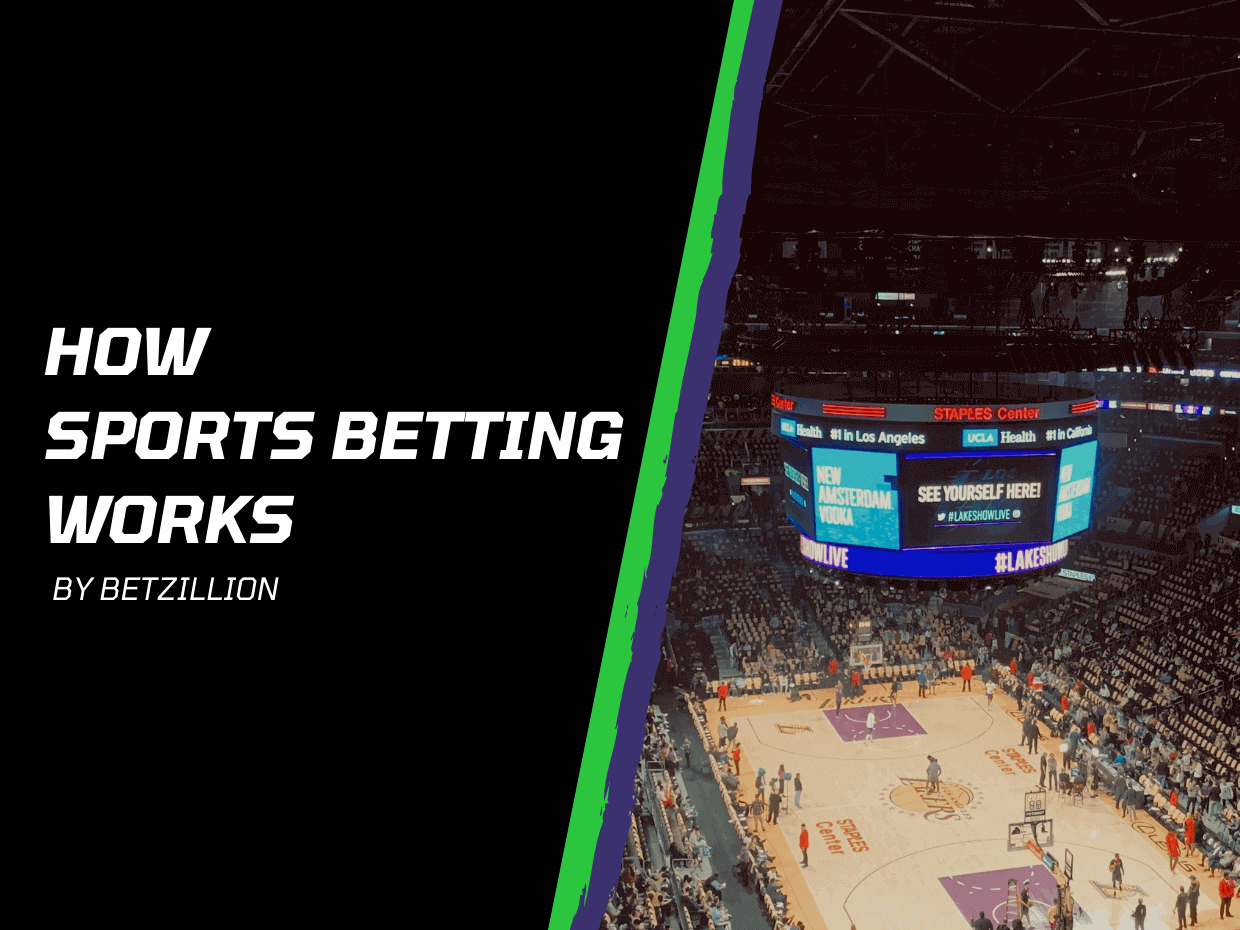 Sports betting is one of the earliest and most popular pastimes for people worldwide. People have gambled over everything for centuries. Whether it was a bet between friends or a wager on the races, it's a well-known fact that we can't refuse to gamble. Bookies have emerged in the XX century and have been quite popular for decades until the sports betting industry moved online.
Have you ever wondered how sports betting works? What's a moneyline, what's a
round-robin bet
or a betting line? Why do odds appear in different formats? What are favorites and underdogs? We have the answers to these questions and many more in the guide below.
What Is Sports Betting?
The simplest way we can explain sports betting to novices is an activity that lets you predict sports results by wagering on one outcome or another. That's the easiest sports betting definition, and we believe it's on point.
However, there's more to sports betting than meets the eye. In the old days, there were only a few bet types. Sports wagering has taken on a whole new shape with the industry reorganizing over the past century and moving online in the last few decades.
Betting on sports events has been fun and popular for a long time. This activity is typically regulated and open to the public around the world, although there are still many countries that are against it.
If you've always wanted to learn more about how sports betting works but didn't know where to start, you're at the right place.
Favorites & Underdogs
Let's start with a few key concepts without which sports betting wouldn't work. There's a favorite and an underdog in every match between 2 players or teams. The terminology is simple and clarifies which side has the upper hand. Favorites will always have shorter odds than underdogs, returning almost no value.
Of course, your chances at getting an underdog win right aren't great. It is a risky investment, but it sometimes passes. Underdogs offer much better odds, especially at giant bookies such as William Hill and Ladbrokes.
These 2 terms are sports betting basics you must understand. Luckily, they're also the simplest, so choosing one or the other is a crucial idea regardless of whether you're betting on soccer, tennis, American football, or basketball.
What Types of Bets Are There?
Now that we've explained favorites and underdogs, it's time to give you the lowdown on the different types of bets. You see, the sports betting industry these days has a line on much more than just winner picks. You can wager in innovative markets that have been invented recently and fan-favorites that have brought many bettors joy over the years.
Aside from 1×2 wagering, our sports betting tutorial will explain all the other basic markets you should know about.
Moneyline
Moneyline is a special type of odds that's been widely accepted as a bet too. American odds show the favorite and underdog with a minus (-) and plus (+) sign, respectively. These show the money you need to risk or the potential $100 win. Let's put that into perspective with an NBA bet:
Lakers: -500
Pistons: +700
In this case, the Lakers are an obvious favorite. You need to bet $500 to win $100 in return if you wager on the Lakers, who have a much higher winning probability in this moneyline. On the other hand, punters will need to risk $100 to win $700 by betting on the Pistons potentially.
Point Spreads
Points spreads are special bets that allow you to wager on the margin of victory. Unlike moneyline, this bet doesn't pick a winner. Instead, you're betting on a favorite winning by a certain margin or the underdog to win by surprise or not lose by a set number of points.
This bet is highly popular in the USA, especially in NBA, NFL, and NHL matches.
Futures
You don't have to be an expert in how betting works to understand that futures are a wager on a future event. The result of this bet will be provided sometimes in the future, unlike moneyline bets placed today.
Futures are just as popular as any other bet type as they tend to have pretty high odds. Also known as outrights, they give you a chance to wager on (for example) who wins the NBA league this season.
Over/Under (Totals)
Once you learn the sports betting basics, you will never stick to moneyline wagers only. Totals are a great market that's fun to try, allowing you to bet on the total amount of points both teams will combine to score in a game.
Just like point spreads, it doesn't rely on a winner. Instead, you'll be putting your money over or under a totals score set by the bookie. If you've never tried totals betting before, it is available in many sports and can be profitable if you know your stats.
Parlays
Parlays are bets placed on multiple outcomes. Usually, these wagers (usually 2 or more) are tied on a single bet slip, with their odds multiplied by your bet. Parlays can pay dreamy sums of money, but only if you win them all. Even if one loses on your slip, you lose the whole bet.
They are quite the adventurous and rewarding wager, but luck plays a big factor in winning parlays.
Props, Teasers, and Pleasers
The official definition for a prop bet is a bet that doesn't rely on the game's outcome but on an individual player or event. Prop bets are prevalent during big sports events such as the Super Bowl. They can also be quite lucrative. Almost any bet except moneyline, point spread, or totals, is sometimes considered a prop wager.
Teasers are similar to parlays, but you can adjust the lines for each of the best this time. Just like parlays, each of your selections must win for your bet to win.
Pleasers are the opposite of teasers. With this wager, the lines are moved in the bookmaker's favor, and as a result, your slip will be harder to win. The good news is that if you manage to get everything right, the payouts are big.
How Does Live Sports Betting Work?
Now that you know how online sports betting works, it's time to introduce you to live betting. In the past, punters at gambling shops could only bet on fixed odds. The best could only be placed before the event begins. Once it does, every wager is off-limits until the match is finished. Well, not anymore. The online betting industry has introduced live betting, which has been a dream of millions of punters around the world.
In the simplest terms, live online sports betting gives you a chance to wager on live events, as in a football match that's currently underway. It has revolutionized the betting industry as we know it. You can wager on a wide range of new markets with live bets, including next corner, next team to score, player to score, or next yellow or red card. That's precisely why it's so exciting.
Of course, the odds are quite different from those you get before the match. Plus, live betting isn't for beginners. You're much more likely to lose your money on it, but you also stand to win solid sums if you can predict who scores next. Those are the odds that often go sky-high, especially when a team goes behind.
Live betting platforms are full of second-to-second stats that give punters a better idea of what might happen next in a match. Many bookmakers also include live streams in the mix, allowing you to watch the game and the pendulum swing.
On top of it all, features such as Cash Out that allow you to get a portion of your money out before you lose it make live betting even more thrilling than it already is.
Where to Bet on Sports?
Betting on sports online can be done at hundreds of excellent bookies. Our team of experts strongly recommends going with an established sportsbook that covers the sports betting basics. Bookies such as William Hill, DraftKings, Bovada, Betway, 22bet, and Ladbrokes are all perfect examples. These are among the top bookies on the Internet in 2022, packed with great markets and excellent odds in tow.
Of course, you can also go with new betting sites. We'd say go for those with the best odds on your favorite sports. For example, if you're an NFL fan, shop to find the best American football odds. It's the same with tennis, basketball, and any other sport.
Make sure your bookie of choice has plenty of promotions, too, and that it's properly licensed and regulated.
Bet Responsibly
When betting on sports online, you have to mind to gamble responsibly. It's pretty easy to get carried away by a few winning slips, risking more money so you can win more. That's not how sports betting works. Just because you're in a winning row doesn't mean luck will smile on you all the time. Make sure to keep your bankroll in check and get help by contacting customer support if you think you need it.
Online gambling is very dangerous if kept unchecked. Plus, it's highly addictive, too, so that it can lead you down a road where there's no coming back. Either bet responsibly or look for help before that happens.
Final Words
Sports betting is, hands down, one of the favorite pastimes of people from all over the world. Since the industry focused online, the whole concept of sports betting changed radically for the better, of course. We now have access to thousands of markets with better odds, not to mention that it's easier than ever to bet from home or on the go.
We hope that our guide explains how sports gambling works online in 2022. If you're looking to join a sports betting site, give it a read first. It'll clear a few misconceptions up and tell you everything you need to know to become a better punter.
Frequently Asked Questions
How does sports betting work in football?

Football betting is one of the most common types of betting online. The most typical wagers placed on football matches is moneyline or 1×2. With these bets, you can predict the winner of a game. However, football betting goes deeper than that, allowing you to bet on numerous aspects of the game, including live betting markets.

What does +4.5 mean in sports betting?

+4.5 is a point spread that can be applied to nearly any event. By gambling on a point spread of +4.5, your selection should either win the game or not lose by more than 4.5 points.

What does +110 mean in betting?

It is an example of moneyline betting. The +110 indicates that you will win $110 by wagering $100, equaling a total of $210.