100% up to Kč50000 + Kč500 in free bets

Tipsport is currently the largest and the best betting agency based inside the Czech Republic. Their head offices are located in Beroun, with almost 1000 brick and mortar betting shops open across the country. This Tipsport review aims to deliver the following information:
What betting options are available on the site.
How to create an account login.
The pros and cons found when using the site.
Tipsport Website & How to Sign Up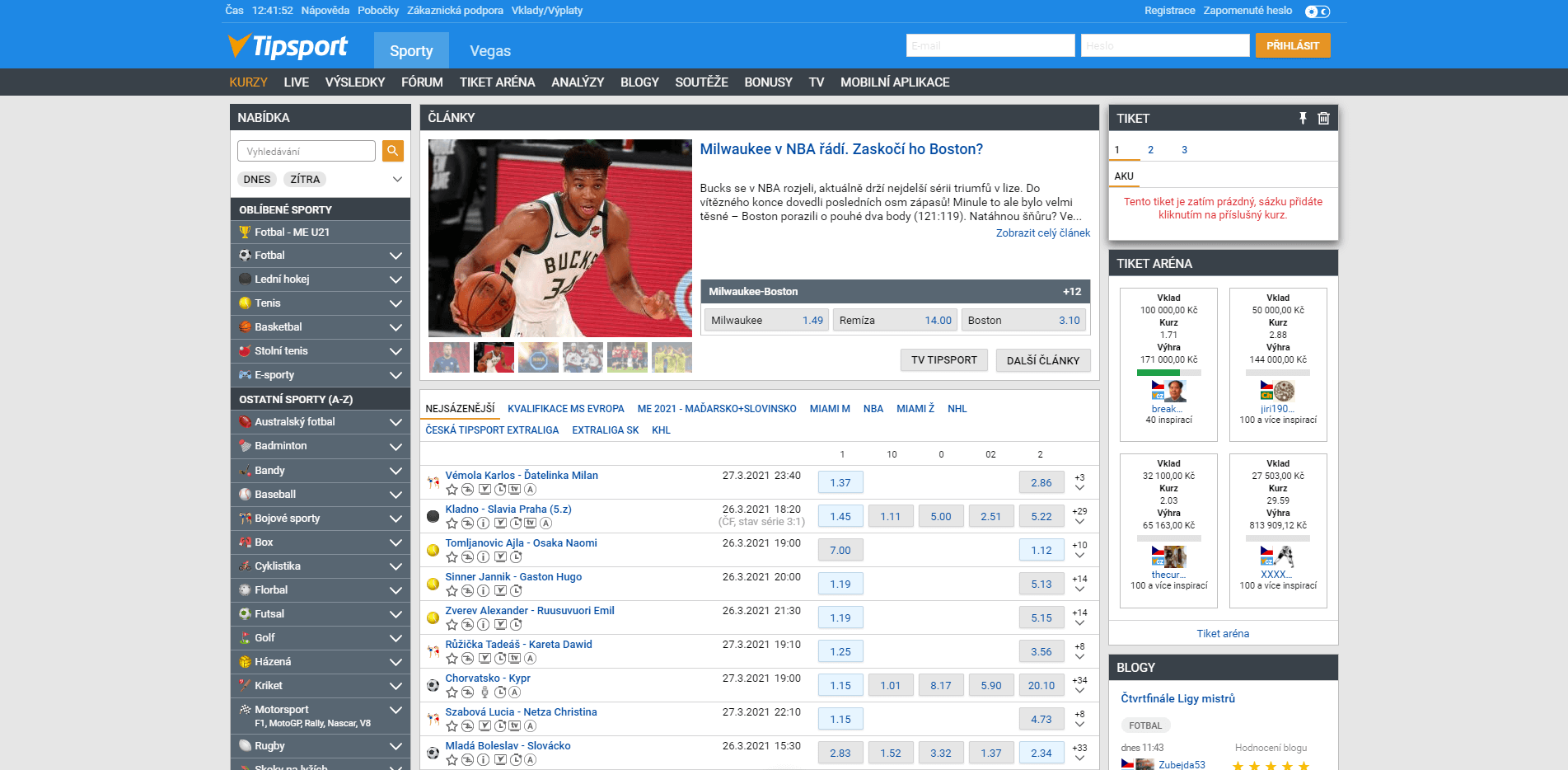 tipsport.cz
To create a Tipsport account, click on the button labeled "Registration" at the top of the page and follow these instructions:
Enter your name.
Enter your date of birth.
Enter your phone number.
Enter your email address.
Enter a promo code if you have one.
Click "Register".
Once registration is complete, you will receive a verification email. Click the link on this email to finalize your account.
Banking Options
The Tipsport bookie gives its users several valid payment options when depositing and withdrawing funds.
Deposit Methods
To place a Tip sport deposit, head to your account page and select your desired payment method. Card options, E-wallets, and other payment options can be found on this site. Then choose an amount to deposit and click the button.
Tipsport Bonuses and Promotions
To find the range of Tipsport promotions and deals, head to the "Bonuses" page on the website. Select the offer you want and it will be added to your account.
Tipsport Free Bets
One of the most common offers found on the Tipsport site is that of free bets. These give players additional free bets when they deposit a specific amount.
Tipsport Live Betting
Clicking on the tab labeled "Live" will take users to the in-play betting section. From here, players can place bets on many live games currently in-play.
Live Streaming
When on the "Live" betting page, users can select an option to filter for streaming games. These betting options can be watched on the browser via a live stream.
Tipsport Mobile Betting
The Tip sport site works perfectly on mobile devices. To access the site, go to the usual Tipsport.cz address and enter your login details.
Tipsport Betting App
The Tipsport CZ app can be downloaded directly from any app store. It works on both Android and iOS devices.
Tipsport Pros and Cons
Here is a condensed list of a few of the pros and cons found when using the site:
Pros:
A great selection of sports betting options.
A dedicated live betting section.
Plenty of Tipsport bonuses.
Clear and easy to use the website.
Cons:
Primarily a CZ and SK site, meaning that translations are not always accurate.
Cash Out
Tipsport currently offers a cash out feature, allowing its users to end some bets prematurely before a match has finished minimizing their losses or securing a win.
Other Products
Tipsport also offers a dedicated "Vegas" section where users can play classic casino games like poker, blackjack, and roulette. Virtual online slot machines can also be played here.
Contacts & Customer Support
If you require help, then you should visit the customer support page. An email address and contact phone number are provided should you need to contact the customer support team.
| | |
| --- | --- |
| Support email | [email protected] |
| Support Phone Number | +420 311 633 118 (cz); 00420-311-633-118 (sk) |
| Live chat | No |
Tipsport Verdict
If you are a Czech bettor, then the Tipsport bookmaker is probably the best online betting option for you. However, if you are situated in the UK or elsewhere, you may find the awkward translations a little off-putting. Nevertheless, Tipsport is an excellent online sportsbook option.
Open Betting Acc at Tipsport
Frequently Asked Questions
Is Tipsport legit?

For an online operator to be confirmed as totally legitimate, they must have a few different things. The primary piece to confirm legitimacy is the licenses required to operate in the areas it does. Tipsport has all of the necessary permits that are required of them. They have separate licenses for both their Czech-based betting operations and their UK-based operations. For example, the UK Gambling Commission works directly with the operator, running their UK site. Additionally, Tipsport's legitimacy is confirmed even further as it undergoes routine testing from official government testing agencies to ensure that the whole site and mobile app are safe and secure.

How do you win Tipsport?

It is not an easy question to answer. The simple version of an answer is you win at Tipsport by being a smart bettor. Savvy bettors will likely use the site's cash-out feature to regularly ensure that they make continuously successful bets. Paying attention to the site's various tips and statistics will also help you to place successful bets.

How to use the Tipsport bonus?

Tipsport bonuses can be found on the "Bonus" page on the site. Once on the page, select the offer you want and click the claim button. The offer will likely be automatically added to your account if you have one. Welcome bonuses may require the user to input a promo code on the sign-up form manually.