Tipico is a leading European sportsbook that provides sports betting services in Germany. It is one of the top sports wagering platforms globally and has entered the United States, particularly in New Jersey and Colorado. With Tipico, you can bet on your favourite teams, players, and leagues worldwide. These leagues include the NBA, NFL, NCAA, NHL, and MLB. Here is a guide to learn all you need to know about the sports betting platform.
After reading this expert review, you will find out the following:
What a Tipico sportsbook is.
How to open an account.
How to claim the welcome offer.
How to deposit and make withdrawals.
Tipico Website & Account Info
Tipico has a sports betting platform that is easy to use and navigate. However, you must create an account before using the website.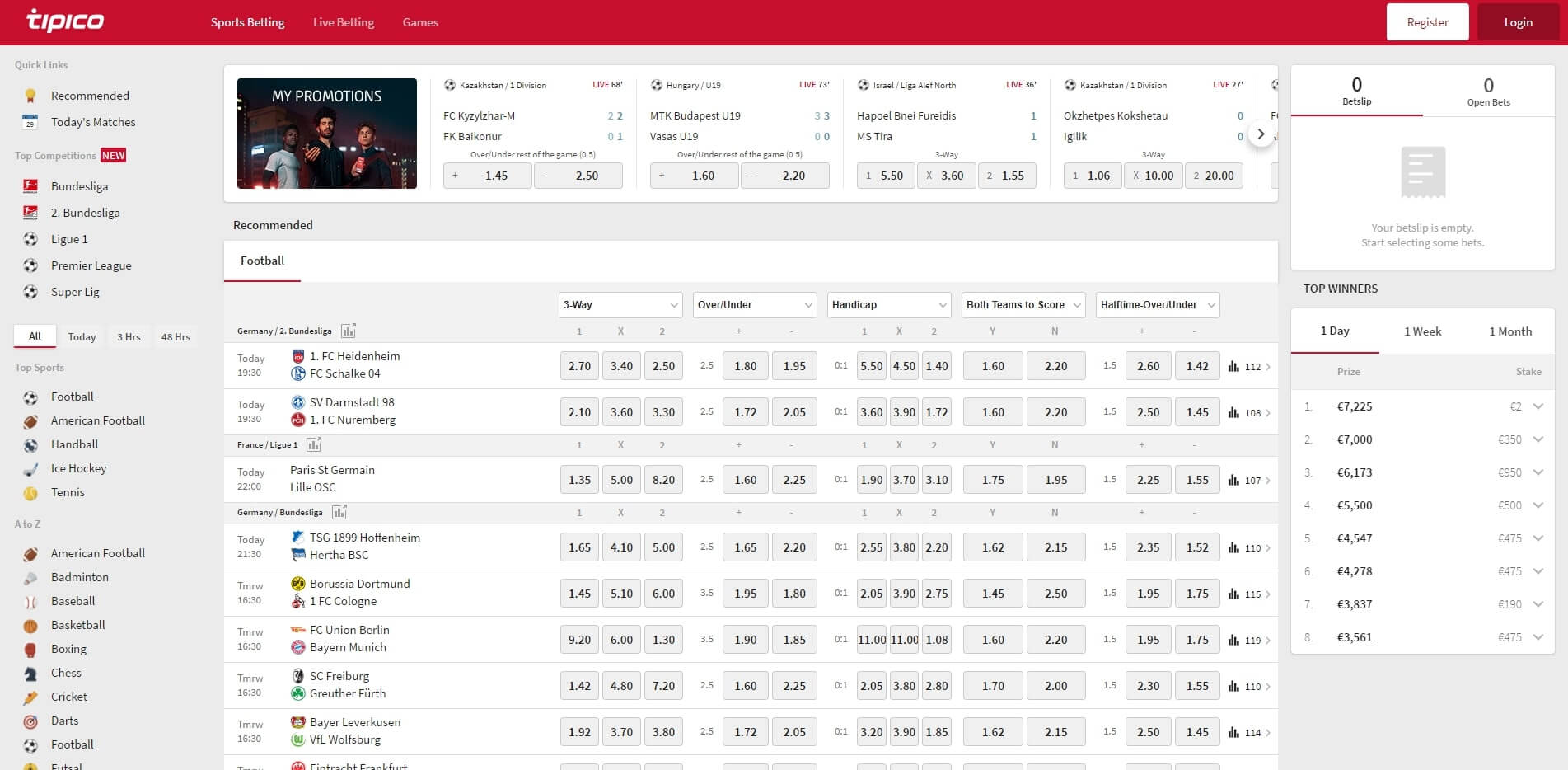 sports.tipico.com
To open an account with Tipico, you must be in one of the regions where the betting platform is available. At the moment, Tipico is open in several countries in Europe and a few states in the U.S. If you are not in those countries or states, it would be difficult to join the Tipico sportsbook. As a result, the process of creating a Tipico account in the U.S. differs from registering in other parts of the world.
New users can follow the steps below to create a Tipico account in the United States.
Visit the Tipico Website
First, visit the Tipico website, navigate to the top right-hand corner of the homepage, and click the "Sign Up" icon.
Choose the state you are in to access the registration page on the resulting page. Here, you have to choose between Colorado and New Jersey because they are the only 2 states the website currently functions. If you are not in any of the 2 states, you will not be able to access the website. You could wait until it is available in your state, as Tipico has promised to be available in other parts of the USA.
After you select one of the states, you will be led to a page where you can choose whether to receive the welcome bonus Tipico offers or if you do not want the bonus. If you choose the bonus, you will get risk-free bets of up to $750. Of course, every new punter will love to get a welcome bonus. So everyone should opt for the offer.
Fill the Registration
Choosing any option will lead you to a page where you can fill out the registration form. Note that if you had chosen to receive the bonus, you would have it listed on your form.
Enter your date of birth, email address, password, and phone number in the spaces provided. Then check the box after that to certify you would like to receive marketing emails, including free bet offers and other promotions from Tipico.
You will also need to check the box that follows to acknowledge you read and understood the platform's privacy policy and have accepted the terms and conditions of the website. It will also ensure that you agree that the website should verify your identity information with the issuer or official record holder. Also, it will ensure that you are age 21 and above. Anyone below 21 is not allowed to use the website.
Click the "next" icon after you are done, and you will move to the next page of the registration form. Enter your first name, last name, current physical address where you receive mail or bills, city, state, and zip code. Then enter the last 4 digits of your SSN. Click the "Next" icon once you fill out the registration form.
Confirm Your Email
On the resulting page, you will see a message that you need to confirm your email address by tapping the link sent to your email. Go to your email to tap the link, and you will verify your account before logging in to make your first deposit.
Verify Your Identity
After confirming your email, the next step is to verify your identity. There are 3 processes involved in identity verification. The first is to verify your identification by uploading your Driver's License, Passport, Passport Card, Govt. or Issued Photo ID. Next, choose your option and upload the front side and backside of the card to proceed. Then submit according to the prompt.
The second verification process is the proof of address. It is where you will upload an image of your utility bill or bank statement posted in the last 3 months that contains your full name and current address. Other information on the proof of address includes the bank or financial institution's logo, and no images of envelopes are accepted.
After that, you can move to the third verification process, where you need to enter the 9-digit of your Social Security Number (SSN). Input the numbers correctly, and you can click the "Submit" icon.
How to Close Your Account
If you want to take a break from betting, Tipico allows users to do that at will. All you have to do is request Tipico to help you block your account. Reach out to any of these means of contact support to close your account.
Banking Options
Immediately after registering an account on Tipico, you need to make some deposits into your account to wager your bets. You will also need to withdraw your earnings from the website when you win. Thus, a need for withdrawal methods.
| | |
| --- | --- |
| Min. deposit | €10 |
| Deposit Charge | Free of charge |
| Min. Withdrawal | €10 |
| Withdrawal time | Up to 5 working days |
| Payout | 92% |
The good thing about Tipico is that the website offers some of the simplest payment methods without any minimum deposit. These payment methods are the same as those of a regular person in the United States to pay bills and transactions. So the process is what punters are most likely used to.
Deposit Methods
There are various means of deposits available on Tipico to fund your account.
Here are some of them:
ACH/eCheck: Tipico has a partnership with GlobalPayments for its users to use the ACH/eCheck transactions to deposit funds into their accounts. All you need to do is register with Tipico and deposit from your bank account up to your established limit. You will immediately get the payment into your Tipico account, but it may take 2 working days to post to your account.
ACH via Mobile or Online Banking: You can also deposit funds into your account directly from your bank account through one of Tipico's partners, Mazooma. Log into your mobile or online banking to connect your bank account, and you can make a deposit securely from any financial institution in the United States.
Wire Transfer: Another method you can use to deposit funds into your Tipico account is wire transfers. But if you want to make larger deposits, contact the sportsbook's customer support team at [email protected]
Deposit via PayPal: Everyone knows PayPal. Punters can now deposit into their accounts through the payment gateway.
Withdrawal Methods
Tipico also has several ways users can withdraw their funds.
Below are some of the methods:
ACH via Mobile or Online Banking with Mazooma's Instant Bank Transfer.
ACH/eCheck through VIP preferred.
Withdrawal to a Tipico Prepaid Card through Play+.
Withdrawal to a PayPal account.
Usually, your withdrawals will take 1-3 business days to reflect in your chosen method because all digital withdrawal transactions are subject to review. You can contact the customer support team if you run into any problems. Tipico may sometimes contact you through your email for further documentation if the betting platform needs additional verification.
Tipico Bonuses
One way sports betting sites attract customers is to offer them a series of promotional bonuses.
Customers have access to several bonuses on Tipico, including the welcome bonus, free bets, and odds boosts, which they can use to explore the website and have more wagering betting options. It will ensure that customers remain with the website for a long time.
Tipico Free Bets
Tipico offers its users risk-free bets to wager without taking any risk. The way it works is that you will place your bets safely without the fear of losing because even if you lose your rewards, the Tipico betting platform will credit your stake back to you in the form of a Tipico bonus.
For instance, if the website offers a risk-free bet of up to $50, you will get a cash refund of up to $50 in bonus bets if the wager you played the risk-free bet ends up in a loss.
Follow the steps below if you want to get risk-free bets:
Visit the Tipico website and log into your account.
Navigate to the left-hand area of the homepage and click the "My Account" button.
Go to the "Promotions and bonus" page on the resulting page.
You will see the risk-free bets available on the website, where you can opt into any of your choices.
Add the wager to your bet slip, and ensure you press the "risk-free wager" icon on the bet slip to apply it to your stake.
Place your bets, and you are all set.
If your parlay loses, you have parlay insurance. You will be given bonus funds for the amount you staked. But, then, every risk-free bet available on the website has its terms and conditions. Visit the promotions and bonus page to find out. Note that you cannot use risk-free bets to wager on a bet that is more than the value of the Tipico free bet. For instance, you cannot use a $100 risk-free bet to wager on a bet with a $150 stake.
Tipico Welcome Bonus
Every sportsbook offers its new users a juicy welcome bonus to attract customers to its platform. Tipico has also provided a welcome bonus offer that ensures new users can explore the website.
3.6
18+ New customers only! Get 100% up to €100 on your First Deposit! Full T&Cs apply
New users can access a risk-free first bet of up to $750. This offer is an option, and it depends on whether or not you want to opt-in for it. If you get this offer, you have to opt-in for it at registration.
You can get as much as $750 as a risk-free bet when registering an account. If you deposit $500 into your account as a new user and instantly wager on games with the funds, you will get a risk-free bet up to the amount you wagered. The highest you can get for this offer is $750, which means even if you try to place a bet of more than $750 for the first time, you can only receive $750 as a risk-free bet bonus.
In addition, the promotion rules state that you only have 30 days to use the risk free-bet, and you will only get the risk-free bets for the Tipico sportsbook welcome bonus offer once.
Terms and Conditions of Tipico Welcome Bonus
For every bonus on Tipico, there are terms and conditions attached. Below are some of the terms and conditions you should watch out for when opting in for the welcome bonus risk free-bet:
The offer is only available for new customers who open verified, real money sports wagering accounts and have opted into the proposal when registering. After registration, you can also opt-in for the offer on the dedicated "Offer Page".
You cannot withdraw the risk-free wagers and only use them to bet. In addition, you have only 30 days to use the risk-free bet from the time it was added to your account. You will forfeit the bonus if you refuse to use it within 30 days. In addition, your bets must be settled within 30 days to claim the risk-free bet bonus.
Tipico allows you to opt out of the offer even after you have claimed the risk-free bets, but you will have to forfeit the bonus.
The welcome bonus risk-free bets are only applied to individual and parlay wagers. Robin bets are not included.
There are no minimum or maximum odds requirements to get the risk-free wager.
The risk-free bet can only be used on one Tipico bet slip. You can decide to place a risk-free bet for an amount lower than the value of the risk-free bet, but you will have to forfeit the remaining amount.
Wagers voided, cashed out, or settled as a push are not eligible for play-through requirements.
What to Bet on
Tipico is one of the leading sportsbooks globally that provides several sports betting market options.
| | |
| --- | --- |
| Number of Sport Games | 25 |
| Number of Sport Events | 210 |
| Live Events Daily | 261 |
| Live Events Monthly | 7830 |
| Pre-match Events per Month | 7400 |
The platform allows most bettors to wager on the sport, special events, and Esports. In addition, there are many available events punters can wager on, and all you need to do is look for your area of interest.
Sports Betting
Many punters register on betting platforms to wager on the online sports betting market, including the Tipico football betting market. Although sports betting has become a crowded market, sports events are some of the most popular options punters love to wager on, and Tipico has provided many options.
Available Sports
The sports betting market covers soccer, football, basketball, baseball, tennis matches, mixed martial arts, golf, darts, Formula 1, and boxing.
You can wager on sports, including hockey, table tennis, stock car racing, etc. There is no horse racing, for which there are specialized bookmakers: online horse racing betting sites.
Sports Competitions
You can bet on different sports competitions, including MLB, NFL, NHL, MMA, Champions League, English Premier League, World Cup, NBA, etc.
Special Events
Tipico also offers its customers the chance to wager on special events unrelated to sports.
Punters can wager on Tipico VIP programs like the Oscars, Eurovision, U.S. presidential election, Nobel peace prize, etc. So in case you are not a sports fan, Tipico also has a place on the sports betting app for you.
Esports Betting
If you are Esports, you can also bet on Esports games, including League of Legends, Arena of Valor (AoV), Fifa Online 4, Free Fire, etc.
Tipico Live Betting
Sports betting has gone beyond just wagering on games before they start. Instead, online sportsbooks now allow punters to wager on live games.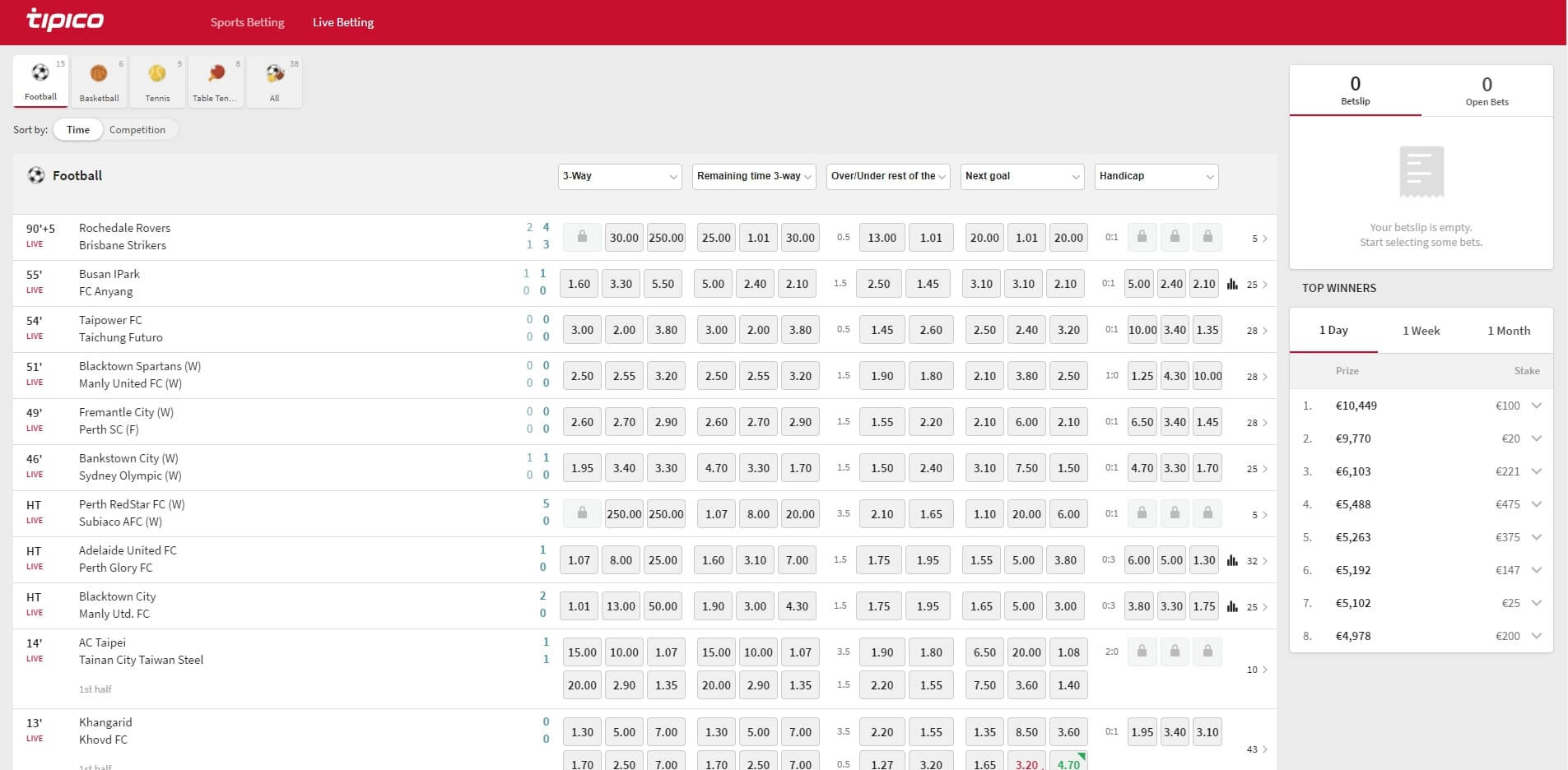 sports.tipico.com
Live betting, also known as in-play betting, will enable you to control your bets, ensuring you can cash out your wins and cut your losses. But you must understand how to bet on Tipico, especially on Tipico bet live games. Usually, the odds for Tipico live bet games change as a match happens live, depending on various actions. For example, it could be due to goals scored, injuries to players, or any other notable event in a game.
Tipico Live Streaming
Sportsbooks allow punters to watch games they wager on live to follow up on live actions and would not need to watch from their T.V. Unfortunately, Tipico does not offer its customers this feature just yet. They only have access to graphical representations of the live actions. Perhaps, the website will make the option available soon.
Mobile Betting
There is nothing better than being able to place your Tipico bets at your convenience. Tipico has now made it available for users to wager on Tipico games from their comfort zones directly from their phones. So it means you can be anywhere and still place your bets without needing a computer to access your account. As long as you are within the jurisdiction of areas where you can wager, you can wager from your mobile device.
Tipico App
Apart from being able to wager from your phone, Tipico has also provided its customers with an improved user experience with the Tipico App. With the Tipico sportsbook app, you can place your bets even better, and you have access to various features that will make your experience more intriguing.
The Tipico bet app is available for download for Android and iOS users. You have to visit the website and download the Tipico app.
Tipico Pros & Cons
Tipico Sportswetten is one of the leading sportsbooks globally, offering several sporting events with intriguing odds. Here are some of the pros and cons of using the website.
PROS
CONS

Tipico is a trusted sportsbook that has existed for a long time, and users can be sure they are safe to wager on the platform.
The betting website has excellent navigation, allowing users to wager easily.
The platform provides mobile apps for users to wager from their comfort.
Deposit and Withdrawal methods are straightforward.

The website is only available for certain parts of the United States.
The registration process could be too long.
It could be challenging to download the Android version of the app.
No live streaming option is available.
Cash Out
Nothing is better than claiming your winnings before a game goes out of hand. Sometimes, the team you wager on could be winning a game until the dying minutes, only for the opposite side to win the match eventually. It is where cashing out early comes in. Tipico allows sports bettors to cash out on their winnings before the end of a game if they do not want to risk what could happen before the end of the game.
Also, cashing out allows you to cut your losses. If a game is not going in your direction, you can cut your loss along the line by removing the fraction of the part of your stakes remaining. In addition, cashouts are available for parlay or multiple bet options where you will claim your winnings before starting a specific game. For instance, if you wait for the last game to start before you cash out, the amount you will cash out will reduce.
Tipico Odds
One of the ways Tipico has attracted new users so far is through the odds. The betting platform provides competitive odds that are quite beneficial to its customers. Its users continue to choose the betting platform over its competitors. In addition, the odds available on Tipico are mainly American odds, like for other leading sportsbooks in the U.S.
Other Products
Other provided products include Tipico casino games like slot games, Blackjack, etc.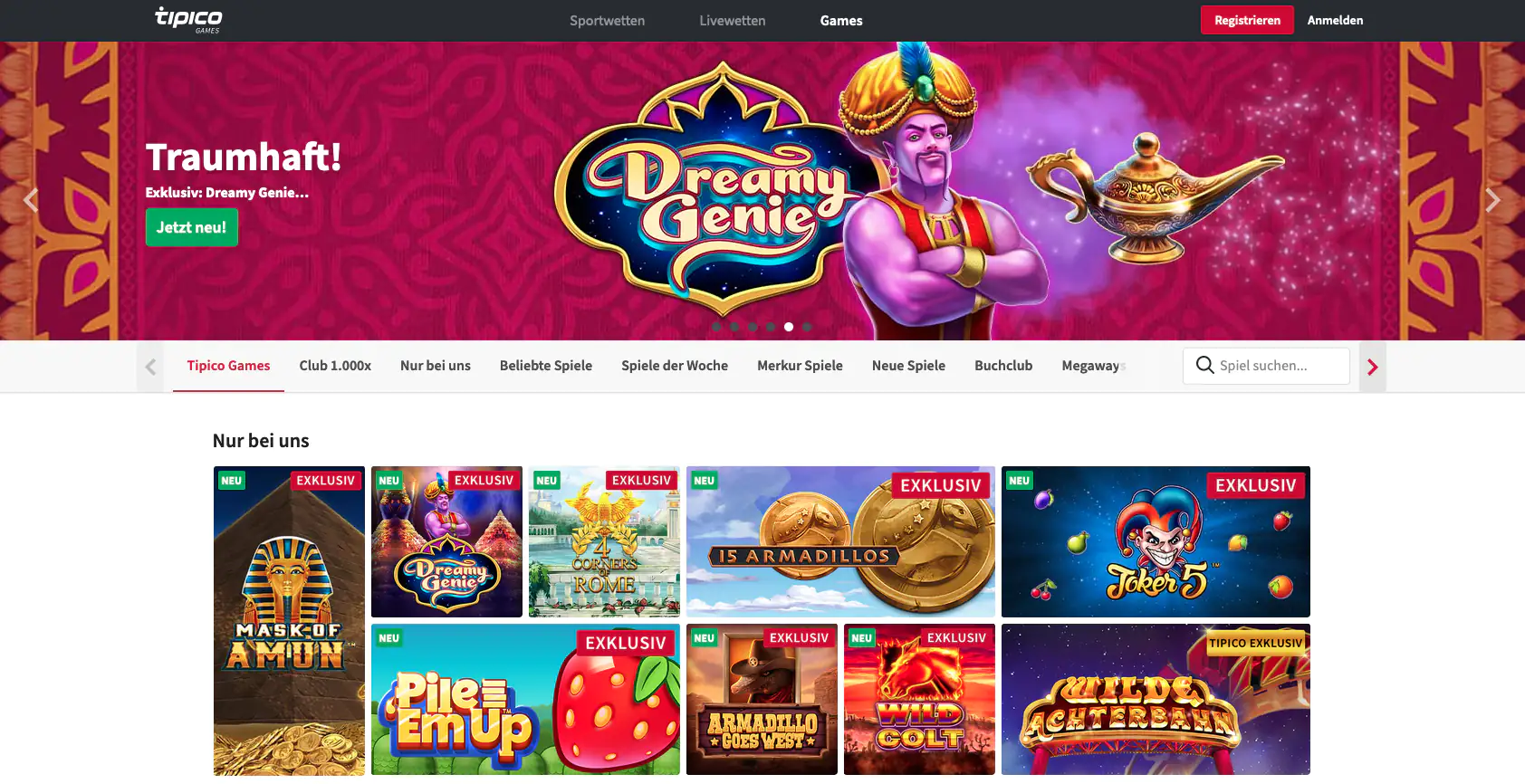 games.tipico.com
As stated in the review above, the Tipico sports betting platform allows its users to wager on other events that are not related to sports. These events include the Oscars, Eurovision, U.S. presidential election, the Nobel Peace prize, etc.
Contacts & Support
In your course of using the website, you could sometimes get into some problems. In that case, you will need to contact customer support to help you out. It usually applies whenever you want to verify your account or when you want to close your account. Here are the methods to contact customer support:
To access a live chat, press the "Live Chat" button between 9 a.m. to 9 p.m. EST.
Tipico Verdict
Tipico is in the United States to stay, and despite being only available in 2 states, there are plans to move to other parts of the U.S. The Tipico online betting website has a proven record of being the best, providing its users with the best odds and promotions. In addition, the risk-free bet welcome bonus the website offers is one of the best in the country. If you don't want to miss out on that offer, click the button below to visit Tipico bookmaker.
Frequently Asked Questions
Similar bookmakers you might also like:
4.4
4.1
4.9