-

SportPesa is an international bookmaker that focuses mainly on sports betting. With an incredible collection of sports, games, and tournaments from different countries, it is the go-to place for many punters in South Africa. SportPesa is widely recognized for its innovative and customized betting service and profitable odds.
Fully licensed and regulated, the bookmaker promotes safe and responsible gambling. Here, we break down the South African platform of SportPesa and provide you with an expert overview. Read our detailed SportPesa review to know everything there is about this incredible platform!
Accessing and Opening an Account on SportPesa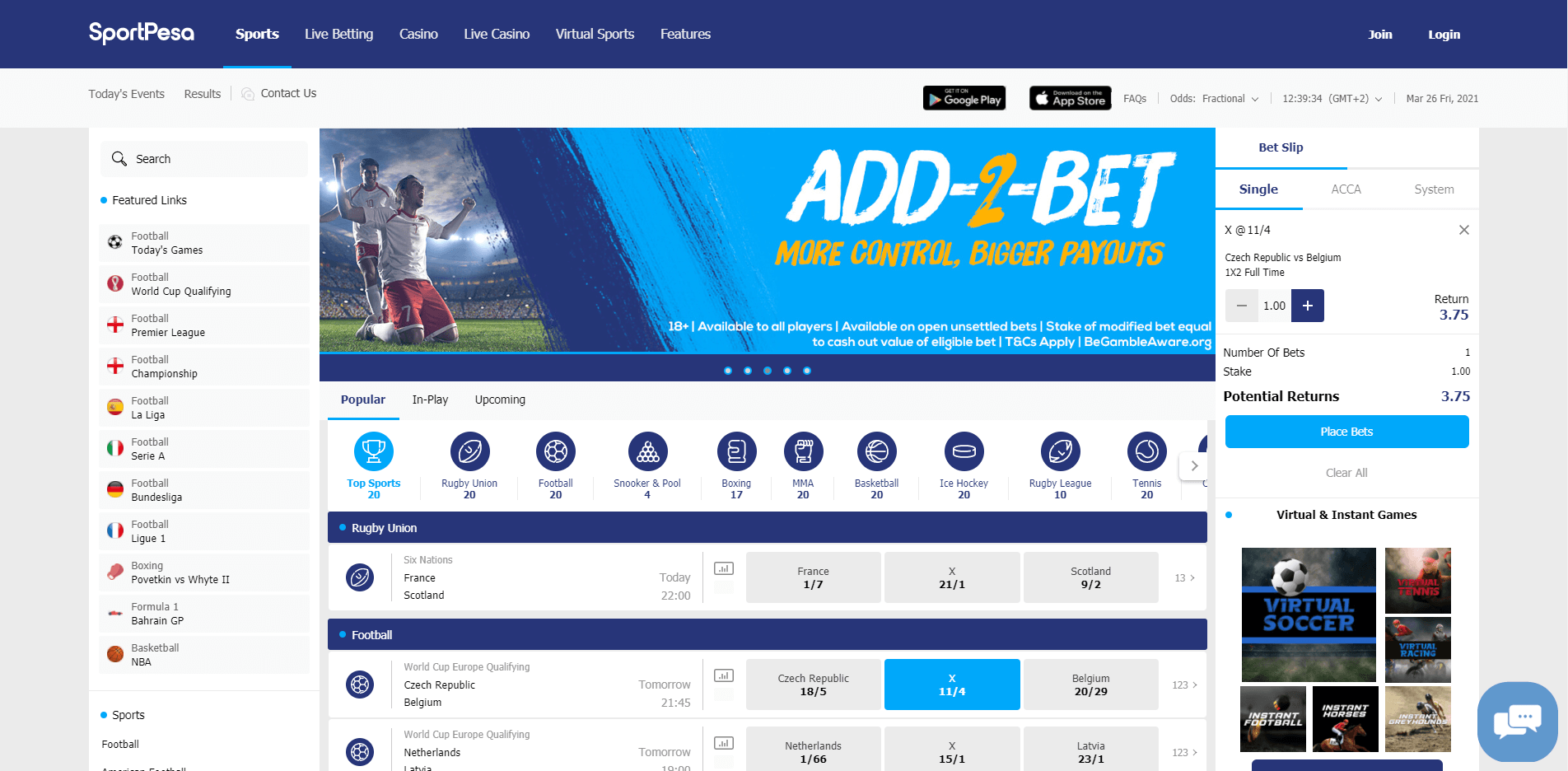 sportpesa.com
Accessing the Platform
SportPesa can be accessed through its website and its mobile application. Since SportPesa is a dedicated sports betting platform, accessing their domain homepage will directly take you to their betting page. The platform natively offers content only in English. Make sure you type in the correct domain name (.za), as there are different websites for different countries.
Registering for an Account
Creating an account is important as it allows access to all the bookmaker's services, including the SportPesa bonus, if any. To register, you need to be above 18 years of age.
SportPesa offers a plethora of ways to register an account. You can sign up through their website or USSD (also called Unstructured Supplementary Service Data), mainly used in mobile banking, order requests, and payments.
To create an account, visit their website and click on the Register Now link present on their website's top section. If you are South African, you can provide your South African ID and mobile number. If you are not a South African citizen, you can still join SportPesa by providing your Passport number.
Once you enter your details, a verification code will be sent to your mobile number. You need to enter this code when prompted. International players should upload the necessary documents to complete the process.
Your account will be registered successfully only when all the necessary information is provided. You will also be prompted to read and accept the sportsbook's terms and conditions. Once registered, you can check all the vital account information on your "My Account" page. Betting online on SportPesa has never been easier.
For detailed information and queries, visit their FAQ page.
Payment Options
SportPesa offers a variety of methods to deposit and withdraw funds. You can make deposits and withdrawals through any of the three options SportPesa offers: via the web, USSD, or SMS. To successfully withdraw and deposit funds, you need to be logged into your account. You can also find information on payment options, news, and SportPesa betting tips on their blog.
Deposit Methods
Deposits on SportPesa can be made through SMS, USSD, and their website. To deposit cash through USSD, follow the instructions on their help page (you can access the page by clicking on the Help link available on their homepage's navigation bar). Depositing through their USSD service is intuitive and straightforward.
To deposit funds to your account through their website, locate the Deposit Funds section on your Accounts page. You can choose from various payment options, including credit cards, debit cards, and electronic transfers.
You can even deposit funds to your account using vouchers by accessing the Vouchers section. Vouchers can also be used through SMS. SportPesa online betting has made life easier for many enthusiastic punters.
Withdrawal Methods
Withdrawals of funds from your account can be made through the SportPesa app, website, and USSD service.
You can withdraw funds through USSD only if you have an active e-wallet from the First National Bank (South Africa). Please note that you can only cash out a maximum amount of R 5000 per day, as per the bank's limits.
You can also withdraw funds through SportPesa's website. SportPesa offers two methods for withdrawing your funds: First National Bank's e-wallet and bank transfers.
To withdraw, click on the Withdrawal link present on the top-right corner of the website. Follow the instructions for the respective options that you have chosen. Completion of withdrawals may take up to two working days. If your withdrawals exceed R 25,000 per month, you need to upload documents through your l account.
SportPesa Bonus and Promotions
Many sports betting websites offer attractive welcome bonuses and promotions to bring in new customers. Many punters can also avail themselves of weekly and monthly promotions to make betting even more exciting.
Surprisingly, SportPesa does not offer promotions of any form. The platform does not provide SportPesa sign up offers for new customers, and their website or mobile application do not have promotional banners, content, and posters.
Though the platform's counterparts in other countries provide SportPesa welcome offers, the SA platform hasn't shown any signs of providing their punters with bonuses. It might be because SportPesa already has excellent branding exposure due to their sponsorship of specific teams in the English Premier League.
There are chances, though, that SportPesa might offer promotions in the future.
Betting Options on SportPesa
Sports betting is one of the most popular gambling methods, with a myriad of betting options to choose from. These include Esports, tournaments, leagues, and even mainstream sports. Sportsbooks try their best to have as many options as possible to cater to punters interested in different sports betting forms.
Sports Betting
Lots of people have fun while betting on matches and tournaments, irrespective of whether the bets are in their favor or not. The attempt to analyze a game before it happens by weighing different factors makes matches exciting. Many people who bet on sports are die-hard fans of these games. By using a sportsbook such as SportPesa, wagering becomes easy and straightforward. Read on to find out how to bet on SportPesa online.
Available Sports
Since SportPesa is a dedicated sports betting platform, you can place wagers and bets on many forms of games and sports. With their vast selection of games, punters can have fun and make money while using their platform. Some prominent sports include soccer, basketball, cricket, and MMA's.
To place a SportPesa bet, check the left sidebar of their website to select a sport from the list of available sports.
Sports Competitions
The website allows punters to place wagers on different sports competitions and leagues, including the Premier League, LaLiga, and ATP. SportPesa even offers to bet on games from other countries, so if you like betting on matches and leagues from different countries, this platform is the place to go. Fans of all shapes and sizes can come here and have fun, as SportPesa has an extensive collection to place bets on.
To choose matches, see highlights, and select countries, click on the dropdown menu on the respective games available on the Sports page's left sidebar. You can even see SportPesa today's matches from this sidebar.
Special Events
SportPesa currently does not offer wagers on special events like the Oscars, award ceremonies, and presidential elections.
JengaBet
JengaBet is a newly launched betting service on SportPesa. Unique and highly rated, Jengabet allows you to customize your bets and create templates, and also allows you to make a plethora of predictions using the same wager. The result? A highly entertaining and profitable betting experience.
You can click on the JengaBets link on their navigation menu to access a list of games. To create a new JengaBet, click on the 'Create JengaBet' button next to the respective games. You can also learn more about JengaBets by clicking on the question mark placed on top of the section.
Esports Betting
Like traditional sports gambling, Esports betting allows you to place bets on tournaments and popular games like CS:GO, DOTA, and Overwatch. Esports betting is popular among gamers and fans who are into gaming.
Unfortunately, SportPesa does not offer Esports betting to its customers. According to SportPesa reviews, this is a drawback to many users.
SportPesa Live Betting
Another highly sought-after form of sports betting is in-play betting, or live betting. It takes place after an event has begun. For example, you place bets on a soccer match while it is going on or while a cricket match is being played.
It could be highly profitable, as you can place bets after analyzing the game and back odds that are profitable for you. Many fans and sports enthusiasts find live betting extremely exciting as you can change the wagers as the event unfolds.
SportPesa offers in-play betting too. Currently, they offer in-play betting on just three games: soccer, basketball, and tennis. To access SportPesa live bet, click on the Live Games link on their navigation menu.
Live Streaming
Live streaming provides you with a better betting experience, as you can use the live stream to analyze your bets and wagers, especially during in-play bets, while also enjoying the game.
Unfortunately, SportPesa does not offer live streaming for any of the available games and tournaments. That said, the platform provides a highly detailed and interactive statistics page for each game, which can help you analyze each game thoroughly.
SportPesa Mobile Betting
With mobile usage skyrocketing around the globe, mobile applications have become the new normal. It is also true in the betting world. Many bookmakers have dedicated mobile applications to provide their users with a better user experience.
SportPesa is no exception. The platform offers a dedicated mobile application for both Android and iOS users. You can either create a new account on the SportPesa app or use an existing account. The application can be downloaded through their website by clicking on the App link on their navigation menu. To use the application, you need to have an Android version of 4.4 or higher.
SportPesa Betting App
SportPesa also has a mobile app to follow games, see live stats and game highlights. This app is available for both Android and iOS users. You can get this SportPesa betting app from the App Store and Google Play.
The Pros and Cons of SportPesa Sportsbook
SportPesa has its benefits and disadvantages. Here, we list the most important pros and cons of their website and mobile application.
Pros:
The bookmaker offers tailor-made mobile apps for both Android and iOS users. SportPesa even provides a separate app for highlights, news, and live stats.
SportPesa is a dedicated sports betting website explicitly catering to sport betting enthusiasts, and thus their platform is optimized for sports betting. SportPesa is widely considered Africa's number one betting site.
Being an official sponsor for teams in the English Premier League, the platform is well-known internationally for its profitable odds and a curated marketplace.
The website and app are easy to navigate and user-friendly, enhancing the betting experience. SportPesa even offers place bets through their USSD service, which is an excellent option for users with slow devices.
SportPesa's JengaBet is an innovative and highly favored betting option, making the platform one of the few bookmakers to offer such services.
International players can also use this platform by providing their passport number.
Cons:
There is no option for live streaming for any games on their website and mobile application.
SportPesa currently does not offer any form of promotions, welcome bonuses, or offers while depositing with real money. The platform does not even provide SportPesa free bet.
Though the platform offers live betting, it does so only for three types of sports: soccer, tennis, and basketball.
The platform does not offer Esports betting – a prevalent form of sports betting.
SportPesa SA currently does not have the option to cash out – though its counterparts in other countries allow their customers to cash out.
Cash Out
Usually offered for in-play betting, cash-out allows you as a bettor to receive payment before the event is complete. The availability and rules may vary depending on the bookmaker.
Though SportPesa's counterpart in the UK provides cash-out options, the South African portal does not have a cash-out feature.
SportPesa Odds
One of the most popular global sports betting sites, SportPesa consistently offers competitive and attractive odds. The absence of any promotional content and bonuses on their website and application suggests that bettors use their website for their incredible odds and extensive markets – a testament to their profitable odds.
Other Products
The South African bookmaker also offers 'Lucky Numbers' – a popular betting option where users can bet on the lotteries' outcome. Here, users would bet on the result of lotteries instead of participating in the lotteries. SportPesa offers to bet on both local and international lotteries.
To access this product, click on the Lucky Numbers link on their navigation menu and choose from the available lotteries. To learn more about Lucky Numbers, click on the How to Play link on the webpage
Contacts & Customer Support
A dedicated section for customer service is available on every SportPesa webpage. You can find it on the right sidebar of every page. The website offers multiple ways to contact customer care and place your queries:
You can also chat with customer care through the floating icon present in every page's bottom-right corner. You need to provide your name and mobile number before accessing the chat section. A customer care agent will chat with you to clear your doubts and queries.
SportPesa Verdict
We hope you enjoyed our detailed SportPesa review. Summing it up, SportPesa is a reliable platform dedicated to sports bettors, multiple ways to bet: USSD, web, SMS, and mobile app. With an extensive collection of tournaments and games from different countries, SportPesa is a sportsbook to reckon with.
Though it has its disadvantages, the bookmaker makes it up with a seamless user interface, profitable odds, and customized betting experience. Look out for JengaBet – and you won't be disappointed. Check out their incredible platform by clicking on the button below!
Open Betting Acc at SportPesa
Frequently Asked Questions