Sports betting as a hobby is as old as hobbies can get. For thousands of years, the Greeks and the Romans have popularized betting to the rest of the world. Being a part of history, it's only understandable that modern Italians have a soft corner for betting.
If you're one of them and you're looking for a reliable online bookmaker to try your hand, we have the perfect solution for you. The BetZillion Snai review. Snai is the most popular online sportsbook in Italy, and for good reasons.
In this review, you're going to learn about the reasons, including:
All the sports events and markets
Payment methods you can use
Bonuses you can enjoy
Customer support the operator provides
And plenty of other important information regarding Snai
Snai Website & Account Info
Snai currently is owned and operated by Snaitech Spa, a company based in Piazza della Repubblica in Milan. It's a sports company that has been operating since 1990. There are plenty of Snai Agencies and betting corners throughout Italy where you can go in and place bets, mostly on horse races.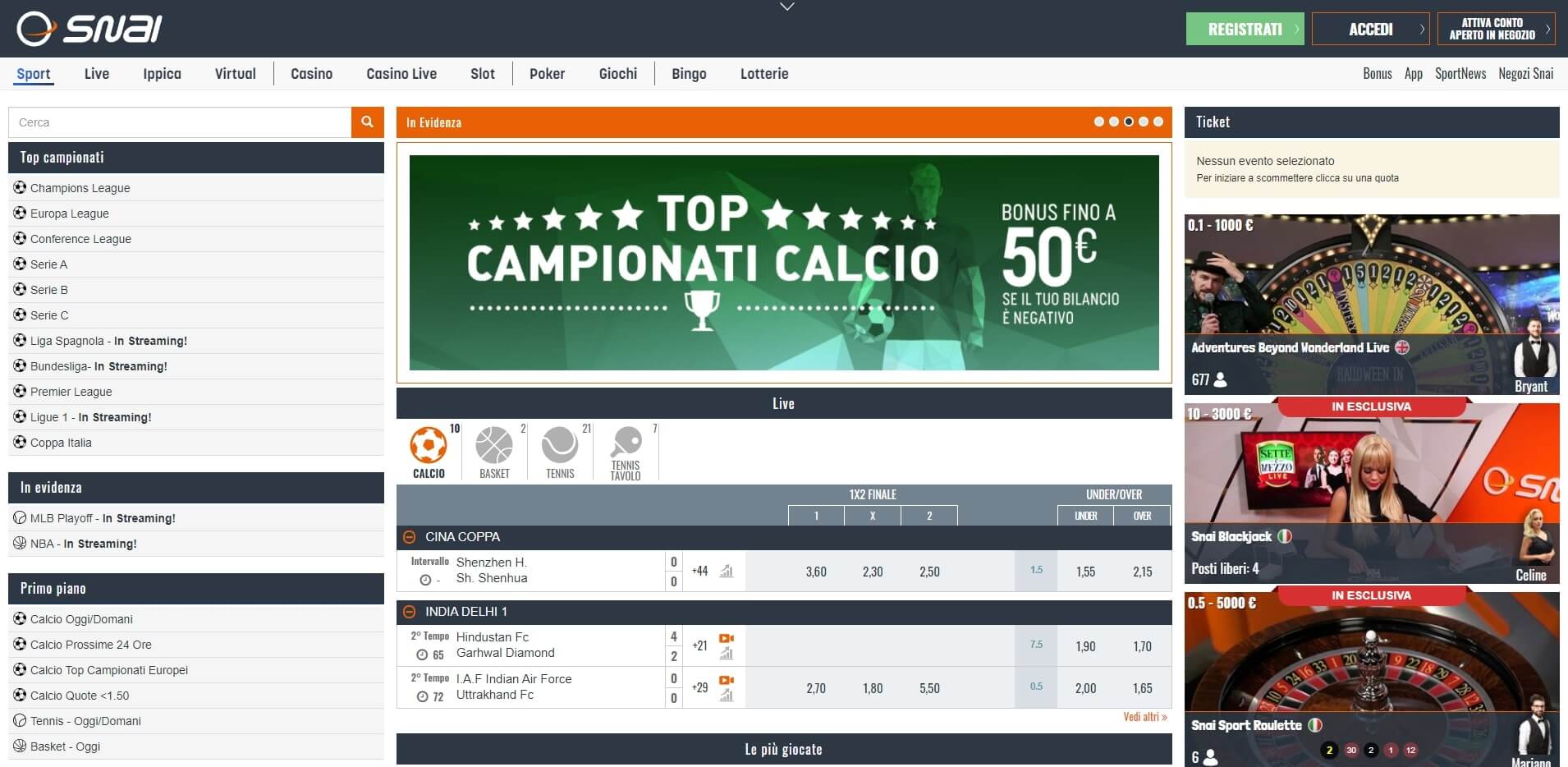 snai.it
The online component of the betting company came to life in 2004, making it the first Italian online sportsbook.
To use the sportsbook and the rest of the gambling products, you first need a valid gaming account. To open one, you must be at least 18 years old and have a tax code. The tax code is a mandatory requirement if you want to deal with real money in Italy.
The signup process is very streamlined. Here are the steps you need to follow to do it:
Visit the website and click on the "Sign In" button. It's a bright green button so it should be very easy to find.
Tapping or clicking on the button will trigger the registration form. Provide your username (the one you intend to use for the account), password (a strong one to protect your gaming account), email address, and phone number.
From there, follow the on-screen instructions to complete the registration process. It shouldn't take any more than 5 minutes.
Banking Options
All the gambling experts will agree that real money payment methods are one of the first things you should look for at an online gambling site. Because if you can't deposit and withdraw as you see fit, even the best features on the website won't matter.
| | |
| --- | --- |
| Min. deposit | €5 |
| Deposit Charge | Free of charge |
| Min. Withdrawal | €5 |
| Withdrawal time | Up to 5 working days |
| Payout | 94% |
In our Snai review, we found lots of payment methods that the company offers. But not all of them are suitable for both deposits and withdrawals at the same time. So, let's go into a little more detail and explore the deposit and withdrawal section separately.
Deposit Methods
Deposits are how you start your journey at an online gambling site. At the Snai betting site, you can carry out the deposits with credit cards, prepaid cards, PayPal, Neteller, Skrill, Postepay, Snai vouchers, and Snaipay refills.
Snaipay is an in-house payment method developed by Snaitech to better manage the transfer of funds. You may also use a direct bank transfer to inject real money into your gaming account.
The minimum deposit at Snai sports starts at €10 only for most methods. The deposit with Snai vouchers starts at €5 only. The maximum limit, on the other hand, is player-controlled. The default limit is up to €35,000/week. You'd be glad to know that all the deposits at Snai are instant.
If you are looking for a bookmaker where in addition to debit cards you can make payments and withdrawals via cryptocurrencies — have a look at our MyBookie sportsbook review.
Withdrawal Methods
If you deposit real money in your sports betting account, it's a no-brainer that you'll need to withdraw the funds as well. How do you do it? Well, all of the methods we discussed in the previous section are valid for withdrawals too. Just make sure you submit the KYC (Know Your Customer) documents before requesting a withdrawal.
From what we've seen in our Snai review, the minimum withdrawal starts at €50. You can withdraw up to €10,000 every day given that your chosen payment method has a limit. All withdrawal requests are usually processed within 72 hours.
Snai Bonuses
We're always firm believers in bonuses. We believe you should take advantage of all the bonuses a gambling company offers given that the terms and conditions are fair.
You'd be glad to know Snai offers all kinds of promotions for both new players and existing players. Needless to say, there's a welcome bonus for both sportsbook users and casino players. Apart from them, you get a plethora of cashback bonuses, exclusive bonuses on leagues, Bingo bonuses, lottery bonuses, horse racing bonuses, virtual betting bonuses, and even a no deposit bonus!
As no deposit bonuses are often considered the most elusive kind of promotion in the iGaming industry, let's shed some light on it. The moment you sign up, Snai will credit €15 to your account that you can use for sports bets, no deposits required!
Now, let's shift our focus to the Snai welcome bonus for bettors in Italy.
Snai Welcome Bonus
Also known as the GOLD bonus, you can win up to €300 from this amazing welcome offer at Snai. To claim it, you need to use the Snai bonus code "BB_SPORT" within 30 days of your registration. Make sure you deposit at the required minimum amount.
3.5
Also, you need to complete the verification of your account if you want the €5 free bonus. If everything goes well, you should receive the bonus within 7 days of your deposit.
The welcome bonus at Snai is a 100% return on your deposit up to €100 and a 50% return up to €200. What it means is that if you deposit under €100, you'll get the exact same amount as your bonus. And whatever you spend on top of the €100 in the same deposit, you'll get a 50% match on that up to €200.
So, if you deposit €200, you'll receive a total of €150 in bonus. €100 is the 100% match while €50 is the 50% match for the surplus deposit of €100.
The Snai bonus itself is not withdrawable. Rather, you need to wager it at least 8 times within 90 days to convert it to real money. In the process, you must maintain a minimum of 1.25 odds. You're welcome to use ACCA bets to complete the wagering by all means but individual selections must maintain 1.25 minimum odds.
What to Bet On?
Snai is not just a sportsbook in Italy. Rather, it's a full-fledged gambling company with plenty of other components. But we're going to get to them later.
| | |
| --- | --- |
| Number of Sport Games | 23 |
| Number of Sport Events | 207 |
| Live Events Daily | 273 |
| Live Events Monthly | 8190 |
| Pre-match Events per Month | 7360 |
For now, let's focus on the sports component and explore the things you can bet on.
Sports Betting
Once you're on the Snai homepage, you'll see a "Sport" tab in the main navigation menu. Clicking on it will take you to the sportsbook page where all the events, markets, and your "My Snai bet" slip are located.
The main interface of the sports page is quite intuitive and gives you the highlights of the most high-voltage matches. They might be football, tennis, ice hockey, cycling, or any other major sports that you can think of.
Available Sports
The inclusiveness of the sports library can tell you a lot about an online bookmaker. Being the finest bookmaker in Italy, Snai knows it very well. And that's why it offers pretty much all sports you can think of in one place. You can get to the entire sports library from the left-hand side menu on the website.
Soccer, Basketball, Tennis, Motorcycling, Ice Hockey, Rugby, Table Tennis, Badminton, and even Squash and Boxing belong to the offered sports library!
To know the markets for each of these sports, you need to click on them. For example, when you click on boxing, you'll find all the international matches that are going on. From there, you can click on a match to find all the offered markets at Snai.
Sport Competitions
The sports are very nicely sorted by the tournaments for each of the sports. While this is not something you think about actively, it's a really nice touch in our opinion. It makes picking the right match for your betting needs very easy. You can even sort the tournaments by the country where the matches are happening.
For example, when you click on Basketball and then on Europe, you get tournaments like the Euroleague, Bnxt League, and Adriatic League. Keep in mind that it can change based on what time of the year you're visiting Snai. Because different times of the year will have different active tournaments.
Special Events
Did you know that sportsbooks also offer various special events that are not technically sports? It's not an exclusive feature by Snai in any way but it's the first operator to introduce it to the Italian punters.
At the time of writing, we could find bets on a television program called Island of the Famous. Similarly, you might find bets on different political events such as presidential elections, prime minister elections, and so on. Even the Oscars can be a valid event for betting at Snai!
Esports Betting
In the last decade or so, the world of esports has changed dramatically. Fiercer gamers are coming in from all over the world and the international tournaments are getting more competitive.
The community-driven nature of the esports industry has created a massive betting market. As a result, most premier online bookmakers including Snai in Italy offers esports betting to the punters.
Game titles like CSGO, League of Legends, Dota 2, StarCraft, Overwatch, etc. are all very popular right now. Depending on what tournament is happening when you sign up at Snai, you're going to get different markets.
Snai Live Betting
All modern bookmakers are capitalizing on live betting and Snai in Italy is no different, like others in our list of Live Betting Sites. Live betting is simply the activity of placing wagers while a match is live. It gives the punters more options to bet on as well as utilize the changing odds. If your pre-match assumptions turn out to be wrong, you can recoup the losses with live betting as well.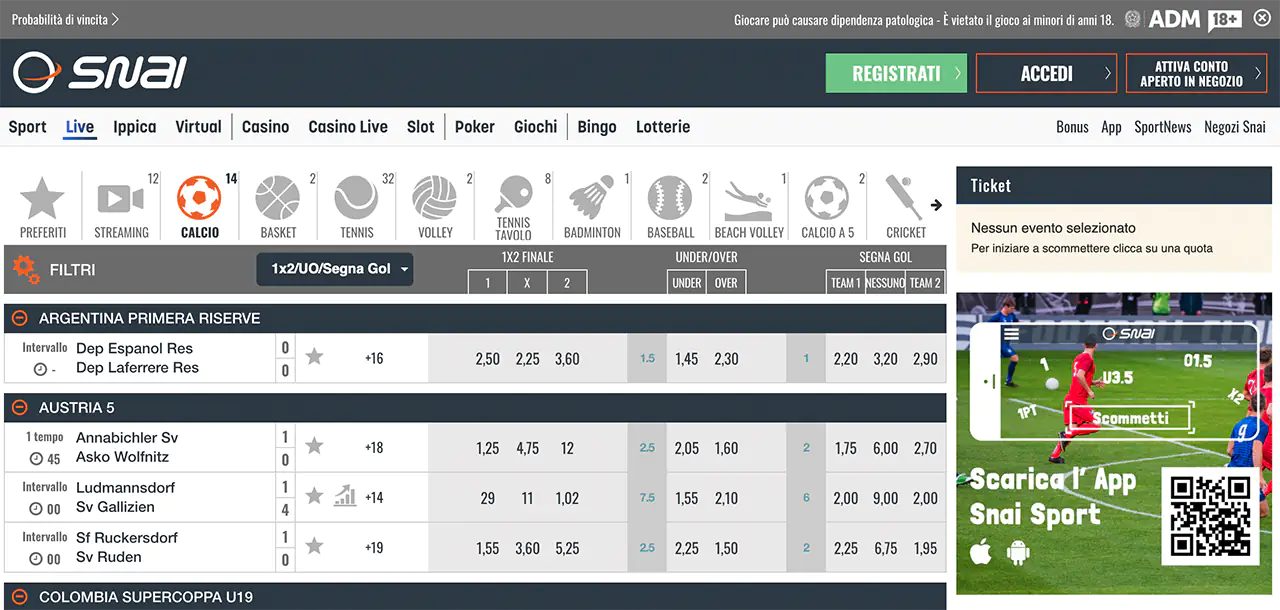 snai.it
Right beside the Sport tab on the Snai website, you'll find the "Live" tab. This is where all of the available Snai live bets are listed. Soccer, Basketball, Volleyball, Ice Hockey, Table Tennis, or any other sports that you can think of qualify for this phenomenon, otherwise known as in-play betting.
The odds offered on each of the events change in real-time right in front of your eyes. You don't need to refresh the page or change any other settings. It goes to show how optimized the platform is.
Another thing we really liked about the live betting feature is the color coding of the odds. If the odds increase, it blinks in green. And if the odds decrease, it blinks in red. It gives you a very good idea of what's happening in the match even if you can't stare at the odds continuously.
Live Streaming
Live streaming is a fundamental component of live betting. It does take additional investments from the bookmaker's end to offer this feature. But Snai for one is not afraid to offer the best for its punters. Hence, almost all live events are available for streaming.
To identify the events that have the live streaming feature, you need to look for an orange video camera icon. Sometimes, you may not find any. It means at that very moment, there are no live events that you can stream.
What you can do is return after a while to see if any new events are added or not. Or, you can check out the match schedule from the website to know exactly when the live streams will become available.
Snai Mobile Betting
At this point in time, we're very much dependent on our mobile phones. Anything we can think of doing can now be done on a modern smartphone. So, why not betting?
That's why Snai has ensured spectacular mobile betting facilities for the punters in Italy. The website is developed with HTML5 web design language which adapts the pages to any screen size automatically.
It ensures that you can have a seamless experience whether you use a smartphone, a tablet, a laptop, or a desktop. All of the features are also available across all layouts, making Snai a one-solution for all thrill lovers in the country.
Snai App
The optimized mobile website is just the tip of the iceberg for Snai's mobile support. It also offers apps for Android and iOS devices. And it's not even one Snai sport app! All of the components of the business including the sportsbook, the online casino, the horse racing platform, the poker room, Snai sport live, the live casino, the bingo room, and everything else get their own apps!
Now, this many apps can surely raise a few eyebrows as most operators are trying to streamline mobile betting with a single app. Snai, on the other hand, is walking in the opposite direction.
We think it's a nice touch because most players aren't fond of all the services offered on a betting site. Thanks to Snai's approach, they can download the exact app they want and not waste space on their phones.
Snai Pros & Cons
Where there are pros, there are cons. So, let's quickly go over the pros and cons of Snai in Italy.
PROS
CONS

Licensed by Agenzia delle Dogane e dei Monopoli (ADM)
Offers all major sports at very competitive odds
Offers plenty of promotions for bettors, casino players, poker players, and so on
Offers commonly found and reliable payment methods
High withdrawal limits
Offers a great online casino, poker room, bingo room, and live casino
Separate mobile apps for all offered services

The website is only in Italian
Live chat is not available for unregistered players
Live betting events are somewhat limited
No telephone support
Snai sport APK is not supported on older devices
Cash Out
Cash out is a feature at online bookmakers that allow you to cash out or settle a bet before the event is over. While you can't cash out pre-match bets, you can with live bets. In fact, the entire idea of live betting is based on cashing out early so that you don't have to incur big losses.
The bet slip you use during live bets at Snai may look the same but you'll get an additional feature that lets you settle a bet before it's over. You can utilize this feature every time you can so that there's no risk of missing out on a juicy opportunity.
Snai Odds
The odds are the backbone of the sports betting industry. The more accurately a bookmaker can predict the odds, the more enjoyable the experience is going to be for the punters. Snai has plenty of industry experience and immense resources at hand to offer the most accurate odds in Italy.
The odds are offered in the decimal format as most of the punters in Italy are comfortable with it.
Other Products
As we said in a previous section, the online Snai page is not only a bookmaker in Italy but also a full-fledged betting company. Along with the sportsbook, it offers live betting, horse racing, virtual sports betting, online casino, live casino, slots, poker, lotteries, bingo, and specialty games.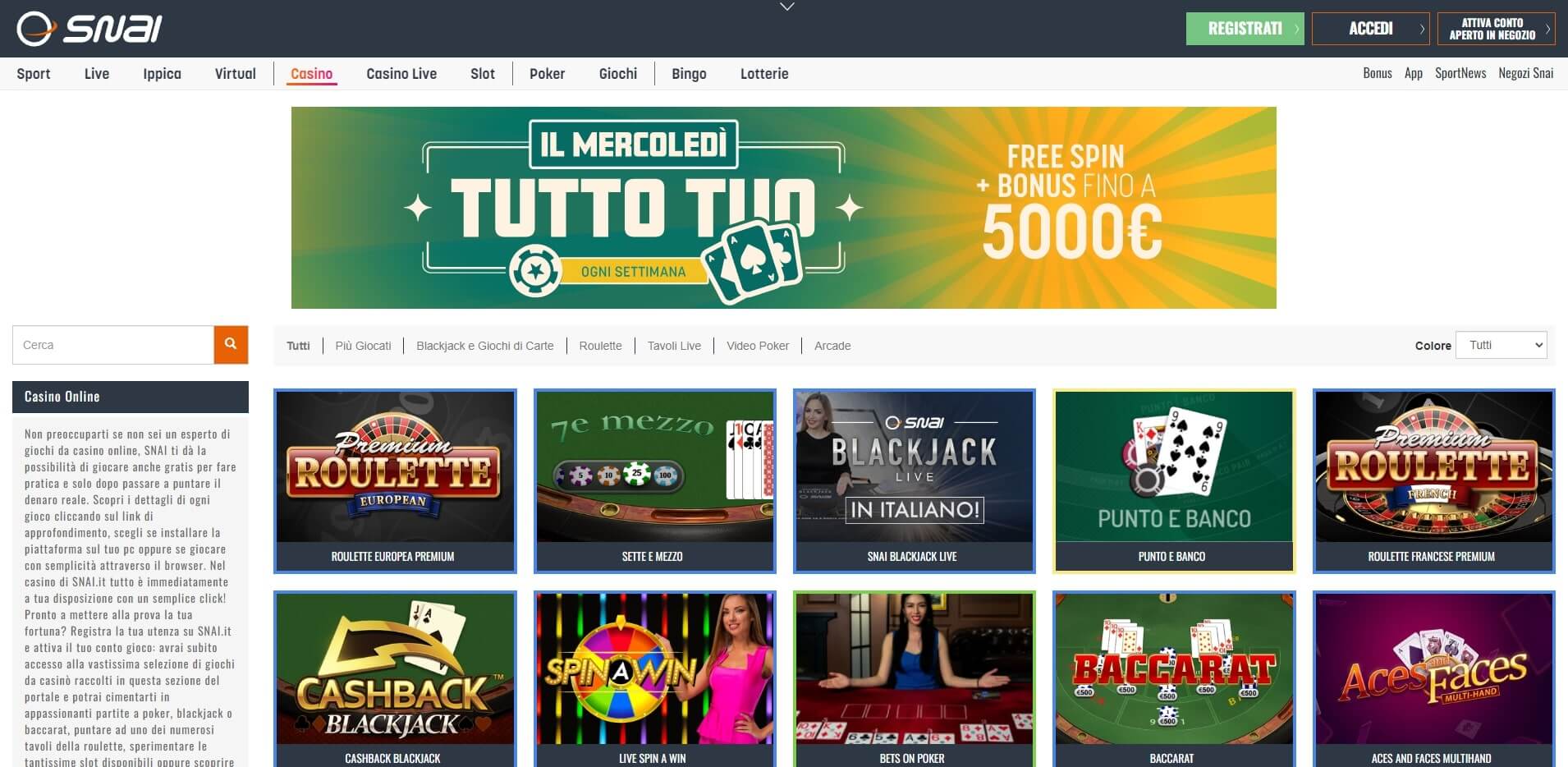 snai.it
It means you get to play standard blackjack, Roulette live, Casino Hold'em, and plenty of other casino games from the best software providers.
From what we've seen, this type of inclusiveness is unheard of in the Italian betting industry. Even top-notch international operators don't dare to offer this many gambling components on one website!
Contacts & Support
How can we skip on one of the most important aspects of an online betting site? The customer support channels.
You can chat with support agents via the live chat feature or send direct emails via the complaint submission form on the website.
The live chat feature is only available once you have a gaming account. It runs 24/7, so no time is a bad time to place a bet at Snai.
Snai Verdict
As part of our initiative to provide updated and most accurate information regarding betting, we're always on the lookout for the best bookmakers. In Italy, however, Snai needs no introduction. People who have an interest in the paradigm know very well what this company is capable of.
In our Snai review today, we've tried to encapsulate different features such as the number of sports, special events, offered odds, various gambling components, payment methods, limits, etc. information in one place.
All there is left for you to do is click on the button, sign up, and start betting!
Frequently Asked Questions