This review will review how the company became one of the best online betting handles for people in Iowa and other regions. It brings your favourite sports betting options and facilities right to your fingertips.
It's a licensed and registered online sports betting platform in Iowa. It offers premium mobile apps, so you never miss any sports betting updates, and you can earn a reward while entertaining yourself on the side.
Q Sportsbook belongs to and is offered by Q Casino in Iowa. In 2019, Iowa legalized online sports betting, and that's when Q Casino took the opportunity to become one of the first companies to launch a mobile betting app.
Now, customers can sign up on premium Android and iOS apps to bet real money within the state. Let's find out more about it in this Q Sportsbook review!
Q Sportsbook Website & Account Info
Q Casino Sportsbook launched this betting app as soon as online betting became legal in Iowa in 2019. To many people's surprise, Q Sportsbook maintained its quality, which made it one of the most popular handles within state borders.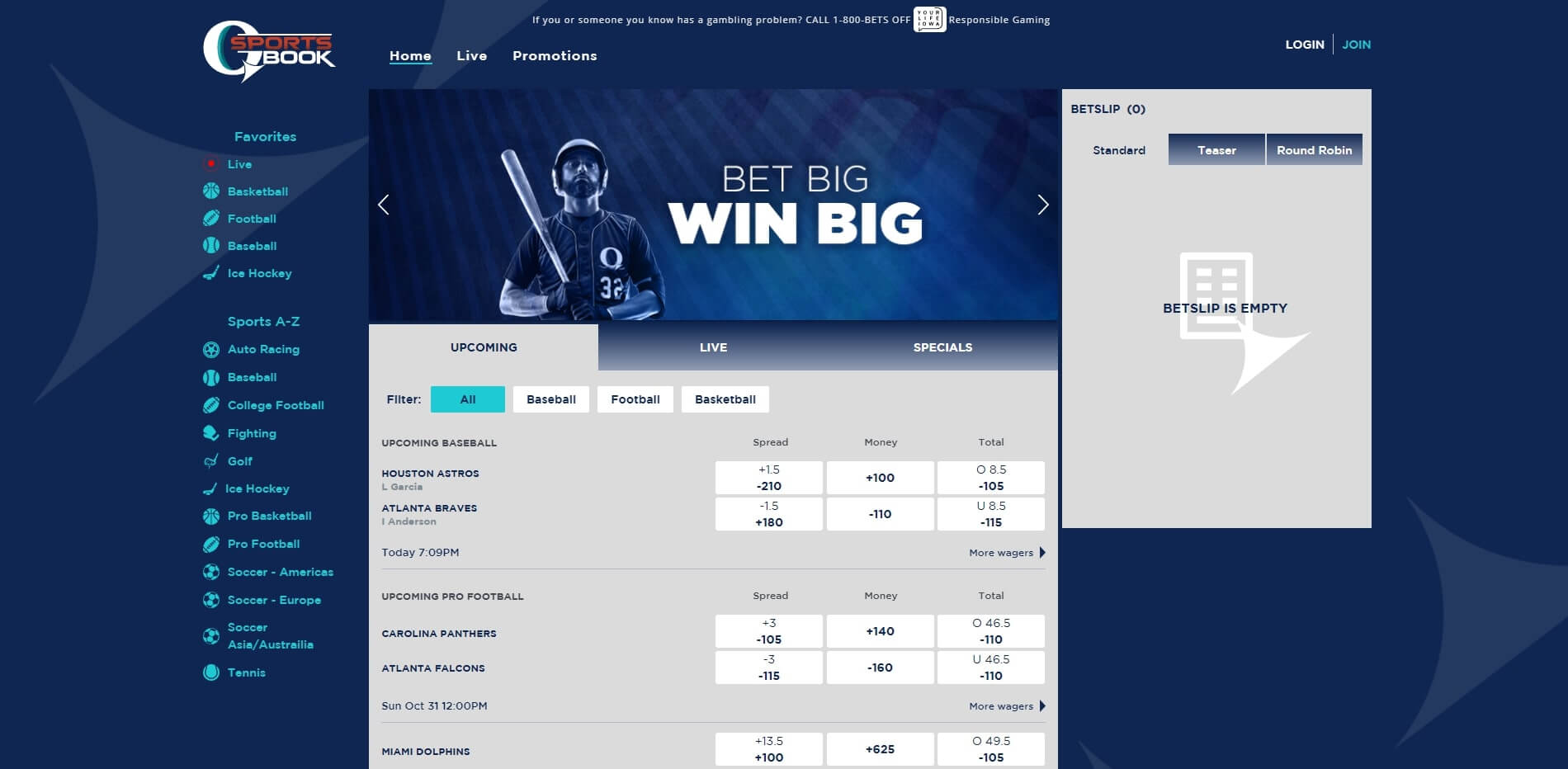 qcasinosportsbook.com
However, there's been a rapid decline in the quality of betting services that various companies offer.
The website features a seamless interface that nearly any sports bettor can use. Even if you have no experience using online sports betting apps, you'll find it easy to get familiar with the Q Sportsbook Android app. You must follow the steps below to create an account on the website.
Keep in mind that the process is nearly the same on Android/iOS:
Click on the Sign Up/Join Now button
Add in your personal information to register, according to the KYC Policy
Provide banking information according to the AML Policy
Wait for the process to complete
Complete the verification process and get an official email or text message from the Q Sportsbook Android app
Use the versatile range of banking options and transfer money into your betting account
Find the perfect betting option for you and place live bets
Here's what you can do to close your Q Sportsbook account:
When you don't want the sports betting services of Q Casino in Iowa anymore, contact customer support
Choose the right contact option to connect with official representatives of the company
Discuss your options, give your reasons, and wait for an expert to close your account permanently
You may receive a confirmation email and also might have to verify your decision
Remember, it can take anywhere between a few hours to a few days before your account's permanently deactivated and deleted
The betting app is straightforward, and we will get to it later in this Q Sportsbook review. Meanwhile, let's talk about the banking options and why they're better at Q Sportsbook than its competitors.
Banking Options
What's the point of online sports betting if you can't seamlessly deposit money into your online betting account? Online sports is all about people placing live bets from anywhere and anytime using a device that is compatible with your app!
| | |
| --- | --- |
| Min. deposit | $10 |
| Deposit Charge | Free of charge |
| Min. Withdrawal | $10 |
| Withdrawal time | Up to 5 working days |
| Payout | 94% |
At Q Sportsbook online sports betting casino, you will find a versatile range of payment options specially designed to fulfil the needs and requirements of bettors. Online bettors search for internet betting platforms because of their accessibility and convenience.
If they had to visit the nearest bank for every deposit/withdrawal, would there be any real "benefit" of online sports betting? Here are some Q Sportsbook Iowa's many banking options for withdrawals and deposits.
Deposit Methods
Fast deposit methods mean you can instantly transfer money into your betting account and begin wagering without lengthy delays. That's what online bettors want! They see a gambling opportunity and want to quickly make the most money off it. But what happens when the deposit methods are sluggish and slow?
The Q Casino sports betting site offers multiple payment methods for bettors to transfer real money into their betting accounts. Some plans are popular for their comprehensive accessibility, while others are famous thanks to their instant turnarounds. The best-known Q Sportsbook deposit methods include PayPal and Play+; if you need more options, explore Visa betting sites for example.
Withdrawal Methods
When you're happy and satisfied with your winnings, you might want to withdraw your winnings. However, bettors can feel like they don't necessarily own the money they win if it takes days or weeks to send your winnings into your account.
Surprisingly, QBet Casino has set withdrawal limits and options in favour of online bettors in Iowa and its surrounding regions. The minimum withdrawal requirement through most payment options is $10 or somewhere around that. If such options do not suit you — choose another bookmaker without such restrictions, for example, from our list of Bitcoin bookies.
Some withdrawal methods only take a few minutes before you see your winnings in your bank account! The most popular withdrawal methods for online bettors on Q Bet Casino include Play+ and PayPal.
Q Sportsbook Bonuses
Do you know what kicked the Q Sportsbook ratings to an entirely different level? The incredible Q Sportsbook bonus and rewards are what appeal to a massive population of bettors in Iowa. When you sign up and provide your info and banking details to a company, you trust them with sensitive data.
You will find a range of perks and rewards on the Q Sportsbook because it stands out from other betting websites and apps in terms of appreciating its bettor base. The Q Sportsbook realizes that and offers rewards such as an appreciation for your trust in the form of various bonuses. In this Q Sportsbook review, we'll discuss a few rewards from this sportsbook.
The sportsbook offers a 14-day standard period to use the welcome bonus, which 100% matches the initial deposit needed to create an account. The terms and conditions are so flexible that there are no restrictions on what betting options, types, and markets you enter using the bonuses.
Sign Up Bonus
What's better than starting sports betting with double the amount of your initial deposit? The Q Casino offers a 100% match for Q Sportsbook deposits of up to $300! And with flexible terms and conditions, you can use that bonus in any betting market or criteria. Remember, this only applies to the single opening deposit of every new user who has signed up with this sportsbook.
The general guidelines for opening a deposit bonus are as follows:
You must deposit a minimum of $20
You can deposit a maximum of $300
You must be 21 years old to sign up and use the bonus offer
Some reviews might call it a welcome bonus, but it's quite easy to avail on Q Sportsbook. Moreover, players can use other promotions and deals on the Q Sportsbook app, including:
Cash-back
Bet insurance
Free bets
Deposit matches
Tournament rewards
Q Sportsbook Free Bets
Risk-free bets are one of the best features of an online casino or sports betting app. Unfortunately, Q casino sportsbook doesn't have free bets as of yet. But, since the company is so competitive, it's only a matter of time before these bonus codes become a staple of Q Sportsbook.
Q Sportsbook Welcome Bonus
Offering a reasonable sign-up offer and other monetary perks for online betting makes Q Sportsbook legit! Q Sportsbook is already famous for its 100% deposit match-up of up to $300. Nearly all online bettors who sign up with Q Sportsbook can avail of it.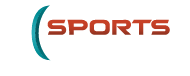 3.5
The welcome bonus is the most appealing factor for online punters trying to get on Q Casino Sportsbook. All players have to deposit at least $10. Such low deposits make betting accessible to countless people in Iowa. Make sure you read the terms and conditions because they apply to all bonuses and promotional deals active on the betting platform of Q Sportsbook.
For additional information, contact customer support at Q Sportsbook. They can share accurate details about what bonuses you can avail of as soon as you land on the betting platform.
What to Bet on
How do you plan to win big if you can't figure out how and what to bet? Knowing what options to bet on and what markets to enter is essential for earning sizable rewards. But that shouldn't concern you on Q Sportsbook mobile app because all your favourite sports and events are accessible for betting.
| | |
| --- | --- |
| Number of Sport Games | 10 |
| Number of Sport Events | 50 |
| Live Events Daily | 22 |
| Live Events Monthly | 660 |
| Pre-match Events per Month | 1600 |
You can bet on an expansive game variety without hassles on Q Sportsbook. However, you must know what games suit you and where you can win big with massive cash-outs. After all, what's the fun in online sports betting if you don't hit a big prize?
Once you complete the signup process, you can access the betting markets and options regardless of where you are in Iowa. You can choose Esports betting options, special events, or sports games. Try experimenting, create a diverse online sports betting strategy, and gather many rewards using high bonuses in different betting markets.
Sports Betting
As the name suggests, Q Sportsbook lets players bet on various sports categories. For instance, you can choose football, soccer, basketball, golf, and many other sports. In Iowa, my favourites include football, soccer, and MMA.
However, you should know that the regional favourites shouldn't interfere with your betting plans and strategies. The Q Sportsbook mobile app offers live streaming so bettors can enjoy sports and watch bets fall in their favour in real time.
Available Sports
The online betting app came to attention at the end of 2019 when the company associated itself enormously with various sports categories.
Some of the Q Sportsbook sports include:
Boxing
MMA
Golf
Soccer
Basketball
Football
You'll never run short of online sports betting options on the Q Sportsbook mobile app. The sports mentioned above are some of the most popular choices of people betting on the Q Sportsbook platform in Iowa.
Sports Competitions
Although the significant sports betting population in the US loves betting on standard sports games, not all of them share the same interests. For instance, some people wait for famous sports events and competitions to bet on. Q Sportsbook platform has got you covered there as well.
It has also included more extensive game options in the list to diversify the sports betting options and the facilities that the sportsbook offers. These include:
NBA
Champions League
Premier League
NFL
World Cup
NHL
The table below shows the list of sports competitions offered by Q Sportsbook. Online bettors can place wagers on their favourite sports competitions according to their desired amount.
Special Events
You won't have options to bet on when using the Q Sportsbook mobile app, and we can guarantee that! People can grow tired or bored of wagering on sports, which is where new ideas emerge.
Q Sportsbook website offers common and unusual betting options as well! If you want to bet on who will win the next US presidential election or who'll be the winner of a specific Oscar category, Q Sportsbook lets you! You will see various national and international events for online betting on the Q Sportsbook mobile app.
Esports Betting
Many people are into electronic gaming and Esports tournaments. Whether it's a CSGO or Dota 2 competition, you can surely wager through the outstanding Q Sportsbook platform. Digital bettors don't want to confine their bets to physical sports.
Esports have gained immense popularity over the years, and people have grown fond of watching these online tournaments. Some famous contests include the Overwatch League, EVO, Capcom Pro Tour, CSGO Major and DOTA's The International.
Q Sportsbook Live Betting
The Q Sportsbook betting platform realizes that they're catering to a massive audience in Iowa. People bet on a variety of sports and events. Unfortunately, some don't tolerate waiting through long events or games.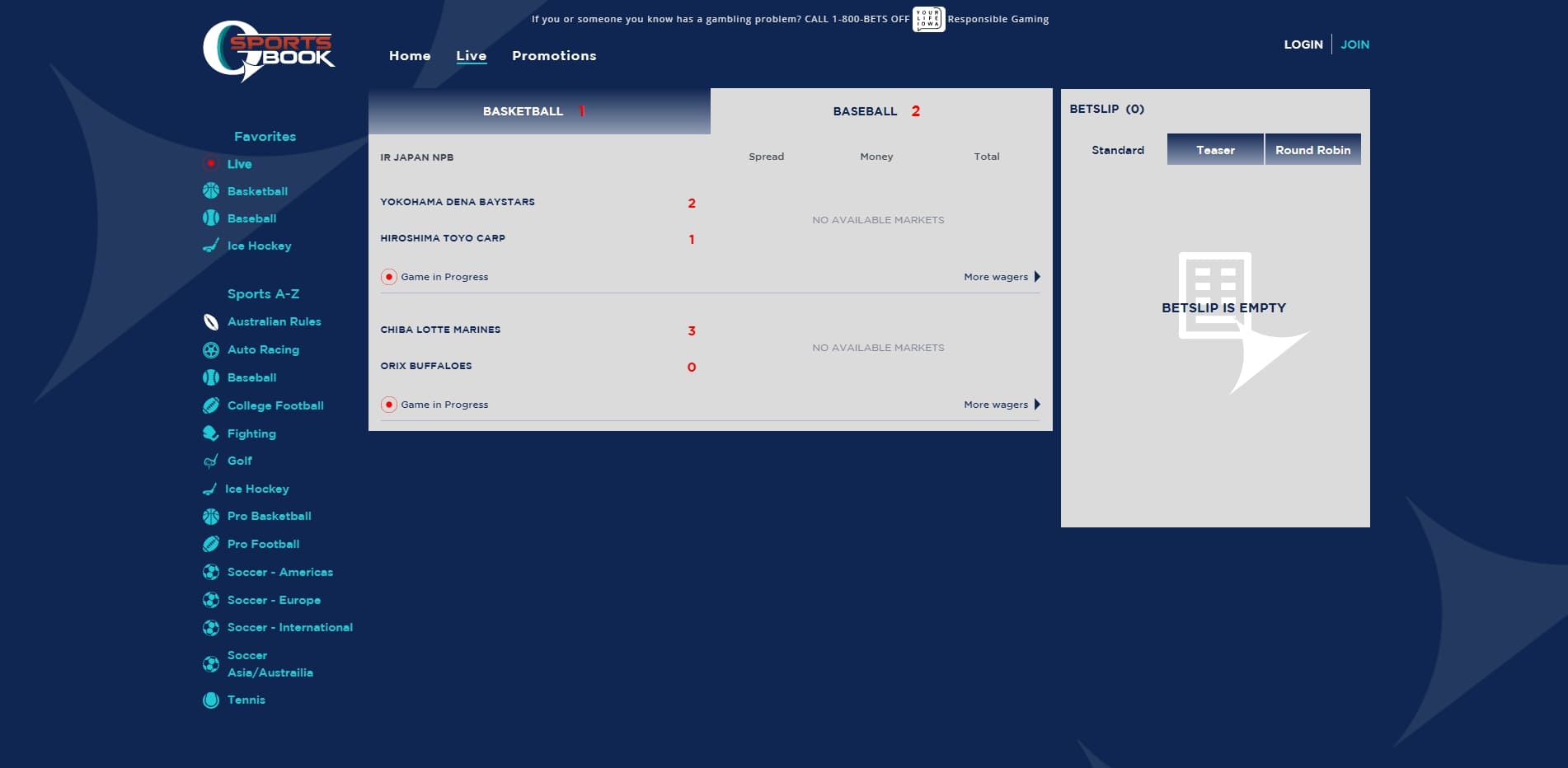 qcasinosportsbook.com
The platform provides live betting features for live streaming betting, special events, and sports games for players. Since many users want instant wins and real-time updates on their bets, Q Sportsbook Casino collaborated with various companies to provide live streaming services as well.
Live Streaming
The live streaming feature offers real-time updates and lets players connect with their favourite sports and special events. A lot of players lack tolerance, and they require instant updates. Live streaming keeps the bettors entertained, allowing them to extend or place bigger wagers.
Q Sportsbook offers real-time streams. That way, players can make informed betting decisions and find their way around various betting markets. Sometimes, bettors only place wagers for fun because their main motive is to watch the game online.
Mobile Betting
The Q Sportsbook is primarily available for mobile phones, including Android and iOS devices. You can expect a high-quality user interface that the company developed by researching the essential UX components for online bettors.
The mobile betting app is designed with ease and convenience in mind. You can contact customer support to solve technical issues with the mobile app. Let's talk more about the Q Sportsbook mobile betting app.
Q Sportsbook App
The Q Sportsbook mobile betting app is only a few years old. Still, the professionals have worked tirelessly to make it one of Iowa's most lucrative and safest online sports handles. The Q Sportsbook betting logo is quite popular in Iowa.
It's an Android and iOS mobile app that lets you bet on college sports and national and international events. The user interface is seamless and offers smooth navigation. Meanwhile, you can avail of customer support via the app using email, phone, or live chat features.
Q Sportsbook Pros & Cons
All sports betting websites have a set of pros and cons. And so does Q Sportsbook! Here's what could make or break your deal with Q Sportsbook mobile app when you've planned for sports betting in advance:
PROS
CONS

Expansive sports betting options (long list of sports)
Countless betting options (special events and non-sports options)
Instant customer support (live chat features, phone, and email)
High-paying odds and in-betting features
Live streaming and high-UX mobile app

Limited payment methods (withdrawal/deposit)
Not available for desktop use (no desktop app)
Deposits and withdrawals can take several days, sometimes
Cash Out
The Q Sportsbook mobile betting app offers various cash-out options. Here's how the platform lets user cash out their winnings:
Sign up on the Android/iOS app
Go to the wallet/account balance page
Click on "Withdraw" and enter the amount you wish to withdraw
Remember, you can't withdraw bonus amounts, and there's a minimum withdrawal limit of $10
Q Sportsbook Odds
Unlike other sportsbooks and betting platforms, Q Sportsbook offers beneficial odds, spreads, and money lines. You will quickly realize that they favour online bettors using the services if you research the overall odds and level of spreads the platform provides.
For those in Iowa, Q Sportsbook offers high-paying odds for various sports categories, including boxing, football, soccer, basketball, and more.
Other Products
Q Sportsbook hasn't limited the services to online sports betting only. You will find slots, online poker, and entertainment at the casino. The land-based Q Casino is one of the most popular ones in the whole of Iowa. It's also the main product offered by the "Q" brand. However, you should check out online poker games and slots on Q Sportsbook for greater entertainment during your free time!
Contacts & Support
The contact support at the Q Sportsbook platform is unlike anything you'll ever find on other sites.
The company offers 24/7 technical assistance and highly responsive individuals to solve your issues. Whether you're having trouble accessing your account or experiencing issues when claiming prizes, responsive customer support will be on their toes to help.
You can reach Q Sportsbook customer support through:
Email
Official Website
Actual Address (Location)
Phone
Q Sportsbook Verdict
Simply put, if you're searching for an online sports betting experience that not all casinos offer in Iowa, sign up with Q Casino Sportsbook today. We end our Q Sportsbook review the same way we started; it's a licensed, registered, and famous sports betting handle in Iowa, US.
Operating under authentic licenses and updated regulations, the sportsbook doesn't fall short of any mandatory legal compliance. The IT experts keep providing better security protocols, while the masterminds at Q Sportsbook offer inexplicable betting opportunities.
Frequently Asked Questions
What are the latest Q Sportsbook ratings in the US?

The average online ratings for the Q Sportsbooks on US review sites is around 4-4.5 stars out of 5. However, that doesn't mean all US sites offer impartial reviews. Make sure you read a reliable site's Q sportsbook review to make the right decision.

Is Q Sportsbook online reliable?

Q Sportsbook is a licensed, registered, and bettor-oriented sports betting platform. You must know that it's reliable and secure for all people operating within the state borders of Iowa. It offers nearly all the features online bettors are looking for in Iowa.

In which states is Q Sportsbook legal?

Over 40 states have allowed online sports betting. While some have completely legalized it, others are in the process of doing so soon. Q Sportsbook is legal in Iowa, where online sports betting was legalized in 2019.
Similar bookmakers you might also like:
4.4
4.1
4.9