Pixel.bet has differentiated itself in the gambling industry by being an Esports-only sportsbook, enabling punters to bet on their favourite video games. It calls itself the smoothest mobile Esports gambling platform and one of the fastest-growing companies in the Esports category. It launched in 2019 when it secured a casino and gambling license from the Swedish Gambling Authority. It has since expanded to several countries globally.
In addition to its Swedish license, it has secured another license from the Malta Gaming Authority (MGA) and is on course to land more regulatory approvals globally.
The company has said it will stay with Esports betting for a long while. This Pixel.bet review covers the bookmaker in depth.
Pixel.bet Account and Website Info
Pixel.bet is a mainly online sportsbook, so wagers can only access its services over the internet. The main channel for Pixel.bet is its website. Note that Pixel.bet is an international sportsbook with players from various places. As such, different languages will apply based on the country where you are located.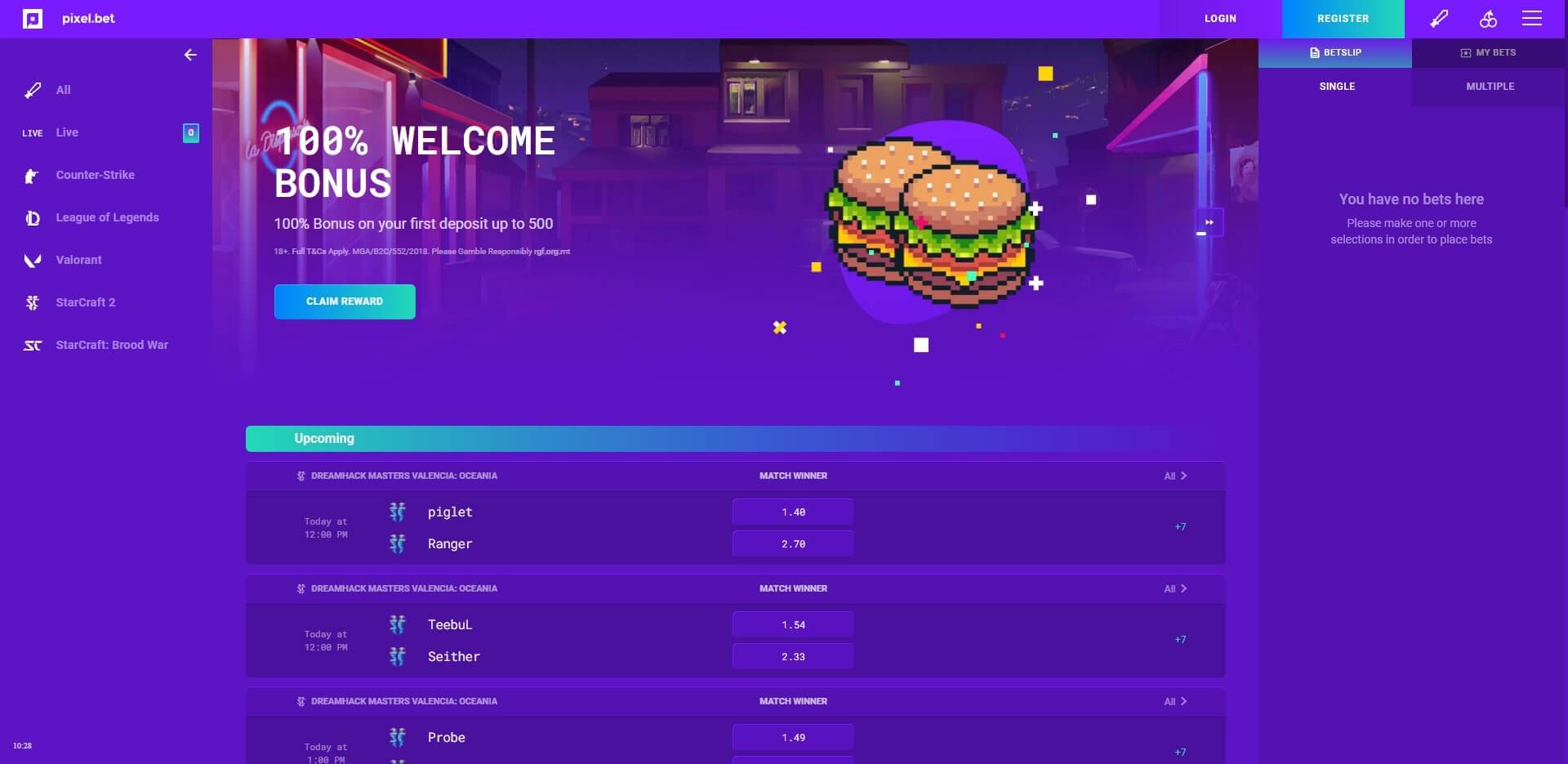 pixel.bet
On this website, you can register for an account, deposit funds into the account, make bets and withdraw your winnings. You can also access contact support, read news and get informed about rewards and promotional offers.
Pixel.bet Account Opening Guide
Opening an account with Pixel.bet is straightforward. Follow the steps below:
At the top right-hand of the website's homepage, you will find the "Register" button.
Clicking on it will reveal a simple sign-up page, requiring you to enter your email and a password.
The next page will request your address, including your country, city and postcode. The following form is for entering your name and date of birth.
After this, your account gets opened. You can start carrying out various betting activities.
Ensure that the name, date of birth and other information you provide are the same as those on your government-issued identity documents. Pixel.bet will request valid ID documents and conduct background checks before verifying your account.
How to Close a Pixel.bet Account
There are different reasons why you may consider closing your Pixel.bet account. Fighting gambling addiction is one. Pixel.bet has provided a simple process for getting the account closed.
Log into your Pixel.bet account.
Click on your Account profile at the top right-hand side of the page. Among the various options that pop up, you should see "Limits and Exclusions." This setting enables players to limit or block their accounts.
Upon clicking it, choose "Permanently."
Selecting this will close the account forever, and you can't reclaim it after this.
Banking Options
Being an international sportsbook, Pixel.bet has provided various global banking options for its players.
| | |
| --- | --- |
| Min. deposit | €10 |
| Deposit Charge | Free of charge |
| Min. Withdrawal | €10 |
| Withdrawal time | Up to 5 working days |
| Payout | 92% |
Pixel.bet Deposit Methods
Depositing funds into your account is straightforward. But you need to pay attention to some essential information, for example, that Pixel.bet does not accept cryptocurrencies. However, we have carefully prepared lists of the best bitcoin betting sites.
Pixel.bet Deposit Methods
The channels for getting your funds deposited into your Pixel.bet account are:
Debit/Credit Cards
E-wallets such as Skrill and Neteller.
Pixel.bet Minimum and Maximum Deposit Amounts
The sportsbook has a minimum requirement of €10 for deposits. This minimum applies across all the various payment channels available.
On the other hand, deposits have a maximum cap of €10,000.
You don't incur any charges when you make deposits into your Pixel.bet sportsbook account, as the bookmaker has made it free. However, note that if you're making payments from outside the EU, some charges may apply in transfer and currency conversion fees.
Pixel.bet Deposit Duration
Pixel.bet assures that your deposits will be processed instantly, and the funds should reflect in your account in no time.
How to Make a Pixel.bet Deposit
The guide to depositing your Pixel.bet bookmaker account is straightforward.
Log into your Pixel.bet bookie account.
Click on the account section. It is represented by the "$0" sign.
Then, click on "Deposit." A list of deposit options should present itself.
Click on the one you can access, and proceed to deposit, following the prompts.
Beyond this, the steps involved in the deposit differ significantly. For instance, the credit or debit card option requires entering your card details.
You need to log into the E-wallet account for the E-wallet option.
Pixel.bet Withdrawal Methods
Pixel bet withdrawals are just as seamless as the deposit process. Nonetheless, get to know the following beforehand.
Pixel.bet Withdrawal Methods
The withdrawal methods are the same as those used when depositing funds, but no Paypal. So if you are looking for a bookmaker with a card withdrawal option, check out our Paypal betting sites.
Pixel.bet Minimum and Maximum Withdrawal Amounts
These are the same as the amounts set for deposits. You have a minimum requirement of €10 and a maximum allowable withdrawal of €10,000. Also, these apply to all payment methods.
Pixel.bet Withdrawal Fees
Again, no fees apply, except for non-EU transfers and currency conversions.
Pixel.bet Withdrawal Duration
How long it takes to make money out of your Pixel.bet sportsbook account is up to your selected payment channel. While some are instant, others can take a few business/banking days.
How to Make a Pixel.bet Withdrawal
Withdrawing from your Pixel.bet account involves processes similar to this for making deposits.
Log into your account.
In the account profile section, click on "Withdrawal."
Enter the withdrawal amount and click "Withdraw."
When the payment options pop up, choose your preferred channel. Note that it is always better to use the same payment service through which you made a deposit.
Follow through with the prompts pertaining to the payment method.
Pixel.bet Bonuses
Pixel.bet provides wagers with promotional offers that encourage their stakes and boost their ability to record more significant winnings.
Pixel.bet Welcome Bonus
The most popular bonus Pixel.bet offers is the welcome bonus, which is open to new wagers on its platforms. This Pixel.bet bonus provides traders with at least 100% of their first deposit amount in real funds to make bets. You don't need a Pixel.bet bonus code for this, as the offer applies immediately you make a deposit.
3.9
New customers only! Get 100% bonus up to €500 on Your First Deposit! Full T&Cs apply
However, it has a maximum cap of €500. Also, wagers have up to 30 days to use up this bonus. Unfortunately, it is only available to players in selected countries, including Canada, Luxembourg, Ireland, Norway, Germany, Sweden, etc.
Then, there is no existing Pixel.bet no deposit bonus. You need to commit funds to enjoy promotional offers from this bookie.
What to Bet On
Pixel.bet enables wagering in the top Esports globally, making it possible for players to back top video gamers.
| | |
| --- | --- |
| Number of Sport Games | 1 |
| Number of Sport Events | 15 |
| Live Events Daily | 16 |
| Live Events Monthly | 480 |
| Pre-match Events per Month | 560 |
Traditional Sports Betting
Sports betting is the most popular type, making it possible for fans to wager on their favourite sporting types and events.
Available Sports
Sports Competitions, Leagues, and Events
Unfortunately, Pixel.bet is not focused on traditional sports betting, as it has all its sights on Esports wagering.
Special Events
Unfortunately, Pixel.bet is not focused on special events, such as presidential elections or song contests, as it focuses entirely on esports.
Esports Betting
Pixel.bet is essentially only in the Esports betting business. With Pixel.bet, punters can wager on the outcomes of their favourite video games. The sportsbook enables betting on leading video games like CS: GO, Dota, League of Legends, Call of Duty, Overwatch, etc.
Players can live and pregame bets and stream these games live while boosting their winnings with high-rewarding odds.
Pixel.bet Live Betting
Live betting makes it possible that wagers are not restricted to wagering only before a game begins. Punters can still log into their betting accounts to place bets even if the game is ongoing. A benefit of this is that bettors can make more informed betting decisions.
All you need to do to access Pixel.bet live betting is to log into your account and view the available ongoing gaming events or those due to start shortly. You can streamline your search by clicking on your desired video game.
Enter your predictions and wait for the game to end.
Live Streaming
Whether you go for live or pre-game bets, you want to know what happens during each game. Pixel.bet provides a live streaming service to access the action as it unfolds.
Mobile Betting
There are very high chances that you are reading this review on a mobile device like a smartphone or tablet. Pixel.bet knows this and has designed its platforms to be mobile-friendly.
The mobile version of the website fits perfectly on small screens and enables easy navigation across the various buttons and icons.
Pixel.bet App
While the mobile website already does a great job, a Pixel.bet app on Android or iOS should offer a much better mobile experience. Unfortunately, Pixel.bet doesn't have a mobile app yet.
Pixel.bet Pros and Cons
Pixel.bet has some commendable services. Nonetheless, there are noticeable downsides.
PROS
CONS

Responsive Customer Support System. Across the various customer service channels, its players can access the fastest response rate of any other sportsbook.
Live Streaming. Being able to experience the action live is not something many sportsbooks offer. Pixel.bet is commendable different in this regard.
Attractive Odds. The odds on most games are high when you compare them to other Esports-only bookmakers. With this, you should get more returns when your bets result in wins.
Rewarding Bonuses. The welcome bonus grants wagers an extra 100% on whatever deposits they make for the first time. What's more, punters have a whole month to use up this rewarding bonus.

Limited Payment Channels. You only have a few E-wallets and credit/debit cards as payment channels for deposits and withdrawals. It is not good enough for a sportsbook with so much international reach.
No Mobile App. Again, in an age where it has become the norm for people to bet on their smartphones, Pixel.bet doesn't have a mobile application that houses all its services.
Promotional Offers Only Open to Specific Regions. While the sportsbook provides attractive odds, you can only use them in selected countries. It leaves out deserving punters in many other countries.
Only an Esports Betting Service. While this may serve as a strategy to differentiate itself in the market, Pixel.bet is denying its customers who may sometimes want to engage in sports and events betting.
Pixel.bet Odds
This sportsbook offers one of the most attractive sets of odds for Esports betting. Nonetheless, they are not permanently fixed, especially with particular bets like live betting.
Other Products
Beyond Esports betting, Pixel.bet has a strong casino gambling brand.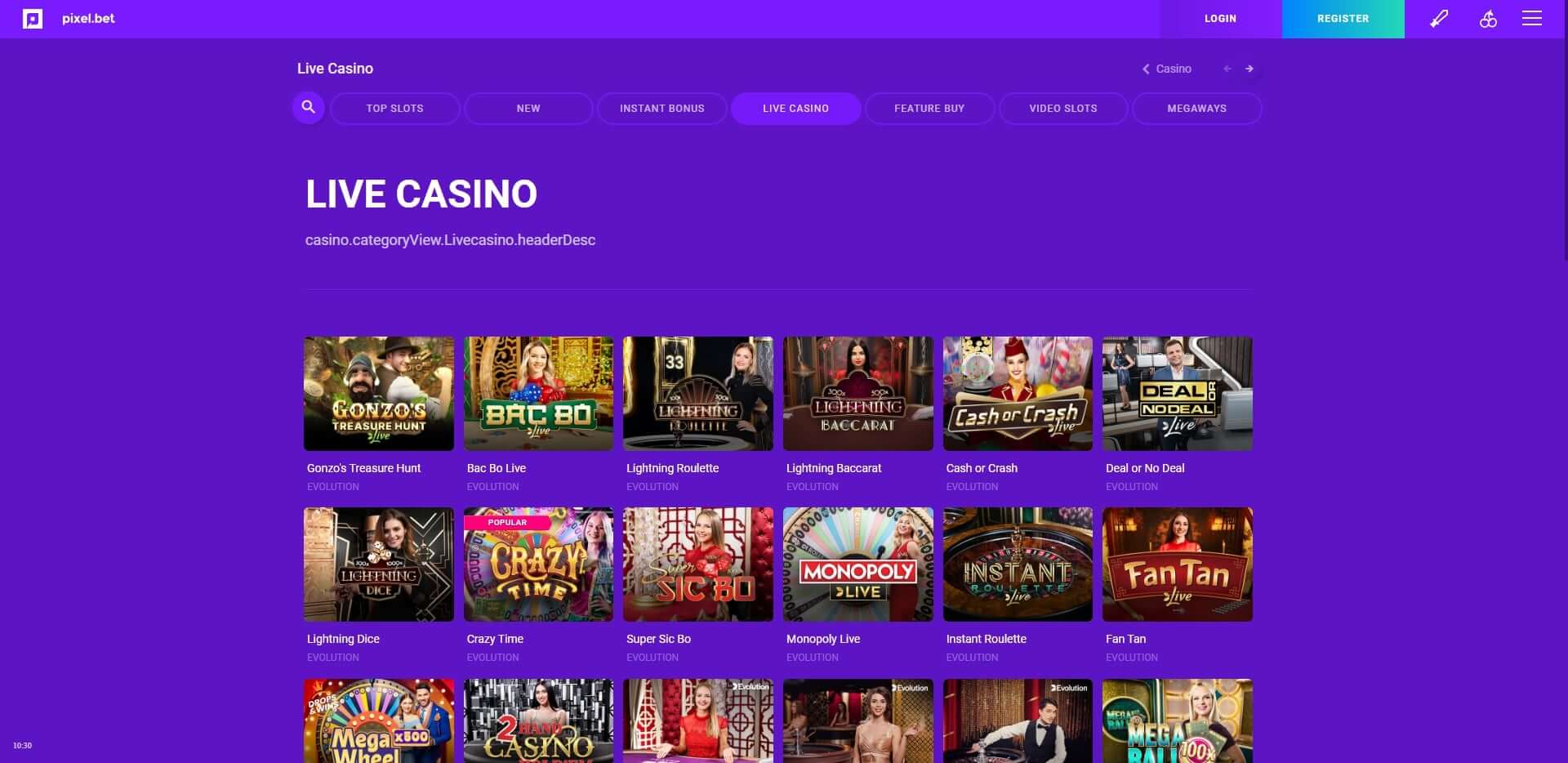 pixel.bet
The Pixel.bet casino service enables both pregame and live bets on top casino games, with rewarding promos and high returns on wins.
Contact and Support
The 2 major channels for reaching out to customer support are:
Note that neither of these is available 24/7. Nonetheless, during work hours, they are often very responsive.
Pixel.bet Verdict
Pixel.bet has chosen the Esports betting niche and appears to be doing great at it. It successfully brings the top-notch experience that wagers only found in sports betting to the Esports space. If you need attractive odds, rewarding bonuses, a fast platform and more when wagering on video games, you should go for Pixel.bet.
Frequently Asked Questions
Similar bookmakers you might also like:
4.6
4.9
4.2