Elite Sportsbook started operations in 2019 as a partnership between Elite Casino Resorts and BetWorks. Initially, it began with Iowa as its only market, having secured an operating license from the state's government. It has since confirmed another license from Colorado and is actively investing in gaining entry into other states.
While many of its services are available online, it has a strong offline and retail presence with outlets in Iowa and Colorado (Black Hawk). It offers to bet on the most prominent sporting events and tournaments. There are also live (physical) and online casino betting opportunities.
We provide a comprehensive Elite Sportsbook review to give you everything you need to know about betting with the Sportsbook.
Elite Sportsbook Website & Account Info
Elite is both an online and offline sportsbook, but most players access its services over the internet. The primary channel you can access Elite sportsbook services is its website. On the website's homepage, you will find icons for the two states where Elite Sportsbook offers its services, Colorado and Iowa.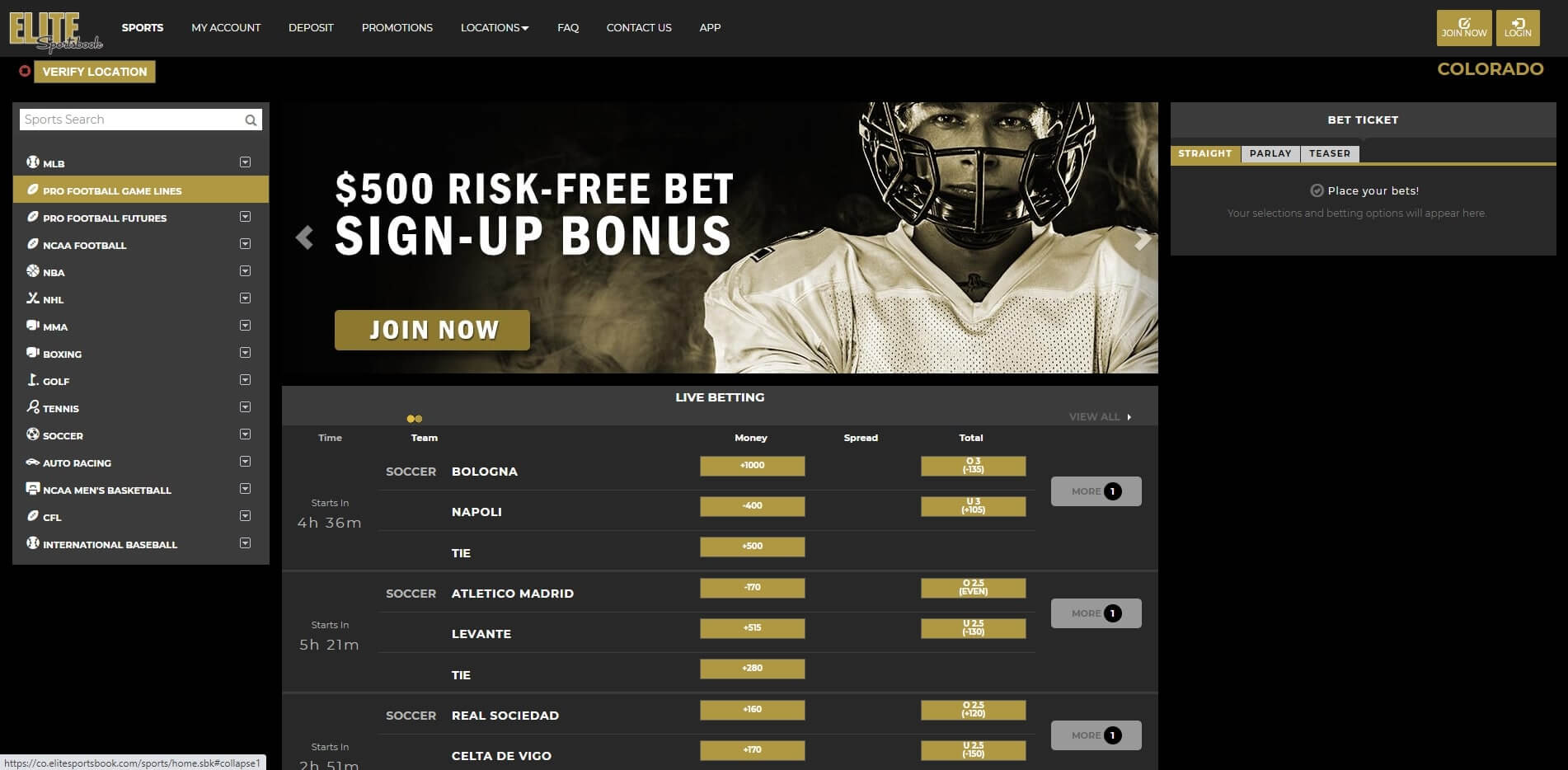 elitesportsbook.com
Clicking the button for any state will lead you to the webpage for that state. You should note that the setup of the websites and the services therein may differ slightly across these states.
Nonetheless, both websites enable clients to register, place casinos, sports, and other bet types, deposit funds, and withdraw winnings. The main page displays ongoing matches for live sports betting. You can also view ongoing promotional offers.
Then, there is an information section where you can get details and guides for whatever transactions or actions you want on the website. Other features of the website include contact channels and an FAQ section.
How to Open an Elite Sportsbook Account
You need to take a set of steps to get started with Elite. We outline them below:
Go to the Elite sportsbook website. There you will find the icons for Colorado and Iowa. Click on the state where you are based.
On the homepage of your state's website, you will see the "Join Now" button in brown at the top right-hand corner. Click it.
The first registration page requires you to create a profile. Here, you enter a unique username, password, and email.
After this comes the "Personal Info" section, where you must provide your name, date of birth, cell phone number, and the last 4 digits of your SSN. You must enter your name in its exact form on your government-issued ID document. Failure to do so may cause complications. Furthermore, your date of birth must also be accurate and reflect whatever is on your SSN.
Next, you provide your physical address. It must be accurate, as the Sportsbook will verify your information.
On the last page, enter at least 2 security questions to recover your account when you lose access.
Finally, check the confirmation boxes. Elite will conduct background checks on the information you have provided, and if successful, you can start using your Elite Sportsbook account.
The process is the same across both states.
Note that you must be at least 21 years old before you can bet in both Iowa and Colorado. It would help if you also were located in either state when you're opening your account and even when you want to conduct transactions on the account later.
How to Close an Elite Sportsbook Account
You can close your Elite sports betting account by contacting Elite Sportsbook customer service via live chat or at [email protected]
State that you wish to close your Elite account permanently.
Provide your username, name, email address, phone number and Elite Sportsbook account number.
Note that the Sportsbook may not delete your account details immediately, as the law requires keeping such information for some time.
Banking Options
We tested banking services such as deposits and withdrawals at Elite, which are seamless.
| | |
| --- | --- |
| Min. deposit | $10 |
| Deposit Charge | Free of charge |
| Min. Withdrawal | $10 |
| Withdrawal time | Up to 24 hrs |
| Payout | 92% |
Get to know more about depositing and withdrawing funds from your Elite account.
Deposit Methods
The 2 major methods through which you can deposit funds into your Elite sportsbook account are:
The Elite Play+ card
Cash at Cage – through the retail casino locations.
For the Play+ card option, you need to fund the card before using it to deposit into your Elite sports betting account. You can use bank transfers and PayPal to do this. If you are looking for bookmakers that support classic payment cards, check out our Mastercard betting sites.
For the retail deposit option, you can deposit at any partner location. For Elite Sportsbook Iowa customers, areas where you can deposit include:
Riverside Casino & Golf Resort
Rhythm City Casino Resort
Grand Falls Casino & Golf Resort
For Elite Sportsbook Colorado, the main available spot is the Red Dolly Casino based in Black Hawk.
Minimum Deposit
The minimum amount players must deposit into their Elite account is $10. This minimum requirement applies to all payment channels.
On the other hand, there is a maximum limit of $2,000 for deposit transactions per day. If you deposit more than this amount, your account can be subject to investigations.
Duration
Your Elite sportsbook deposits should not take any bit of time. If you're depositing online, you only have the Play+ card option, which involves moving funds from the card into your Elite account. Moving funds from your bank or PayPal account into the Elite Play+ card may take some time. So, do it early.
On the other hand, if you go for offline payments, you must walk into any retail location to make your deposit.
Deposit Charges
Since it controls all the deposit channels (cash and Play+ card), Elite Sportsbook doesn't levy any charges when you deposit into your account.
How to Deposit Into Your Elite Sportsbook Account
If you're not depositing at the Cage, follow the steps below for your Elite Sportsbook online deposit:
Get your Elite Play+ card. You should get details about getting the card from Elite.
Transfer the funds you want to deposit from your bank account or PayPal into your Elite Play+ card. We recommend that you complete this action several hours beforehand, as there may be delays in moving the funds from PayPal or the bank to the Play+ card.
Log into your Elitebook Sportsbook account, and click the deposit button at the top right-hand side of the homepage. Select Play+ in the drop-down.
Type in the figure you want to deposit.
Click "Deposit" and wait for confirmation. You can then check your Elite Sportsbook balance. The process is seamless and fast.
Elite Withdrawal Methods
Note the following key information when withdrawing funds from your Elite sportsbook account.
Withdrawal Methods
The same channels that process deposits are also used for withdrawals. Thus, expect to get your Elite Sportsbook withdrawal through the Play+ card and the cash at Cage method.
When you get the money into the Play+card, you can convert it into cash by withdrawing directly from the ATM. Then, you can send it to your bank account.
Minimum Withdrawal
Elite Sportsbook doesn't set any minimum Withdrawal limit. So, you can withdraw as little as you want.
However, a maximum withdrawal of $550,000 applies. Note that the Sportsbook can revise this amount upwards or downwards at any time.
Duration
There are no fixed times but expect the payments to be fast. Elite sports owns the Play+ card, so expect moving funds from your Elite sports betting account to the card to be seamless and quick. However, you may have issues when you want to move the funds from the card to your bank or PayPal account. It often takes time, and Elite Sports states that you may have to wait up to 72 hours.
On the other hand, the Elite Sportsbook withdrawal at the retail location happens to be the fastest payout method. You collect your payment on the spot.
Elite Bonuses
Elite Sportsbook offers various types of bonuses to players to encourage and support their wagering.
However, there is some information you need to note about the bonus offerings at Elite Sportsbook:
The bonuses are constantly changing. So, some of the information we provide might have changed as you read this.
Then, the bonuses you get access to will depend on the state where you are based.
Nonetheless, let's take a look at the available bonuses:
Elite Sportsbook Free Bets
Free bets enable players to place bets without risking their funds. Elite sportsbook free bets are only available in Iowa.
For players in Elite Sportsbook Iowa, you have access to a different free bet offer: a $500 risk-free free bet offer. You don't need to make deposits or even place any bets to enjoy this offer. Furthermore, you don't need an Elite Sportsbook promo code for this too.
However, the free bet is only available 24 hours after verifying your account. Furthermore, the free bet will only work on your first bet.
Elite Sportsbook Welcome Bonus
Elite Sportsbook offers attractive bonus offerings to new players on its platform. The Elite Sportsbook welcome bonus is available to players in Colorado.
4.0
100% up to $100 in Free Bet
ELITE Sportsbook is offering a new sign-up bonus to customers who sign up and place their first real money wager now. Receive a Free Bet equal to 100% of your first real money wager, up to $100. This offer is subject to our House Rules and promotional terms.
If you're an Elite Sportsbook Colorado player, you get a 25% wager-free bet on your first five bets, up to a maximum cap of $200. It means that the Sportsbook will credit 25% of the bet amount to your bonus balance when you make bets. You can then use this to make bets later.
This bonus offer lasts only 7 days, so you need to use it fast. It automatically gets credited to your account. You don't need an Elite Sportsbook bonus code for this.
Nonetheless, the Elite Sportsbook Iowa is a welcome bonus since it applies to only new players. So, we can say that each Elite Sportsbook promo is a welcome bonus.
What to Bet On
Elite provides access to several sports and events on which players can make bets.
| | |
| --- | --- |
| Number of Sport Games | 9 |
| Number of Sport Events | 30 |
| Live Events Daily | 20 |
| Live Events Monthly | 600 |
| Pre-match Events per Month | 840 |
Sports Betting
Elite Sportsbook is best known for its sports betting offerings. Here outlined are the sporting types and events available for wagering at Elite Sportsbook:
Available Sports
The key offering of Elite is in traditional sports, from soccer to tennis, basketball, MMA, baseball and others.
Sport Competitions
In all these sports types, expect to get access to the top leagues and tournaments available globally. For instance, Elite Sportsbook international allows wagering in the top leagues in the world, especially those in Europe and the Americas.
Both live and pregame bets are available for each sporting event.
Special Events
People want to place wagers on things other than sports, such as political and entertainment events. For instance, people placed bets on the 2017 Brexit polls.
Sadly, Elite Sportsbook doesn't offer special events betting for now. They can't provide political betting because it remains illegal in the US.
Esports Betting
Beyond the traditional sporting types and events, players also want to wager on top video games played by experts, including CS: GO, Dota 2, and League of Legends.
Unfortunately, Elite Sportsbook hasn't joined the trend yet.
Elite Sportsbook Live Betting
In the past, wagers were limited to staking ahead of a game. But now, they can place bets even during matches. It is because of the live betting feature.
Once you click on any sporting type (e.g. football), you will see the "Live Betting" section with the list of ongoing games and their scores. Follow the prompts to place your bets.
Live Streaming
People also want to know what goes on during games. However, rather than for them to subscribe to expensive channels, sportsbooks now offer live streams of games from their platforms. Unfortunately, Elite Sportsbook doesn't have a live-streaming feature yet. Nonetheless, there are always live reports from whatever ongoing event, such as the current score sheet.
Mobile Betting
The smartphone and other mobile devices have become the primary means for accessing the internet, and an online bookmaker needs to optimize for this. Elite online Sportsbook Iowa and Colorado users can access its services via the website from their mobile devices.
Elite Sportsbook App
Although you can do a lot on the website, the mobile app takes the user experience much higher.
Unfortunately, there is no Elite sportsbook app on either app store, so you don't have dedicated software for all your Elite transactions.
Elite Pros and Cons
Elite has its strengths, alongside some weaknesses. We explore them here.
PROS
CONS

Attractive Interface. The website is clean and visually pleasing. The various sections are clear and seamless to navigate all the functions. In all, the platform user experience is top-notch.

Detailed Information. The elite Sportsbook doesn't leave you in the dark and provides full details on critical processes and activities on the platform. There is a detailed frequently asked questions (FAQs) section spread across multiple segments, including Account Information, Deposit and Withdrawals Information, Wagering, Responsible Gaming and Location Services, etc.

Great Bonus Offerings. It isn't easy to compete with the Sportsbook's promotional offers. Having access to $500 as a risk-free, no-deposit bet is something you will rarely find from other sportsbooks.

Seamless Customer Service. In a time when most other sportsbooks limit their customer support accessibility to only a few hours daily, Elite has been different. Clients can make calls and access live chat 24/7.

Regulation. Elite Sportsbook is registered and regulated in multiple states. It means the Sportsbook is decently trustworthy.

No Access to Key Tech Features. Key tech products such as live streaming and a mobile app are not available on Elite Sportsbook.

Limited Sports and Events Offerings. Elite sportsbook's strengths are in sports betting, but even at that, it does a poor job here. There are less than 15 sporting types, with limited events. Players have few choices to work with.

Cumbersome Betting Process. The steps you must take before placing a bet are numerous, and each bet may take you some time to complete.

Limited Payment Options. With Elite Sportsbook, you can only make deposits and withdrawals through a single channel online. The Sportsbook does not offer multiple channels, thereby limiting customers' choices.
Cash out
Elite Sportsbook's cash-out service enables players to end their betting positions long before the game they get on ends. With this, they can take their winnings early and cut losses quickly. Nonetheless, note that the odds on this are always lower than what you get with pregame bets.
Elite Sportsbook Odds
Elite Sportsbook provides attractive sets of odds. However, while they can be fixed for pregame bets, you will get variable odds for live bets and the cash-out service throughout the game.
Other Products
A major other product that Elite sportsbook offers is the casino. The Sportsbook first existed as Elite Resorts and Casino before entering into the partnership that created the Sportsbook.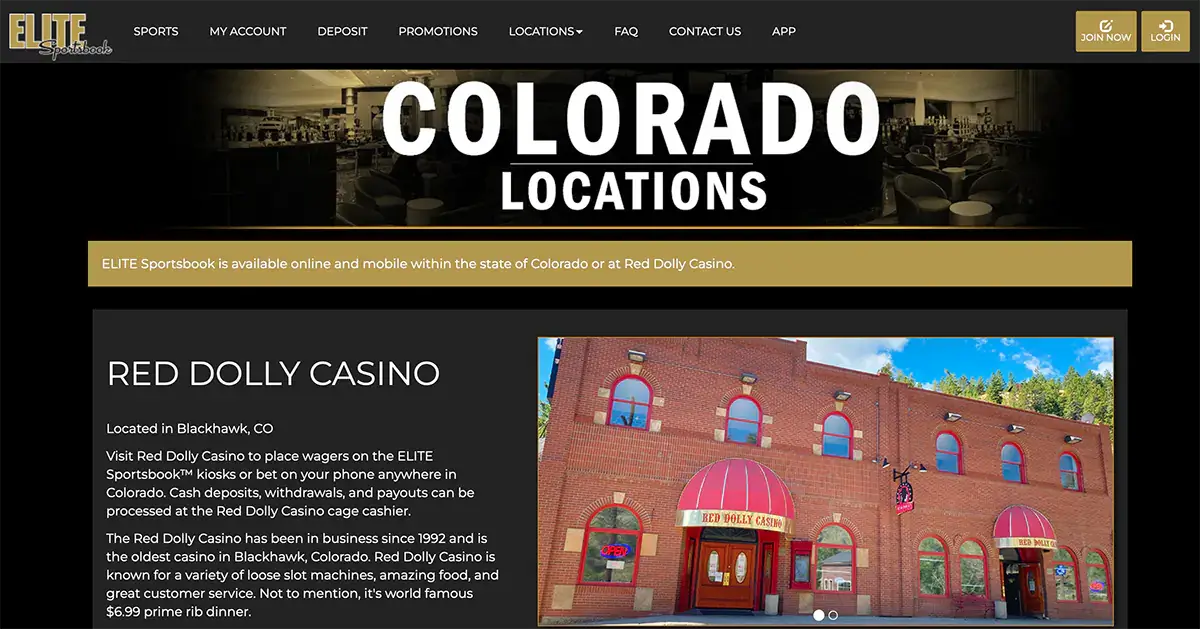 elitesportsbook.com
The Elite Casino is available mainly offline at the company's casino locations with limited online offerings.
Contact and Support
Elite is available through the following channels:
Elite Sportsbook Verdict
If you're looking for a sportsbook to serve your needs, you may consider Elite. Elite has strong pros that make you want to bet with the Sportsbook. It offers one of the most attractive welcome bonus offerings, the interface is designed to serve your purposes, and the transaction processes are seamless and fast.
Open Acc at Elite Sportsbook
Frequently Asked Questions
How do I withdraw money from Elite Sportsbook?

Follow the steps below to withdraw your funds. Go through the Elite Sportsbook login and the "Accounts" section. Click on "Withdrawals." The payment options should show up next. If you're doing an online withdrawal, select the Play+ card because that is the only option. Next, enter the amount you wish to withdraw. Review your withdrawal, and submit it. You should see the funds in your Play+ card shortly. You can withdraw to your PayPal or bank account. Alternatively, you can go to the retail locations to get your funds as cash.

Are sportsbooks rigged?

No. Not when you bet with a trusted sportsbook, which the government regulates. If you use bookies such as Elite Sportsbook, you should not have any worries about any rigging.

What is the most popular Sportsbook?

There is no single most popular or best Sportsbook. Do your research by reading our reviews. Then, decide which of the sportsbooks we have reviewed fits your needs. You can go on to open an account.
Similar bookmakers you might also like:
4.4
4.1
4.9