Coral, named after its founder Joe Coral, began its life as a bookmaking company back in 1926. Originally, Coral was a business that focused on operating betting spaces around horse racing tracks. Within a few years, both Joe Coral and his partner Tom Bradbury-Pratt had racing pitches in several of the key racetracks, namely Clapton Stadium, White City Stadium, Harringay Stadium, and Walthamstow Stadium. Coral opened their first betting office in 1961.
Coral quickly gained a great deal of traction in the emerging world of sports betting. In 1971, Coral merged his business with Mark Lane's, eventually creating the Coral Leisure Group. The industry now covered a range of quality hotels, brick and mortar casinos, holiday resorts, bingo halls, and restaurants. Since then, Coral has been bought out and changed hands many times due to its high success level. From Ladbrokes to Eurobet and Gala, the Coral brand has maintained its high-quality level regardless of who it is officially owned by.
The Coral brand is formally owned by Ladbrokes, giving the Coral brand even more recognition in the sports betting market due to Ladbrokes' unprecedented success in the same industry. Within this Coral review, we will be discussing the Coral online sports betting site in detail. Below are just a few of the things we will be reviewing:
Coral welcome bonuses and promotions.
The legitimacy of the bookmaker business and its level of security.
What sports Coral allows its users to bet on.
The payment methods in use on the site.
The customer service options given by Coral.
Accessing Coral Website
To access the Coral online sportsbook site as a new customer, you must create an account to login to the site. Thankfully, this job only takes a few minutes and is relatively stress-free. To begin, head over to the Coral site. The HTML should be as follows: sports.coral.co.uk. Once on the site, move the cursor over to the top-right-hand corner of the screen. Click on the "Join" button.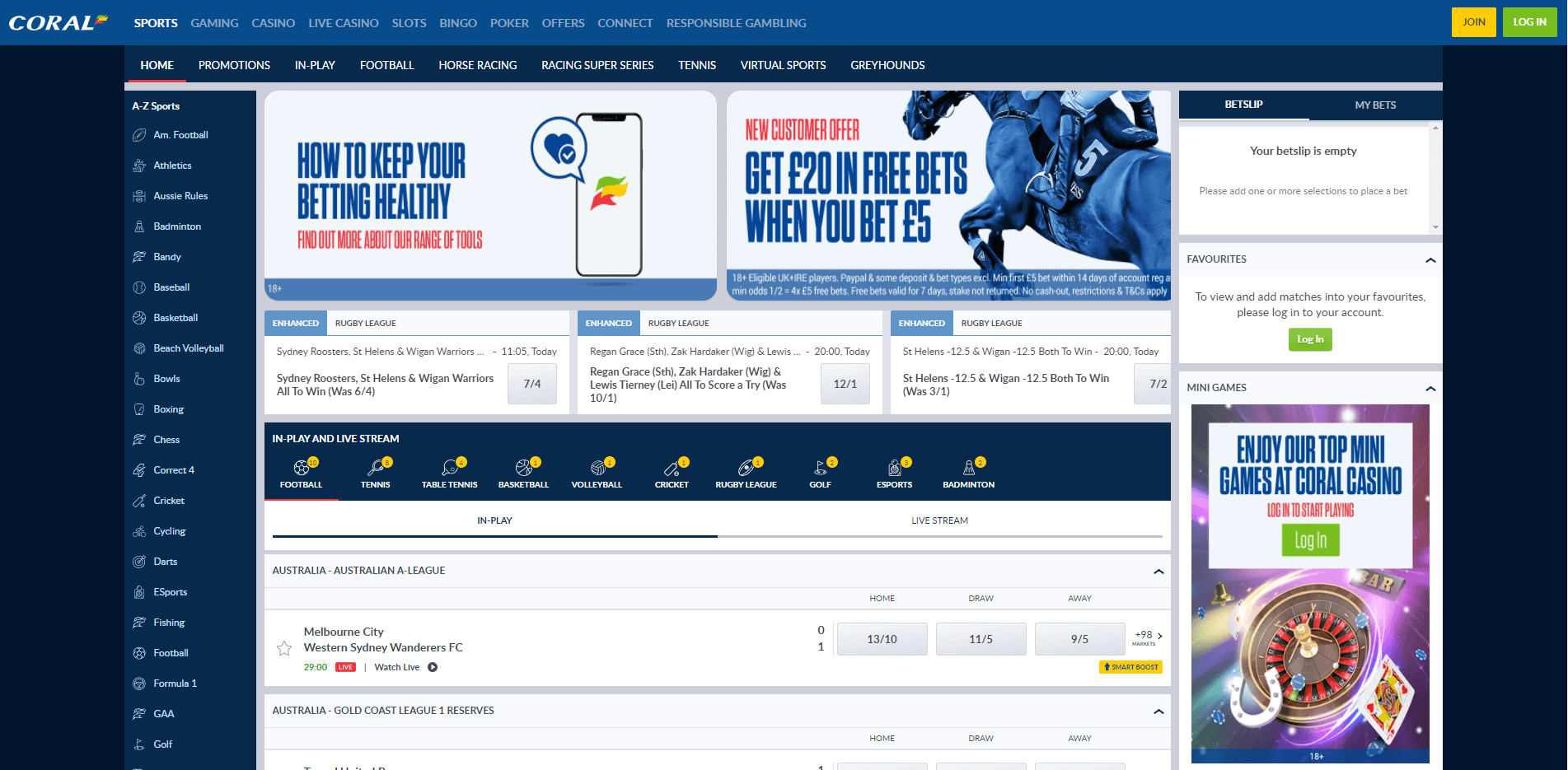 coral.co.uk
Once on the sign-up page, follow these simple instructions:
Select the currency you want to make payments with and withdraw your earnings with.
Enter your email address.
Enter your own unique yet memorable password.
Click "Next" at the bottom of the page.
Enter your first name, last name, your date of birth.
Click "Next" again.
Enter the postcode or first line of your address.
You will be asked if you would like to receive notifications about any new deals or promotions that become available. If you would, tick the box of your preferred form of communication. If you wouldn't like this, click the box saying you don't want to receive additional information.
Press the button at the bottom of the page labeled "Create an account".
Once you have completed the sign-up process and your verification email has been received, you are given free rein over the Coral site. Take your time surveying all of the Coral sports betting options. There is plenty to choose from here.
Payment Methods
An online operator should provide its users with a good number of valid payment methods to choose from.
| | |
| --- | --- |
| Min. deposit | £5 |
| Deposit Charge | Free of charge |
| Min. Withdrawal | £5 |
| Withdrawal time | Up to 5 days |
| Payout | 92% |
The best online betting sites give their users so much choice it may even seem a little overwhelming. Coral provides its users with just the right amount of choice regarding possible payment options, making sure no customer is left in the dust.
Deposit Methods
After you have created your account and logged in for the first time, you may be prompted to make your first deposit. You do not need to do this straight away. You have an unlimited amount of time to browse what Coral has to offer before you make any monetary investments in the site. A deposit is only required when you wish to place your first bet. Coral provides a multitude of payment options. From card options from popular providers such as Maestro and Visa to E-wallet payments from PayPal and everything in between, Coral is sure to provide for every customer. Apple Pay is even available on this site, as-is Coral's own connect card.
Withdrawal Methods
Withdrawing your earnings is as simple as it possibly can be. When you have earned enough via successful bets, go to your account page. From there, you can request a withdrawal. Its request will then be reviewed by the dedicated team at Coral. Once approved, the money should be on its way to you as soon as possible. If multiple withdrawal requests have been made and are pending, they may all be processed as the same request and thus delivered as one large sum of money into your account.
The time it takes for the funds to appear in your account after a claim is approved may vary based on the chosen payment method. Coral operates a "Closed Loop System." The company utilizes this system to help protect the user against possible threats of fraud and card theft. This entire system means that payments may sometimes be split into several separate, smaller payments. There is a maximum payout of £1 million.
Coral Bonuses & Promotions
Online sports betting sites are usually scrutinized for their promotions and welcome deals. If reviews do not paint the site in a good light based on their available promotions, then it can lead to a reasonably negative result for the operator in question. Welcome bonuses and offers are usually the primary reason why new players may come to that site in particular. That is why promo codes and welcome offers are so frequently discussed.
Fortunately, Coral reviews all seem to agree that their selection of promotions for both loyal users of the site and newcomers is pretty good. Loyal users tend to receive a sample of VIP offers when they play consistently for more extended periods, giving long-time users a series of rewards.
4.3
Bet £5 get £20 in free bets
18+ New UK & ROI Customers only. Min deposit 5. Min first 5 bet at minimum odds 1/2 to qualify for 1x 20 free bet. Certain deposit methods and bet types excl. Free bet valid for 7 days, stake not returned. Restrictions + T&Cs apply.
Free Bets
A tried and true promotion often available throughout the sports betting industry, especially with leading online operators, is free bets. Coral free bets can be briefly explained as when an operator gives you a certain number of wagers for free after making a deposit and placing the required number of bets.
Coral sportsbook is currently giving players £20 worth of stakes for free when they put a £5 bet on any sport featured on the site. To claim this Coral free bet code, all you need to do is have an account, make a minimum deposit of £5 and bet that £5 on any available sport on the site. Coral will then give four £5 bets completely free-of-charge. The Coral bonus codes for existing customers are swapped out regularly, so make sure you check back frequently.
Welcome Bonuses
Coral knows how important it is to attract new users to the site. Their welcome bonuses usually tend to be pretty decent. Currently, Coral is offering new customers a whopping £20 welcome bonus. All new users have to sign up and sign in to the site and make an initial deposit of at least £5. Bet that £5 on any sport or online casino experience and receive the £20 bonus. It is a perfect Coral sign-up offer that should make players think about joining the site.
What to Bet On
Coral sportsbook, much like its sister company Ladbrokes, has a truly staggering amount of options when it comes to the world of betting. The Coral straightforward user interface makes navigating the site an effortless task.
| | |
| --- | --- |
| Number of Sport Games | 42 |
| Number of Sport Events | 140 |
| Live Events Daily | 212 |
| Live Events Monthly | 6360 |
| Pre-match Events per Month | 3940 |
Within seconds you will find a whole range of betting options at your fingertips.
Betting on Sports
If there is one particular area that Coral specializes in and delivers on in spades, it is sports betting. When landing on the site's front page, you are immediately met with a staggering number of sport betting choices. The most popular sports, an A-Z of games and competitions, and a wall of informative Coral odds are all available straight from the site's homepage.
Available Sports to Bet on
From Coral's homepage, move your cursor over to the left side of the screen. Over 50 different betting options are available right there; all you need to do is click on one. Of the fifty betting options immediately available, around 35 of them are sport-related. From the most popular sports games to some more unique options, Coral is sure to have it all. The list below details just some of the sports available on the site:
American football
Badminton
Basketball
Baseball
Chess
Boxing
Darts
Cricket
Cycling
Fishing
Football
Formula 1
Golf
Hockey
Horse Racing
Greyhounds
Motorsports
Netball
Pool
Snooker
Rugby Union
Tennis
These are just a sample of the incredible selection of sports that Coral has to offer its users. Each sport has its page full of informative statistics and odds.
Betting on Competitions
Every one of the sports listed above has a whole range of betting options associated with it. It includes the opportunity to bet on ongoing competitions. From tennis to football, each league game and championship tournament can be bet on. To find this section, select a sport and click on the "competitions" tab at the top of the page. You will then have a range of both domestic and international competitions to choose from, ranging from the Grand National to World Cup bets and more.
Special Event Betting
Nowadays, it is common for bettors to want something new from their favourite online operator. While a site may have the best sports betting options around, there is only much that will do for a player. That is why leading online bookies tend to have additional features on their sites. It often includes different betting options for special events. Particular event betting can cover quite a wide range of subjects.
Reality TV, movie news and casting rumours, and award shows can often be found in the special events betting section. Coral sportsbook offers bets on all of these. UK bettors can bet on Strictly Come Dancing right now, while players worldwide can bet on the Nobel Peace Prize awards and the Eurovision bet on who the next James Bond will be played by.
Esports Betting
Esports has taken the betting world somewhat by storm in the last few years. Who would have thought that video games would be one of the highest-paying betting avenues in the modern day? Esports tournaments can offer large payouts for those who know what they are doing. Coral provides plenty of information and easy-to-understand statistics on their Esports page and allows their customers to bet on the most popular Esports tournaments such as the League of Legends World Championship and the Dota Pro Series.
Coral Live Betting
If you're looking for a betting experience that keeps you on your toes, then take a browse through the Coral live betting selection.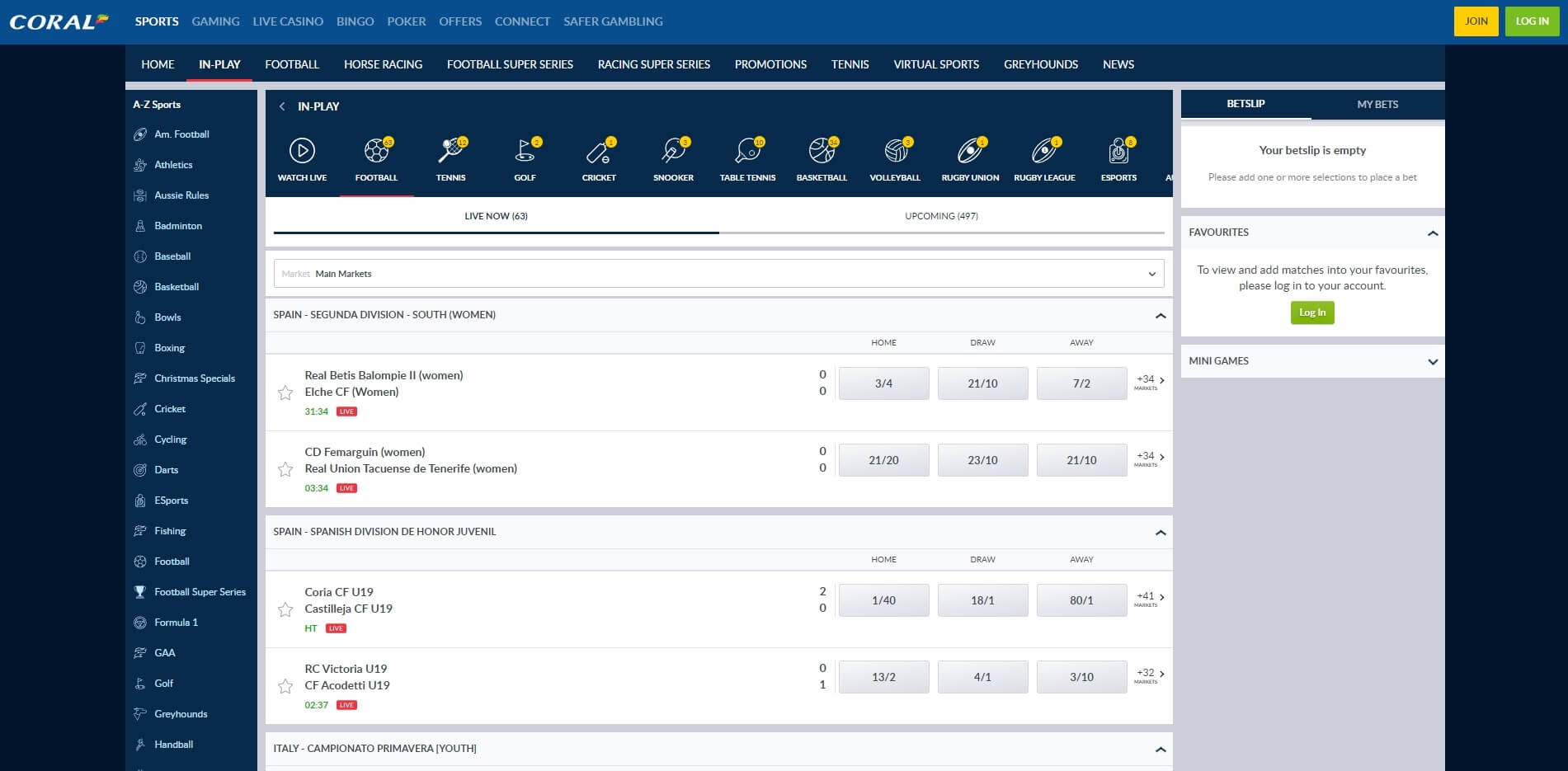 coral.co.uk
To access this section of the site, click on the tab labeled "In-Play." It will take you directly to the live services page. From here, you can choose from a wide selection of sports that can be bet on while a game is being played.
Live Streaming
There is a button in the top-left corner of the screen labelled "Watch Live" on the Coral bet In-Play page on the site. Clicking on this link will give you immediate access to Coral selection of live streamed sports. From here, bettors can place bets on live games and watch them directly from the Coral website. Watch as the scores and results come in live.
Mobile Betting
The online bookie industry is constantly changing and evolving. Just in the last decade, the industry has had to adapt to the growing mobile device market. Leading online operators have embraced this new technology, giving their users total access to their entire site from the palm of their hand. Coral is one such operator, allowing its users to access every inch of the site via their chosen mobile device. It is done via the Coral betting mobile site.
The Coral Bet App
Coral has designed and distributed its own dedicated Coral bookmaker's app for those looking to make their mobile betting experience even more comfortable. This app is available on both Android and Apple devices. To install the app on an Android device, the user must go to the Play Store, type "Coral" into the search bar, and download the Coral betting app. Those with an Apple device such as an iPhone or iPad, head on over to the Apple App Store and download it straight from there. The whole process should only take a few minutes. Once downloaded, these apps can then be used in precisely the same way as the online website.
The Pros and Cons of the Coral Bookmaker
From all that has been said so far, it may seem as though Coral is a truly excellent online bookmaker. And whilst this is true, there are a few things that should be noted about the site. Here is a fairly brief yet comprehensive list of a few of the pros and cons of the Coral site:
PROS
CONS

A staggering number of Coral sports betting options.
A great amount of Coral live betting options with the added feature of live-streamed games.
A plethora of valid payment methods.
Special events and Esports betting are also available.
The site is 100% mobile-friendly.
A free app is available.
Decent Coral welcome offers and promotions.

The sheer amount of choice may be intimidating for newcomers.
Withdrawal time may vary and may be spread out over several payments.
Cash Out
Cash out is a feature used predominantly by leading online operators. Essentially, it lets bettors take control of the situation. Cash out can be used for several cases; if your bet is currently winning and you want to retain that win, if your wager is losing and you want to cut your losses and if your bet looks like it may lose soon. This cashout feature is available on many sports on the Coral site.
Coral Odds
Coral has a dedicated research team that thoroughly discovers every single sport featured on the site. The team ensures that the odds shown on the site are entirely accurate and up to date at all times. You can be sure that the odds offered on the Coral site are some of the best in the online sportsbook scene. It is especially the case for all horse racing odds.
Other Products
Most online bookies have a selection of sports betting options and little all else.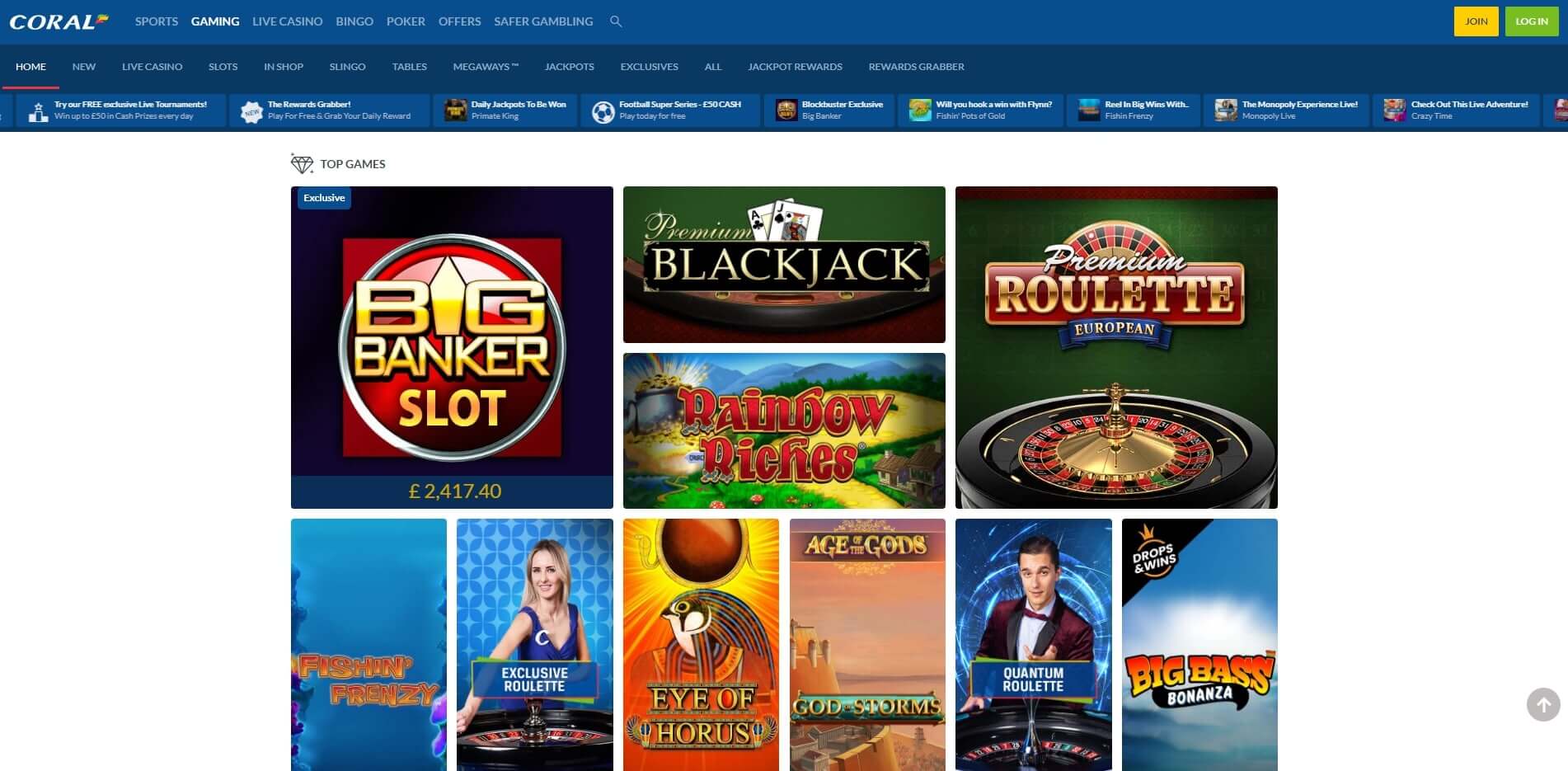 coral.co.uk
Coral is not like most online sportsbook operators. As well as the special event betting mentioned above, Coral also has an entire casino section on its site. Choose from a wide variety of virtual slots, blackjack games, roulette tables, and poker competitions. A selection of live casino games is also available on the site that brings the Vegas experience to your living room.
Contacts & Customer Support
If you have any questions about Coral operation or run into any problems with the site, you may want to seek a Coral responsive customer support team. When clicking on the "Contact Us" link on the bottom of the Coral page, you will be sent directly to the site's customer support section. From here, you can access a FAQ page that will likely solve your query. If you require further help, follow the instructions on the screen and choose your preferred contact method. Coral offers a live chat service, a telephone number, and an email address.
| | |
| --- | --- |
| Support email | [email protected] |
| Support Phone Number | 0800 440011; 0800 242232 |
| Live chat | Yes |
Coral Verdict
As far as online sportsbook operators go, Coral can easily be considered one of the best, being up at the top with Paddy Power and Betfair likes. Coral offers an incredible selection of sports to bet on, including options for competitions and special events. Casino games are also present, as well as movies, TV, and political betting. There should be something for every type of bettor on the Coral easy-to-use website. Hopefully, this Coral bookmaker review has given you enough information to make an informed decision on whether the operator is suitable for you.
Open Betting Account at Coral
Frequently Asked Questions
Is Coral legit?

As all reputable online sportsbook and casino operators should do, Coral has a series of licenses that allow the company to operate globally. For example, Coral holds a permit from the UK Gambling Commission to work throughout the UK. Without these licenses, Coral would not be able to operate.

Does Coral do the best odds guaranteed?

Coral uses the Best Odds Guaranteed system that many modern online operators utilize. Best Odds Guaranteed allows the bettor to be paid out at higher odds if the starting price is higher.

How long does Coral withdrawal take?

Withdrawing your funds should only take a maximum of a few working days. However, this is dependent on the payment method you have chosen to use. E-wallets usually pay almost instantly, while bank transfers can take up to 5 working days. Cards and most other payment options take a standard 2-3 working days before the money will appear in your account.
Similar bookmakers you might also like:
4.9
Bet £10 get £30 in free bets
4.4