Bet9ja is a popular Nigerian sportsbook and gambling platform with an incredible collection of matches, tournaments, and events. Recognized for its seamless experience and competitive odds, this bookmaker is the go-to place for bettors in Nigeria.
Duly licensed and regulated, the bookie offers exciting promotions and sign up offers. Here, we analyze the sportsbook and provide you with our expert overview. Read our detailed Bet9ja review to know everything there is about this incredible platform!
Bet9ja Website & How to Sign Up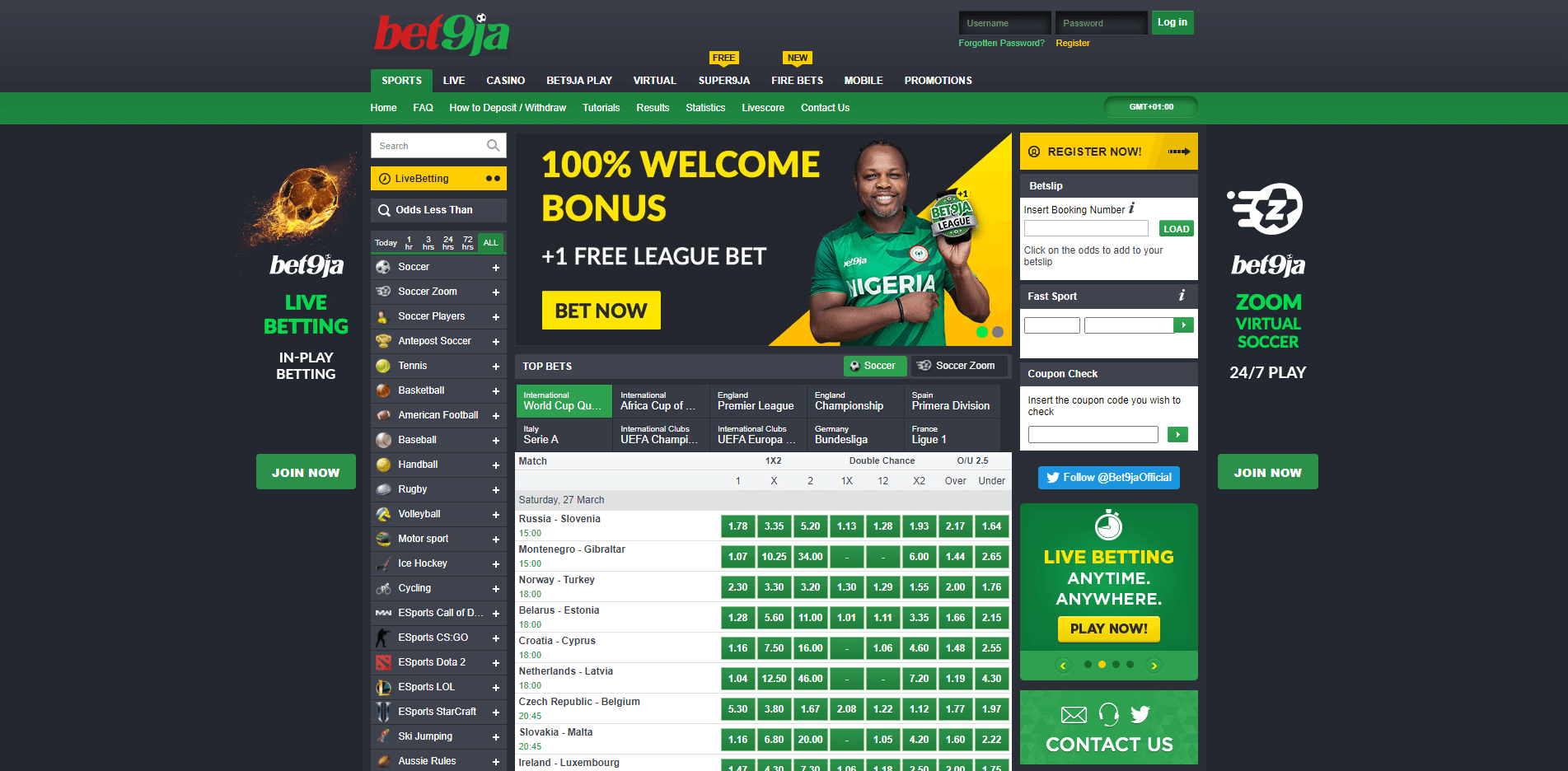 bet9ja.com
Accessing the Platform
The platform can be accessed through its website and Bet9ja's app. To access their sportsbook, go to their website and click on the navigation menu's Sports link. By default, their homepage links to their sportsbook. Bet9ja natively offers content only in English.
Registering for an Account
To register, you need to be above 18 years of age. You can create an account for free on Bet9ja, though only one account is allowed per customer.
The website's landing page prompts you to sign up for an account. You can either click on the 'Join now' button on their landing page or tap on the 'Register Now' link on the top right corner of their website.
Fill out the registration form with the required personal details, including a valid email address and mobile number, and submit the form. Make sure you choose a proper username, as you cannot change this in the future.
You will receive an activation link on your email for verification. Click on the link and then proceed to complete the registration process. The steps for signing up for an account are the same for both their website and mobile app.
You can change your password through the 'Account Detail' section. Contact their customer service if there are discrepancies in the information you provided or if you have specific queries. Creating an account on Bet9ja is important as it allows access to all the bookmaker's services, including the Bet9ja sign up offer.
Old Mobile Bet9ja Access 2022
The old mobile version of the Bet9ja site was primarily focused on supplying simple online sports betting services. However, many players still prefer this original design and want to carry on using it. Bet9ja's new mobile version is more modern than the old one and offers more features. While this is great for those comfortable with the latest tech, it can feel intimidating for those new to online betting or who struggle with modern technology.
The good news is that it's still possible to continue using the old Bet9ja mobile site. You need to follow these steps:

Visit old-mobile.bet9ja.com
Register or log into the site. You'll need to supply your details when signing up if you've never registered before.
Click on "Continue," then supply the other essential information like your mobile number, password, and username to complete the registration process.
Deposit funds into your player account.
Start wagering.
The old mobile app is also very popular with people who still use older mobiles since it is far more compatible with smartphones that aren't state-of-the-art. It's also better for people who have slow network connectivity. 3G users prefer the old version of the app as it allows them to continue betting on the go even with the slower connection. Since all the main website's features can still be accessed from the old app, it represents an excellent choice for many users.
Payment Options
Bet9ja offers a plethora of payment options to deposit and withdraw funds. To do so, you need to register and then log in successfully. You can also view your transaction history and account balance through the 'Account Statement' section.
| | |
| --- | --- |
| Min. deposit | ₦100 |
| Deposit Charge | Available |
| Min. Withdrawal | ₦1000 |
| Withdrawal time | Up to 24 hours |
| Payout | 95% |
Deposit Methods
With a multitude of deposit options, adding funds to your account has never been easier. Deposit methods include online banking, direct bank transfers, and ATM deposits.
To deposit money online, log in and then go to the 'My Account' section present at the top right corner of the webpage and click on 'Deposit.' This page will show all the available deposit methods. Certain methods are free, while others charge you for making a deposit.
To pay through a debit card, enter the relevant card information, and complete the payment. Though this method is easy to use, only Nigerian debit cards are allowed. If you are using an international debit card, look for other options to deposit money. The minimum and maximum deposit amounts through debit cards are ₦100 and ₦10,000, respectively.
For other methods, click on the respective options on the Deposit page. Information regarding minimum and maximum deposit amounts is shown next to the options. For higher deposit amounts, choose from PayDirect or certain bank transfers, as these may allow you to transfer up to ₦10,000,000.
For specific deposit methods, you need to provide a Bet9ja user ID (not your username). It is usually shown at the top right corner of every webpage once you are logged in.
The Bet9ja sports betting website has a tutorial section containing step-by-step information on making a deposit using the myriad options available.
Withdrawal Methods
Though there are multiple ways to deposit money, there is only one way to make a withdrawal: through a bank transfer. There are no withdrawal fees.
To make a withdrawal, log in to your account, locate the 'My Account' link and click on the Withdraw option. Fill the form correctly and then click next. Here, go through the details and then click on 'Confirm.' Make sure all details, including the Account Holder Name, is the same as the information in your personal data (given during registration). If the names don't match, Bet9ja may suspend your account, and you may need to provide proof of ID for further verification.
The minimum and maximum amounts are ₦1000 and ₦9,999,999, respectively, and will be withdrawn to your bank account within 24 banking hours.
Bet9ja Bonuses and Promotions
Many sports betting websites offer attractive welcome bonuses and promotions to bring in new customers. Many punters can also avail themselves of weekly and monthly promotions to make betting even more exciting.
Bet9ja offers exciting bonuses and promotions for everyone, from a welcome bonus to boosts. These promotions add to the betting experience.
100% Welcome Bonus
Bet9ja offers a 100% welcome bonus for new users after they have made their first deposit. To claim this promotion, register for an account and make a minimum deposit of ₦100 through any available online deposit options. You can also avail of this bonus if you have registered through their offline centers.
4.1
Bet9ja will credit the Customer's Account with the bonus funds equal to 100% of the qualifying deposit amount up to a maximum of ₦100,000. 100% Sportsbook Bonus can be used for sports bets only and subject to the maximum wager of N30,000 (thirty thousand) per bet and/or per event.
According to their website, these are the terms and conditions:
Only deposits made through online transfers are allowed for the Bet9ja welcome bonus.
The offer is only valid for new customers. Duplicate or reopened accounts are not eligible for the 100% welcome bonus. Only one account per email address, debit or credit card, and mobile number are allowed.
You cannot claim this bonus if you have made an inter-account transfer.
The maximum amount that Bet9ja will credit is ₦100,000 irrespective of the percentage. For example, if you have deposited ₦1000, you will get a bonus of ₦1000. However, if you deposit, e.g., ₦200,000, you will only get a bonus of ₦100,000.
You need to meet all the wagering requirements mentioned in their promotions section within 30 days of receiving the bonus.
Split column bets do not contribute to the wagering requirement.
Along with the Welcome Bonus, the bookmaker also offers 1 Bet9ja League free bet when you make your first deposit. Tap on the Free Bet icon to place a bet.
170% Multiple Boost
This promotion is applicable on multiple bets with selections of five or higher. If you increase the number of events, the bonus percentage increases. The number of events and the respective bonus percentage can be found in the promotions section. Certain points to note:
The bonus is only applicable to events with odds of 1.2 and greater.
Void events will not be used for bonus calculations.
Win Cash
Similar to a customer loyalty program, this Bet9ja bonus offers points to use their sportsbook and casino. When you place bets or play using real money, you are awarded points irrespective of the outcome. It means that you will receive points even if you lose.
You will receive rewards after you have made a qualifying bet. The exact amount of points you receive will depend upon the number of wagers, the amount staked, and the number of selections. Your rank on Bet9ja also plays a role: you will earn more points if you have a higher level. Some points to note:
The rewards program is only available for active users. In the event of inactivity, the rewards points may expire and cannot be reinstated.
Only bets placed on live Casinos, sports, and live betting qualify for the rewards program. Also, you need to put a minimum bet of ₦100 to get points.
These Bet9ja bonus points cannot be transferred or sold to another account.
Super9ja
Super9ja is a weekly promotion with a ₦10,000,000 jackpot. Here, you need to predict the scores of 6 matches of Bet9ja's choosing every week. To play, enter the scores of all 6 games and submit them before the competition closes.
Rewards are given out based on the number of correct scores. Locate the Super9ja tab on the site's navigation menu to play. All related information and prize structures can be found in the 'How to Play' section.
Betting Options
Sports betting is widely considered as one of the most popular gambling methods, with many options to choose from. These include Esports, tournaments, leagues, and even mainstream sports. Bookmakers try their best to have multiple options to attract bettors to their platforms.
| | |
| --- | --- |
| Number of Sport Games | 26 |
| Number of Sport Events | 189 |
| Live Events Daily | 289 |
| Live Events Monthly | 8670 |
| Pre-match Events per Month | 6520 |
The Bet9ja betting site is no exception. With a massive selection of betting options, you won't be disappointed!
Sports Betting
Sports betting can provide bettors with both money and excitement. Many people have fun while betting, even if the bets are not in their favor. The process of analyzing an event before it happens by concluding various factors can make matches exhilarating. Die-hard fans of certain sports and teams use a sportsbook, such as Bet9ja, to place wagers and bets.
Available Sports
Bet9ja has a vast market with a plethora of available sports. It ensures that punters interested in various games can use this platform for entertainment while having fun. Bet9ja has a huge selection of sports, from traditional ones like soccer, cricket, and basketball, all the way to cycling, darts, and motorsports.
To choose a sport, locate the Sports tab on the navigation menu and click on the desired sports from the left sidebar. From the sidebar, you can further filter your choices based on timings, country, and locality.
Sports Competitions
The platform also allows its users to place bets on different sports tournaments, competitions, and leagues. Some of them include Formula One, IPL, and the Champions League. They even have leagues from other countries that are less popular but have a substantial local fan following. Fans of all shapes and sizes can place bets, have fun, and make money.
To place bets on different leagues and tournaments, choose the respective sport from the sidebar. Click on the '+' icon against the sport to select the desired league. From here, you can place bets by clicking on the odds against each match.
On Bet9ja, you can open multiple tabs on the central section, which helps you keep an eye on all the events. To correctly bet and win, make use of Bet9ja bet of the day picks by third-party resources.
Virtual Sports
Virtual sports betting is bleeding-edge innovation recently introduced into the traditional sports betting industry. In this type of betting, advanced computers and Artificial Intelligence generate life-like matches by following a set of rules. Advanced software simulates sporting events, and punters can place wagers on these matches. In the middle of the pandemic, Virtuals are a new rage. Since Virtuals are not affected by external factors, it is easier to place bets.
Bet9ja also offers Virtuals, which include football, tennis, and dog racing. To place bets, locate the Virtuals tab on the navigation menu and choose the desired sports. A video stream will play alongside so that you can enjoy the match while placing bets.
Special Events
Bet9ja also offers to bet on special political events, including presidential elections. To place bets on elections and other political events, choose politics from the sidebar and click on the relevant event.
Esports Betting
Like traditional sports gambling, Esports betting allows you to place bets on tournaments and games. Also called electronic sports betting, it is popular among gamers and fans who are into gaming.
Bet9ja has a decent collection of Esports betting options, including DOTA 2, CS:GO, and Rainbow Six. To place bets on Esports, you can check out the sidebar on the sports tab. Clicking on the respective games will show available games to bet on.
Bet9ja Live Betting
To make matches and to bet more exciting, many bookmakers offer live or in-play betting. Unlike traditional sports betting, live betting takes place after an event has started. For example, you place wagers on a basketball match after it has begun or while a soccer match is being played.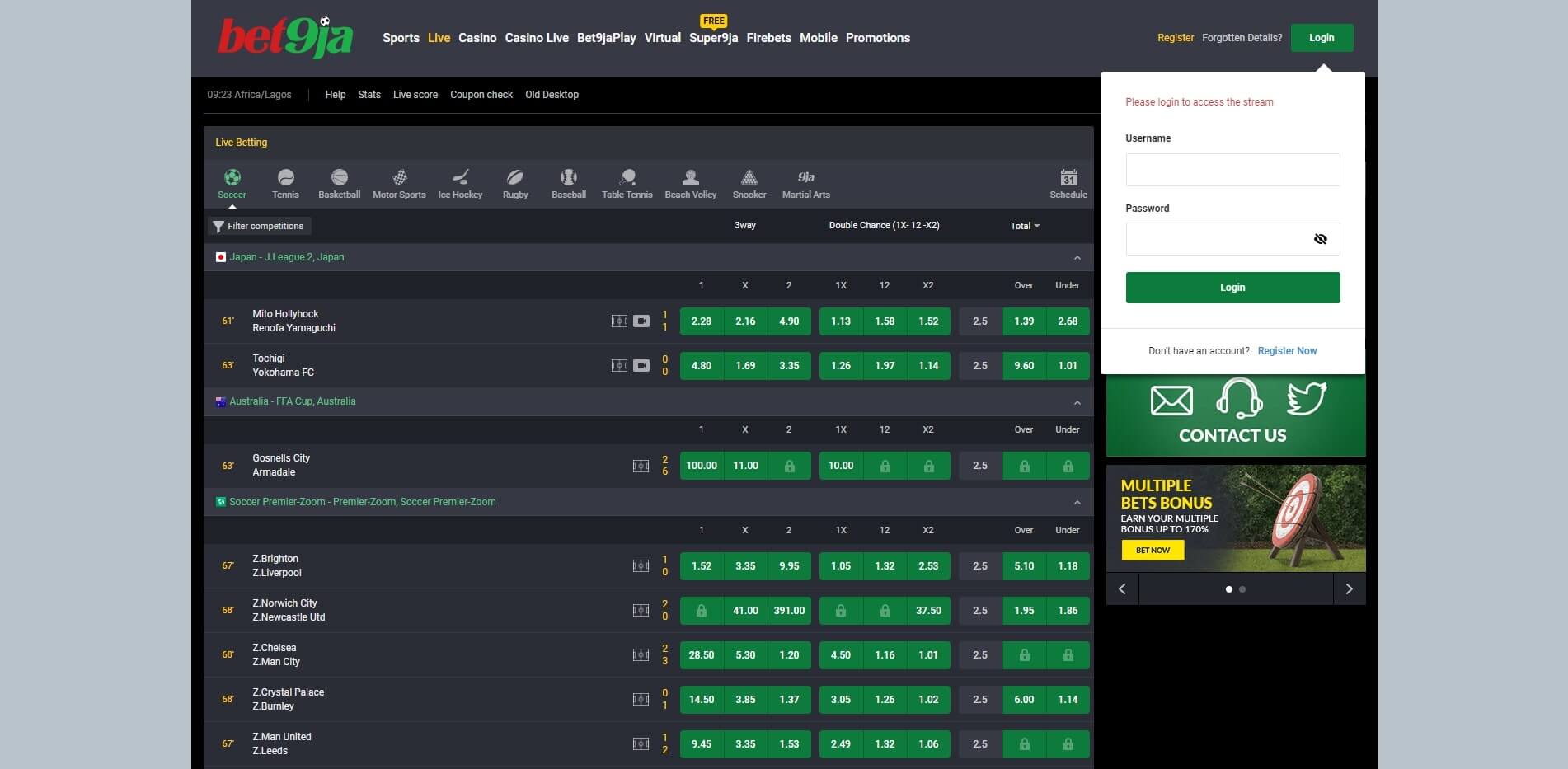 bet9ja.com
It allows you to place bets and back odds after analyzing different factors that affect a match pre-game while also adjusting your foresight while the event is happening. Because of this, many fans and sports enthusiasts find live betting extremely exciting as you can change the bets as the event unfolds.
Bet9ja offers an extensive collection of in-play betting options, including basketball, table tennis, and soccer. To place a live bet, locate the live tab on the website's navigation menu, and choose the respective sport. Bet9ja also has animated infographics that show detailed statistics of each game as it proceeds. It makes analyzing bets and placing them easier.
Live Streaming
Live streaming provides you with a smoother betting experience, as you can use the live stream to analyze your bets and wagers, especially during in-play bets, while also enjoying the game.
Bet9ja offers live streaming for certain matches and tournaments. If the option is available for the particular game, a banner will be provided towards the top of the page. Even if live streaming is not available for a certain game, the platform offers an animated stats section to help visualize the game.
Mobile Betting
With mobile usage skyrocketing around the globe, mobile applications have become the new normal. It is also true in the betting world. Many bookmakers have dedicated mobile applications to provide their users with a better user experience.
Bet9ja Betting App
Bet9ja offers a tailored betting experience for mobile users with 2 different applications for casinos and the sportsbook. Currently, the apps are available only for Android devices. To download, select the Mobile tab on the website's navigation menu. You can also use Bet9ja's mobile site using the link provided on the webpage: this website is optimized for mobile devices with low data usage.
The Pros and Cons of Bet9ja Sportsbook
The Bet9ja betting site has its own benefits and drawbacks. Here, we list the most important pros and cons of their website and mobile application.
PROS
CONS

Bet9ja has 2 applications for casino and sportsbook so that you can gamble on the go.
The platform provides highly profitable and competitive odds and is widely considered as one of the best sportsbooks in Nigeria.
The platform is duly licensed by the Lagos State Lotteries Board of Nigeria.
The platform delivers excellent betting options, including live, Esports, and political events. Bet9ja also offers Virtuals, an innovative solution that has helped many bettors during the lockdown.

The bookmaker currently provides mobile apps only for Android devices.
Though Bet9ja offers many ways to deposit cash, there is only one way to withdraw money (through bank transfer).
Bet9ja is not very favorable for international players, as the platform requires a stringent verification process for registration. Also, with bank transfer being the only way to withdraw, it can get quite expensive.
The live streaming option is only available for certain matches.
Cash Out
Usually offered for in-play betting, cash-out allows you as a bettor to receive payment before the event is complete. The availability and rules may vary depending on the bookmaker. Cashing out is extremely helpful in certain situations, such as when a team you have bet on is suddenly losing.
Bet9ja offers 2 options to cash out: Live and pre-game. In live cash-out, you can cash out during the game to make a profit. You can also cash out during the match on pre-game bets. On Bet9ja, you can also cash out before the start of an event. The exact amount that you will win depends upon the likely outcome of the bet.
To cash out, login to your account and go to 'My Bets.' Click on the cash out icon against available ones to get your money back. Bet9ja cash out is also available through their offline betting centers.
Bet9ja Odds
Bet9ja offers excellent odds to its player – a testament to why it is gaining tremendous popularity in Nigeria and elsewhere. The platform has consistently provided competitive and profitable odds, especially in football. This, when combined with the Boost bonus and rewards program, makes Bet9ja an attractive choice. Bet9ja reviews posted by customers also mention favorable odds.
Other Products
Many bookmakers offer other services in addition to sports betting to retain more customers and provide an all-in-one betting experience. Along with Bet9ja sports betting, the bookmaker gives casinos, arcades, and roulette to provide a better overall gambling experience.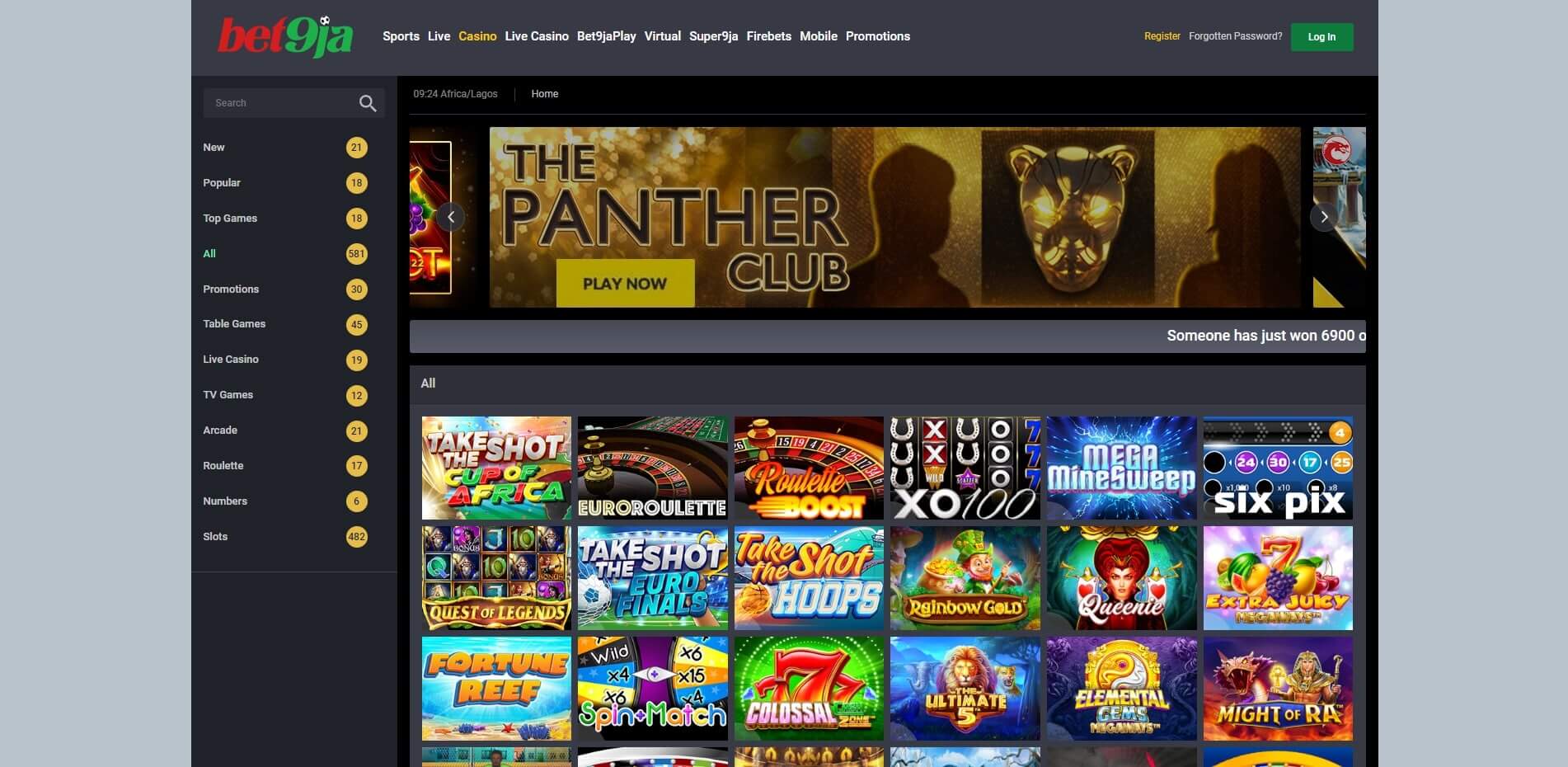 bet9ja.com
To access these products, locate the Casino tab on their website's navigation menu, and choose the games you want. You can also download their Casino mobile application for a tailored experience.
Contacts & Customer Support
The platform offers multiple ways to contact their customer service. You can send a message directly from their website by filling out the form on their Contact Us page.
| | |
| --- | --- |
| Support email | [email protected] |
| Support Phone Number | 08099990939; 01 8889309; 0 15158888 |
| Live chat | No |
You can also call them or get your queries answered through their Twitter customer service:
Twitter handle: @Bet9jaHelp
For general queries and tutorials, you can check Bet9ja's tutorials on their website.
Bet9ja Verdict
We hope you enjoyed our extensive and detailed Bet9ja bookmaker review. Summing it up, Bet9ja is one of the best sports betting platforms in Nigeria, with a plethora of sports, tournaments, and options to choose from. With a myriad of promotions and a loyalty program, Bet9ja offers the best value that you can get while also having fun. Check out Bet9ja's incredible platform by clicking on the button below!
Frequently Asked Questions